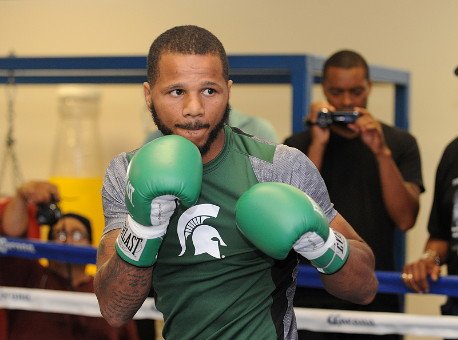 (Photo credit: Hogan Photos) #6 WBC Anthony Dirrell (26-0-1, 22 KOs) plans on taking a page out of the playbook of his defensive-minded brother Andre Dirrell by strictly boxing WBC super middleweight champion Sakio Bika (32-5-3, 21 KOs) and not letting him hit him in their rematch this Saturday night at the StubHub Center in Carson, California.
Dirrell made it easy for Bika the last time they fought by standing perfectly still in front of him during the fight. Later on in the second half of the action, Dirrell frequently was backed up against the ropes and took a lot of punishing body and head shots.
Andre Dirrell tried to give Anthony advice in between rounds by telling him to stay off the ropes and box Bika in the center of the ring, but Anthony stuck with his game plan of trying to beat Bika by out-slugging him.
You can understand why Dirrell would have wanted to try and out-punch Bika, because he had never fought an opponent that could match him in the power department before this fight. Most of the guys that Dirrell had previously fought had folded under his power.
Bika would have likely folded too if Dirrell's punch output was a lot higher. He was throwing single shots an spending too much time waiting for the perfect shot instead of letting his hands go with combinations and flurries.
Bika was Dirrell's mercy when he was throwing blistering combinations. It was only when Dirrell was throwing one punch at a time that Bika was able to do well.
"I can do even better. I can box better and I can stick to the game plan better," Dirrell said. "He can't touch me when I box. In fact, he can't touch me no matter how I fight him."
Dirrell has never shown the ability to move around the ring like his brother Andre, and it's possible that he won't be able to move well enough to stay out of range of Bika's shots. In watching a recent Dirrell workout, he doesn't seemed to have changed his flat-footed fighting style much. He used continuous movement during the workout, but he didn't look fast on his feet like Andre or particularly elusive.
If all Dirrell can do is stay in constant motion, it still might be enough for him to win on Saturday night as long as he stays off the ropes at all costs. He cannot beat Bika if he's going to be backing up and covering up like a sparring partner.
If Dirrell is going to fight like that then he might as well tape a 'hit me' sign on his head and body because Bika is going to tee off on him. Dirrell will do well if he doesn't stay still and if he doesn't let Bika trap him into any prolonged exchanges.