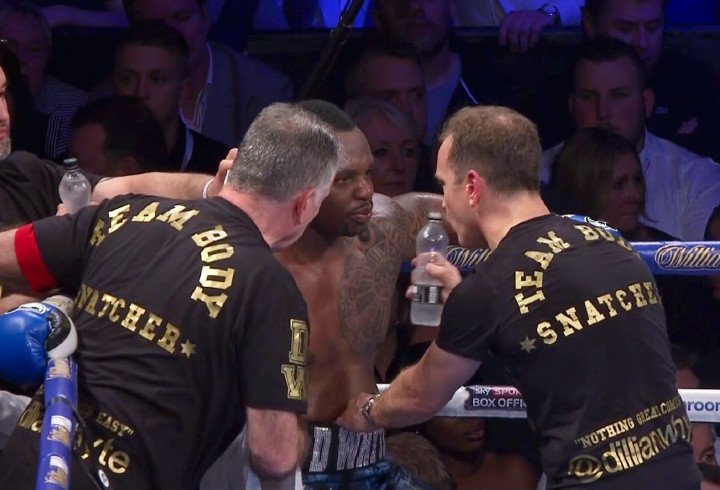 Dillian Whyte has vacated the British heavyweight title, calling his decision "a no-brainer." Speaking with Sky Sports, Whyte says he could not get up for a mandated British defence against Sam Sexton, so he opted to give up the belt.
Whyte, who thrilled us in his epic 12-round slugfest of a win over Dereck Chisora back on December 10, is now looking for some top-10 fights, before a hoped-for shot at a world title before the end of this year.
"Sam Sexton, fighting him doesn't make sense, ranking wise, or business sense," Whyte explained. "For me, fighting Chisora then Sam Sexton is a backward step. Chisora has knocked him out twice. He doesn't really do anything for my career. Eddie (Hearn) has promised me some top-10 fights this year, hopefully leading me to a world title fight at the end of this year. It was a no-brainer, to be honest."
Whyte is quite highly ranked already by the WBC and if he can win a fight or two against top-10 calibre opposition – and he was recently linked to a possible fight with former WBC heavyweight champ Bermane Stiverne – it would get him a big step closer to a shot at Deontay Wilder. But what about that war with Chisora – will we see a part-two?
"I've got no problem fighting Dereck again, but I've got to think about my career and moving forward to challenge for a world title," Whyte, 20-1(15) said. "My dream is to become world champion, not to stay at British level and keep fighting these guys, unless it makes financial sense or ranking sense. I'll definitely knock Chisora out this time, 100 percent."
That remains to be seen. But Whyte, a very good fighter who is both talented and tough, seems to be closing in on his world title shot. Whyte against Stiverne would be very interesting; as would Wilder against Whyte. Let's see who the opponents are in Hearn's promised top-10 fights for "The Body Snatcher."