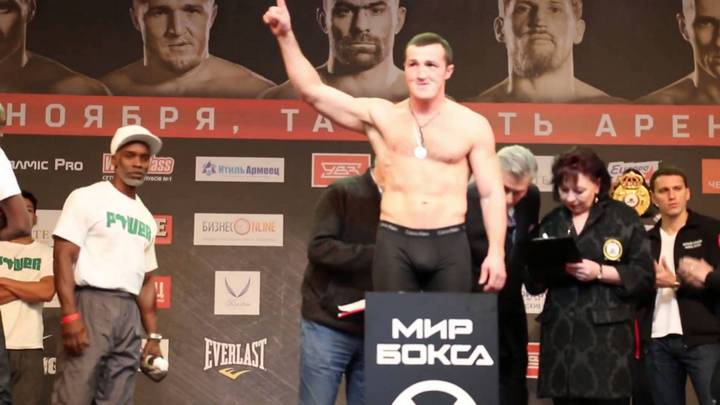 This August's huge Floyd Mayweather-Conor McGregor crossover Super Fight sure has started a trend. In light of the staggering amount of money and interest the Boxing Vs. MMA fight generated, a number of other fighters from both disciplines are set to follow suit.
The latest Boxing Vs. MMA match-up on the horizon is one that will feature Russia's WBA cruiserweight champ Denis Lebedev going up against Brazil's Fabio Maldonado. Speaking with RT Sport, Fight Night Global head Kamil Gadzhiev said Lebedev-Maldonado is "Russia's Mayweather-McGregor fight."
38 year old Lebedev, last seen winning a decision over Mark Flanagan in July (this win following Lebedev's points loss to unbeaten cruiser Murat Gassiev) is a genuine warrior, as well as a big star in his homeland. Maldonado, who has notched up 25 wins as a boxer (against limited opposition) called out Lebedev and the fight seems to be close to being finalised.
"I wasn't surprised [Lebedev accepted the call out from Maldonado]. I didn't doubt that Lebedev would accept it. He has never turned down any challenges," Gadzhiev told RT Sports in a recent interview. "Maldonado is a good boxer, with a good background of 25 fights and 25 victories in professional boxing, he has fans not only in Russia, so I always thought that this would be an interesting option for Lebedev."
So what kind of a fight can we expect with this one? Set to be a boxing match, as Floyd-Conor was, Lebedev-Maldonado (date still to be confirmed) could be an action fight and, interestingly, Gadzhiev says he gives the Brazilian a good chance of winning against the 30-2(22) southpaw.
"Fabio has a good chance fighting Lebedev," the promoter said. "Yes, Lebedev is a world class boxer, but he cuts easily. And that might work in Fabio's advantage. Maldonado is a bona fide fighter, he can hit hard, he can catch Lebedev. In Russia it should be big, about the same as the Mayweather-McGregor fight, but let's be honest, internationally Lebedev and Maldonado are far less well-known. But in Russia they are known not only by fight fans, but by sports fans in general."
It's still unclear if the fight will take place this year or next year but Gadzhiev says it should take "a few months" to get the bout signed, sealed and delivered.