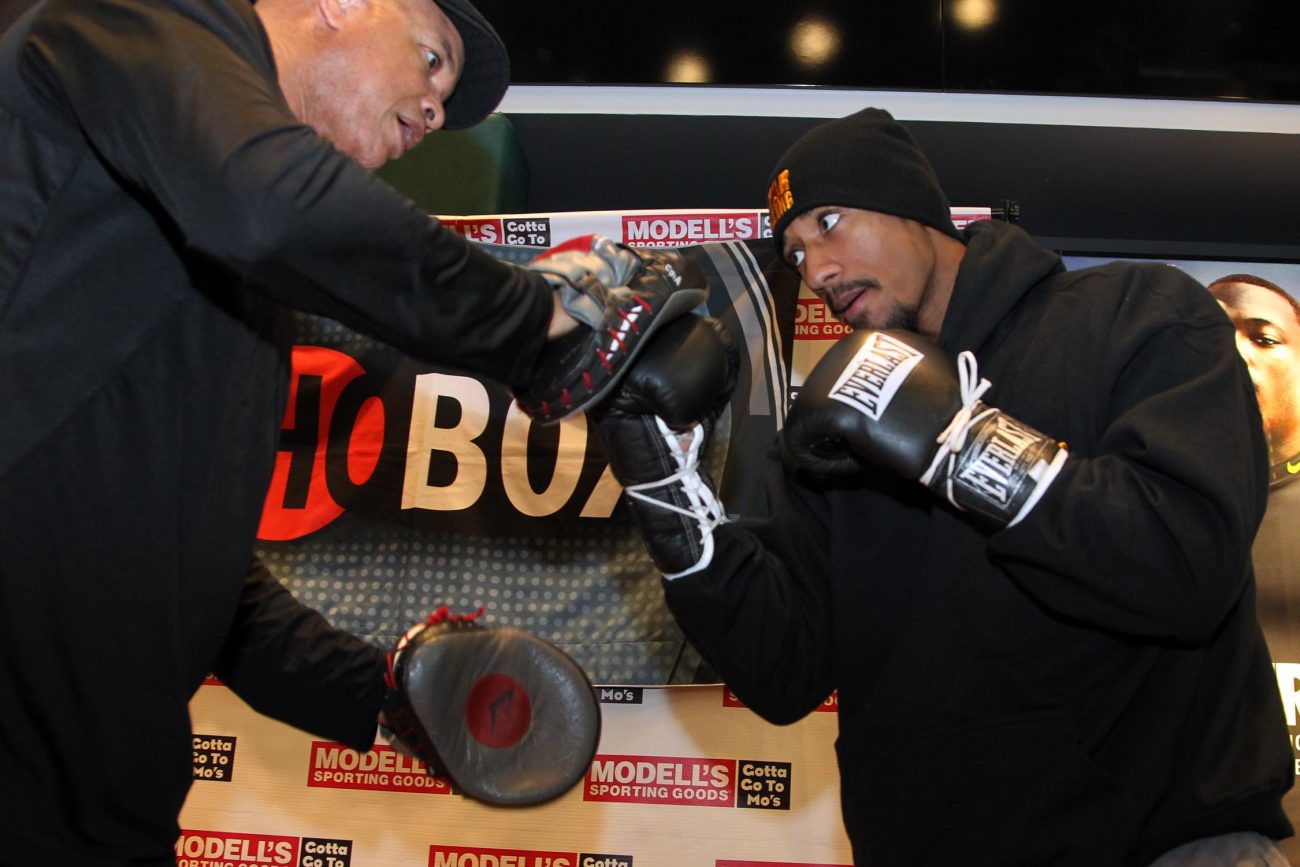 Former WBO super welterweight champion Demetrius "Boo Boo" Andrade returned to the ring in October for the first time in 16 months and scored a second round technical knockout against the former South American champion Dario Fabian Pucheta. Andrade kept his undefeated record intact (22-0, 15 KOs) with a dominating performance and with the victory, claimed the vacant WBO and WBA International super welterweight titles.
"I couldn't have asked for a better performance from myself," said Andrade. "Despite being out of the ring for a very long time, I felt extremely strong, relaxed, and I boxed well, but more importantly, I made a statement that the former world champion is back and ready to regain my world title and take over the 154-pound division."
It has been a frustrating year and half for the 27-year-old southpaw from Providence, Rhode Island. Despite calling out all the top boxers in his division after he obtained the WBO title over Vanes Martirosyan, no one wanted to fight him. Several other bouts against Erislandy Lara, Matt Korobov, and Anthony Mundine didn't happen for a variety of reasons, as well as a proposed bout from his co-promoters, Joe DeGuardia of Star Boxing and Artie Pelullo of Banner Promotions, against Jermell Charlo in December 2014 for $300,000, as part of a three-fight contract from Showtime.
Andrade spurred that offer because of a lack of communication from his promoters and the low amount of money he was offered for this fight compared to what other world champions made for their title bouts. Andrade instead signed a more lucrative deal with Jay Z's Roc Nation Sports, who would buyout Andrade's promotional contract for two million dollars and pay him $550,000 not to fight Charlo. Roc Nation Sports; however, reengaged on the contractual deal and Andrade was left without a bout and a damaged reputation with Showtime.
He sued Roc Nation Sports for breaching their contract with him. DeGuardia and Pelullo also took separate legal action against Jay Z's company for contractual interference with their fighter. Both of these lawsuits are still ongoing. Due to Andrade's promotional issues and a long period of inactivity with no potential upcoming bouts, the WBO stripped him of his belt. He only made one title defense, a seventh-round technical knockout over mandatory challenger Brian Rose, during his brief reign as world champion.
"This has been a very difficult time for me because I love fighting and I always want to fight the best boxers in my division, yet this didn't happen and I lost my title," said Andrade. "However, all great champions like Muhammad Ali and others had to deal with challenges, and I'll have to do the same thing and come back better than before."
The 2008 U.S. Olympian will look to put behind his tumultuous reign as the WBO belt holder and renew his campaign as one of the best 154-pound fighters in the world in the coming year. Andrade will try to be more activity and obtain a world title bout before the end of 2016 with the help of his co-promoters, who he has since smoothed things over with. He's even willing to move up to the middleweight division in order to get a significant fight against Andy Lee, Gennady Golovkin, or Canelo Alvarez. He's currently ranked number three by the WBC and number four by the WBO.
"One of the worse parts of my layoff is that no one in my division wanted to fight me. Some boxers claimed that they didn't want to box me because I would've been too easy of an opponent, but if that is the case than they should've fought me and seen how easy it really was," said Andrade. "Significance fights are also difficult to obtain because most of the top fighters in the junior middleweight division are signed by Al Haymon and Haymon doesn't want a dangerous boxer like me to beat one of his fighters."
Unlike most boxers in the sport, Andrade will fight anyone in his division, anytime, anywhere. Hopefully, some of the elite 154-pound fighters will step up to Andrade's challenge and give boxing fans a meaningful and intriguing bout to watch, that can help clarify who's the best fighter in the junior middleweight division.
"I've the speed, defense, power, and ring intelligence to defeat anyone in my division, if given the opportunity to do so," said Andrade.
To stay up to date with all of the information on Andrade, follow him on Twitter @AndradeATeam and check out his website at www.boobooboxing.com.
"I truly appreciate my fans because they are the best in the world and I'll reward them for their dedication by becoming a world champion again in the very near future," said Andrade.