Demetrius Andrade says Canelo Alvarez could have fought him last Saturday night, and it would have brought in big business to the sport of boxing.
Instead, Alvarez (56-1-2, 38 KOs) chose to fight WBO super middleweight champion Saunders (30-1, 14 KOs), the unbeaten former two-division world champion Demetrius says he would have destroyed.
Andrade (30-0, 18 KOs) invaded Canelo's post-fight press conference last Saturday in Arlington, Texas, to get the Mexican star to give him a fight, but he was told to 'Get the f*** out of here.'
Afterward, Demetrius was trying to make sense of Canelo's reasons for facing fighters like Saunders, Rocky Fielding, and Avni Yildirim rather than himself.
Andrade was wondering Canelo actually believes those fighters are better than him or if he's intentionally cherry-picking easy opponents.
It's hard to say what goes into Canelo and his team's decision-making for why they pick guys like Saunders, Fielding, Yildirim, and Callum Smith rather than Demetrius.
Other than losing a couple of rounds, Canelo had an easy time defeating Saunders by an eighth-round stoppage last Saturday night in their main event on DAZN in front of 73,000+ fans at the AT&T Stadium in Arlington, Texas.
Andrade says he would have destroyed Saunders
"They're [Canelo and Saunders] willing to fight Rocky Fielding and Martin Murray, and you got a real fighter in front of you that's going to make some noise and bring more excitement to boxing," said Demetrius Andrade to Fighthub about him being ducked by Canelo and Saunders.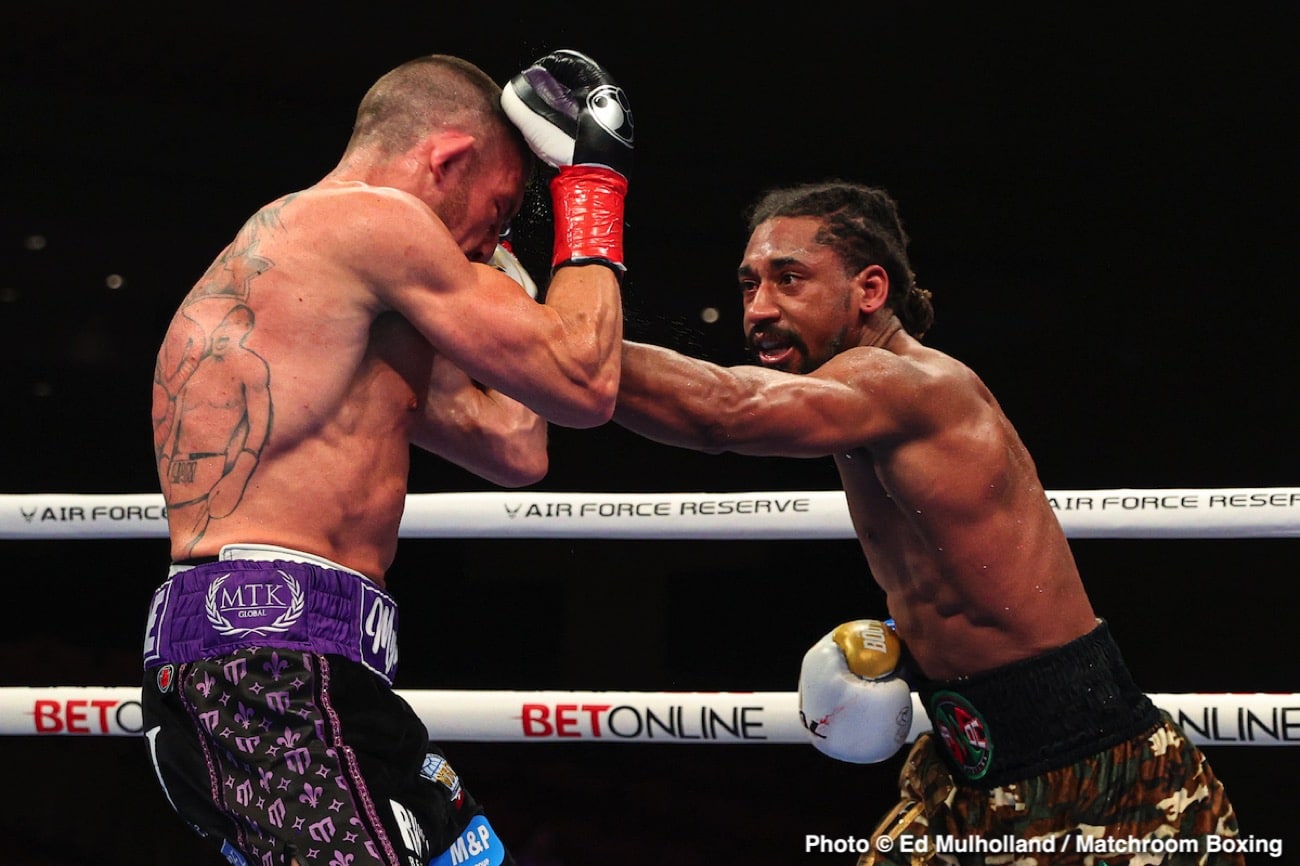 "Do you think Billy Joe is better than me? Nah, bro. I would have f**** Billy Joe up," Demetrius continued. "Then it would be like, me and Canelo could fight, but he [Alvarez] wanted to go that route [against Saunders].
"Canelo has to want to do it because I don't have that luxury to pick Canelo," said Andrade when asked what it will take to get a fight against Alvarez. "Canelo will have to agree to fight me, that's it.
"I think it was great," said Andrade reacting to 73,000+ fans showing up to watch Canelo's fight against Saunders.
"I thought Canelo did well. He blocked well, moved well, and did a good job against a decent slick fighter like Billy Joe," said Andrade in reacting to Alvarez's win over Saunders.
There's little doubt that Andrade would have wiped Saunders out quickly if he'd shared the ring with him last Saturday.
The shots that Andrade was hitting his last opponent Liam Williams last month on April 17th would have done damage to Saunders.
Andrade showed better hand speed, work rate, and punch variety in his fight with Williams than what we saw from Canelo last weekend.
It isn't easy to imagine Saunders, with the way he looked against Canelo, lasting long against Demetrius if those two had been in the ring.
Saunders looked sluggish throughout the fight with Canelo, and it's clear that he doesn't belong at 168. Since Saunders moved up in weight a couple of years ago, he's looked slow, lethargic, and heavy on his feet.
Saunders' shots had nothing on them
"Billy Joe didn't step up a notch and didn't do what really supposed to do when you step up a level," said Andrade on Saunder's performance.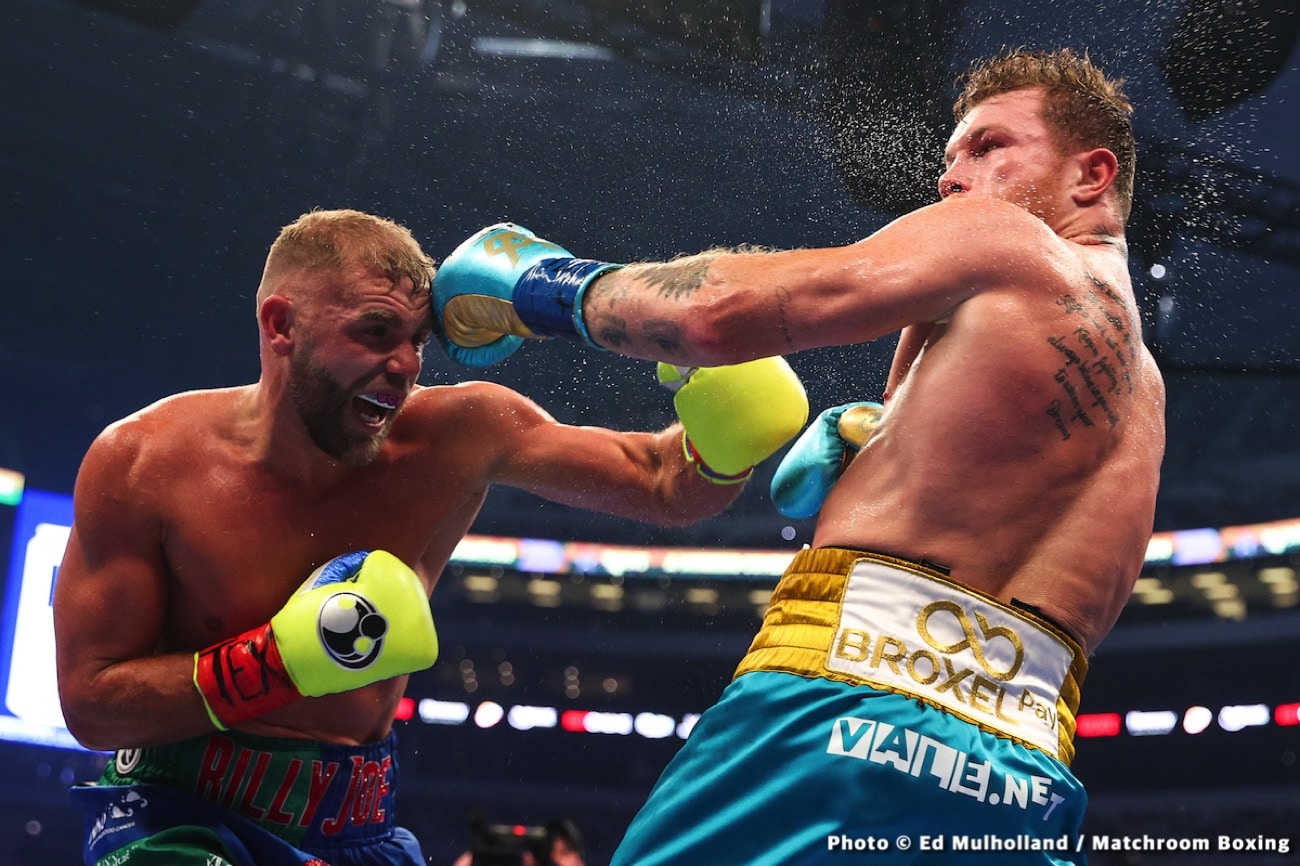 "He couldn't step up a level, and I already had this in mind that he can't beat Canelo because Billy Joe just didn't have it.
"You saw his last fight against Martin Murray. He was a little sluggish, and he can't really sit on the inside, and his jabs are really soft.
"To beat Canelo, you have to have stiff jabs and technically sound defense and ring generalship. He had the ring generalship, but when he was throwing the punches, nothing was on them.
"You can't keep him [Canelo] back that way. He's been in the ring with GGG twice, so he already knows how to fill the power shots on the inside. So you really have to step up a level to beat someone like Canelo," said Demetrius.
Surprisingly, Saunders has gained nothing in terms of power since moving up from the 160-lb division.
It's odd because usually, when fighters move up in weight, they gain a slight degree of power, but not in Saunders' case.
He looked every bit as weak against Canelo as he'd been when fighting at 160.
Alvarez landed the meaningful punches
"He probably won a few rounds; I'm not saying he didn't," said Andrade when asked if Saunders deserved to win some rounds.
"He threw some good combinations that landed well, but the meaningful shots came from Canelo.
"I can't speak [for Saunders not coming out of his corner after the eighth], I can only speak for myself," said Andrade
"I've never been in that situation. If you can't do it, you can't do it; that's just the dog in him. It's either yes or no. 'Are you coming out?' That's on him.
"His corner has to look out for his safety. He might have wanted that. If his corner is saying no, then his corner is saying no.
"His safety is more important than going out on his shield where he only sees with one eye, and Canelo is still fresh.
"It's a dangerous move to make when you're in there with someone at that level," said Andrade.
The only one that was throwing with any power was Canelo, so it makes sense for Andrade to say that he was the only one landing clean shots.
Saunders' shots looked like they were thrown underwater with resistance. He doesn't belong at 168.
Andrade not impressed with Canelo's performance
"I wouldn't say it's the best performance," said Andrade about Canelo. "It's not like he went out and did something miraculous and spectacular against somebody.
"I think one of his best performances was against GGG. I think that was best in the second fight.
"The first fight, he [Canelo] lost. In the second fight, he showed a little more manhood and maturity. But tonight, I don't think it was the best performance he put out there.
"It wasn't like he was hitting him [Saunders] with crazy combinations and crazy shots that we've never seen before, no.
"He just fought a guy that was doing amateur stuff all night, bending over, not making adjustments, kept doing the same thing over and over, and Canelo had a good game plan.
"He was throwing the right to the body and right to the head, whichever way it goes as far as the uppercut.
"Billy Joe kept leaning and walking into it, and eventually he's going to get hit," said Andrade about Saunders' poor defense.
Andrade is one of the few that wasn't impressed with Canelo's performance but definitely wasn't great last Saturday night. These flaws that Canelo showed:
Low work-rate
Fatigue readily apparent
Loading up too much
Failure to jab