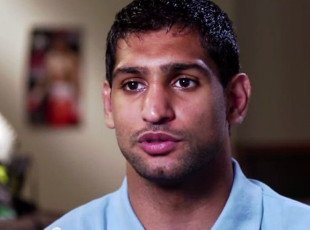 Oscar De La Hoya of Golden Boy Promotions floated the idea today of Amir Khan facing IBF light welterweight champion Lamont Peterson in Washington, DC. Khan previously fought Peterson in that city three years ago in Khan losing by a 12 round split decision after being docked points in the 7th and 12th rounds for shoving Peterson.
The referee working the fight Joseph Cooper had repeatedly warned Khan to stop shoving Peterson, but Khan had no other alternative because he was getting worked over by him on the inside and he didn't have any other way of keeping Peterson off of him other than by shoving him.
"I'm excited about returning to D.C," De La Hoya said via twitter. "Why not make Peterson-Khan or Peterson-Garcia?"
Khan is probably going to play it safe until he gets a fight against Floyd Mayweather Jr or until he finds out that he's never going to get a fight against him. Until then, you can't expect Khan to fight someone that is actually good like Peterson.
I'm not sure that Khan would ever want to go back to Washington, D.C after getting beaten by Peterson over there. Before fighting Peterson in D.C, Khan felt that it didn't matter that Peterson would have the home advantage, but afterwards Khan was none too happy about it. He felt that he should have won.
The referee obviously did what he had to do to control Khan's shoving, because that was his main form of defense in many of the rounds. Khan initially tried to run from Peterson, but once he started getting tired he was forced to stand and trade. With Peterson constantly walking Khan down and hurting him with body shots, Khan had little choice but to shove repeatedly.
A rematch between Khan and Peterson would likely be the same with Khan shoving Peterson and putting him in headlocks. It would come down to whether the referee wanted to do anything about it or just ignore it.