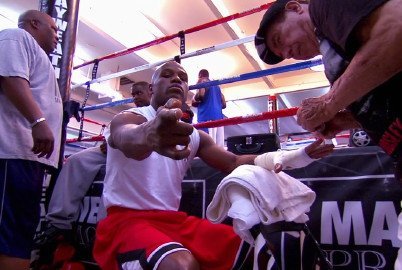 Oscar De La Hoya thinks Floyd Mayweather Jr. is the same fighter now that he was when they fought in 2007. De La Hoya believes Mayweather is still essentially as good as he was back then, but the difference now is he's fighting who De La Hoya feels is a better fighter than himself in Saul "Canelo" Alvarez on September 14th.
De La Hoya doesn't know how Mayweather will deal with someone hitting him with six-punch combinations with the kind of power that Canelo throws his punches with.
De La Hoya said to RingTV "When I fought him in 2007, he might be the same Floyd. Fresh, better shape, young, strong, I don't see any difference. I still see the same movement."
Mayweather Jr. hadn't been using movement for a while in his fights in the past three years, but in his latest fight against Robert "The Ghost" Guerrero, Mayweather suddenly looked like the same fighter that schooled Carlos Baldomir many years ago with his superb footwork and defensive skills.
De La Hoya feels that the addition of his father Floyd Mayweather Sr. to his team as his trainer has made Mayweather Jr. a better fighter than he's shown recently. Floyd Sr. taught Mayweather Jr. to fight and his focus was always on defense and movement. Mayweather Jr. did great with that style, but when he went away from it in the last few years to be a more entertaining by mixing it up more, it caused him to get hit a lot more.
We saw that in his fights with Miguel Cotto, Shane Mosley and even Victor Ortiz. But now that Mayweather is back using his old fighting style, it's going to be tough for the young 22-year-old Canelo to beat him.
It doesn't matter that Canelo is essentially a middleweight fighting a welterweight and will probably come into the fight in the 170s, he's still going to be too limit, and too flat-footed to win this fight, even if he is better than the De La Hoya that Mayweather beat in 2007.