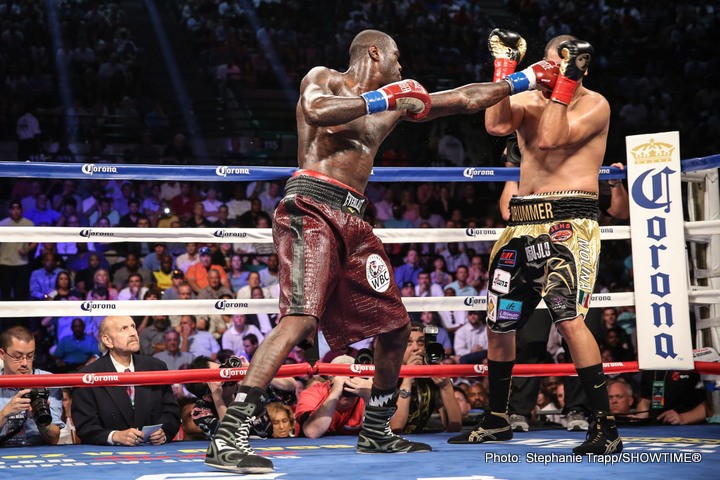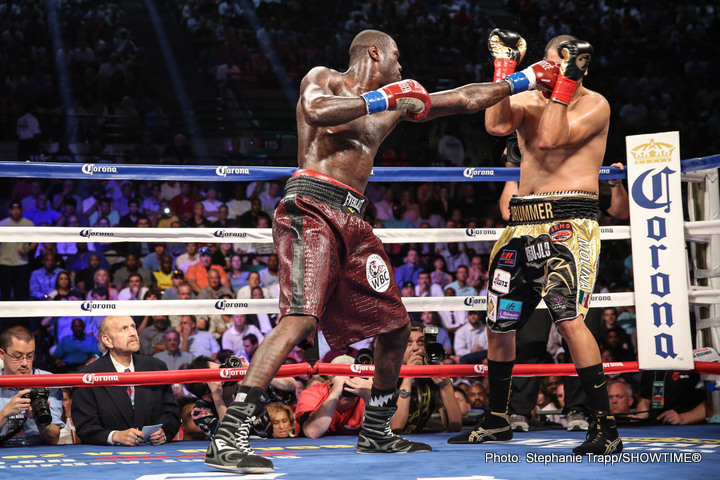 British heavyweight David Price (19-2, 16 KOs) may have failed in the past in a pair of losses to Tony Thompson, but he feels he's more than good enough right now to take the strap off WBC heavyweight champion Deontay Wilder (34-0, 33 KOs) if the two of them meet up in the near future. Price, 6'8" had the chance to see Wilder's fight last night against Eric Molina (23-3, 17 KOs), and Price didn't see too much in Wilder's performance that impressed him.
In fact, Price feels that Wilder has regressed as a fighter from his past fight against Bermane Stiverne, and he feels confident that if he were to get Wilder in the ring right now, he'd be the one to have his hand raised at the end. At this point there's probably over a dozen top heavyweights that feel the exact same way the 31-year-old Price did because Wilder looked poor, easy to hit, and not particularly strong of chin.
Wilder's punch resistance and defense were both weak-looking. Molina had Wilder hurt at least two times, maybe even three times with punches that didn't look all that powerful. There was no mistaking when Wilder was hurt because his legs turned to noodles each time he was hit solid by Molina.
"I said before the fight that I'd love to challenge Deontay Wilder and I say the same after the fight," Price said to Skysports.com. "I believe that in a fight between me and Deontay Wilder, I can come out on top."
You'd have to give Price a very good chance of beating Wilder if the fight were to take place right now. I think you could call it a 50-50 toss up fight. Price's chin is arguably as bad as Wilder's, but at least Price throws punches, and isn't afraid to let his hands go. If Wilder waited around without throwing punches against a guy like Price, he would get taken out in one or two rounds.
Last night, Wilder looked like he was afraid to pull the trigger on his punches. You could see Wilder spinning his wheels mentally each time he'd get in front of Molina. Wilder looked like he couldn't quite decide when and where he would throw his shots. Most of the time, Wilder would wait so long that Molina would finally break the lull by either shoving Wilder or attempting to nail him with a shot. Wilder would then either back away or throw a wild left hook and miss badly. It was all very amateurish stuff from Wilder.
"He looked like he was afraid of making a mistake and that resulted him making numerous mistakes throughout the fight," Price said. "There was nothing there tonight that made me think I'd avoid fighting him."
A fight between Price and Wilder would come down to whichever of the two landed first. I think Price would land first because he wouldn't be locked up mentally like Wilder and afraid to let his hands go. If Price hurt Wilder, it would be all over.
Price won't be getting a fight against Wilder anytime soon, and by the time he does ever face him, you can bet that Wilder will no longer be the WBC heavyweight title holder.