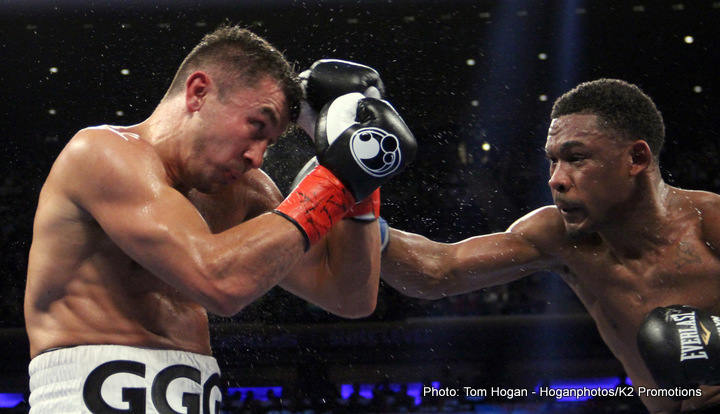 What a night boxing fans were treated to last night in New York! We saw an enormous upset with consensus pick for the pound-for-pound spot Roman Gonzalez losing in a great Fight of The Year candidate to Thailand's gutsy Srisaket Sor Rungvisai.
And the main event between middleweight king Gennady Golovkin and Danny Jacobs surprised absolutely everyone. Jacobs, pushing GGG harder and longer than anyone else ever has, looked to have pulled off a stunning upset of his own, but it was not to be. It's very tough to not have a ton of sympathy for Jacobs right now now, however. Did Golovkin deserve the 12 round unanimous decision? Maybe the card that had GGG winning by a solitary point was fair, but Triple-G by three points? That was wide.
The questions are plentiful after the fight that Saw Golovkin retain his belts and improve to 37-0(33). Has age caught up with Golovkin? Who will he fight next? Did Jacobs, at the very least, lay down a blueprint on how to beat GGG? Will there be, and should there be a rematch? And, oh, a penny for Canelo Alvarez' thoughts right now!
Imagine if you will, that last night was the very first time you'd seen Golovkin in action; would you have been impressed? It was a close fight, yes, and not a disgraceful robbery, but the view from this armchair, for what it's worth, had "Miracle Man" Jacobs pulling it off. In the past, GGG has been avoided, struggling as he has to get the big, big fights. In light of how pedestrian he looked at times against Jacobs, and in light of how easy he seemed to be to hit on occasion, this trend may well change.
Billy Joe Saunders could be next, in Kazakhstan in June, and the clever southpaw will no doubt be fancying his chances to the utmost.
The last word must go to Jacobs, though, and at the very least, yes, Jacobs deserves that rematch! Bernard Hopkins, who picked Jacobs to win, was very nearly proven right.