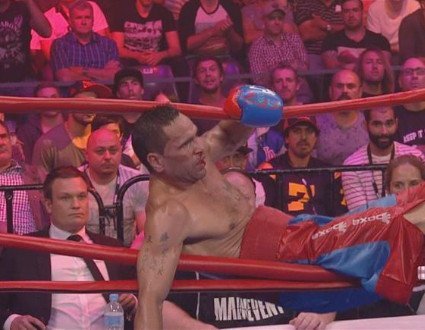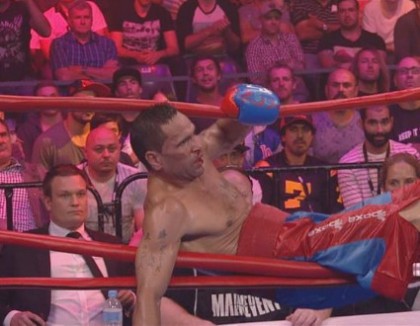 Australian cruiserweight and former WBA 175 lb champion Danny "The Green Machine" Green, returned to the ring after almost three years out tonight, comfortably outpointing Argentina's Roberto Bolonti in a difficult to watch and frankly boring 10 rounder that does nothing to stoke any interest in a mooted rematch with distasteful Islamic convert and countryman, Anthony "The Man" Mundine – or "Choc" as he likes to be called.
There wasn't much of anything to write home about in terms of early action, with neither man landing with any frequency, and the contest continued in forgettable fashion right until the final bell.
A step up of the pace in the 6th seemed to tire Green, who couldn't move Bolonti, even with a decent body shot in the round, and come the 8th, the now 42 year old Aussie appeared to be tiring and showing his age. He was rallied by the crowd going in to the final round, though couldn't produce a finish to cap off the stinker.
The fact this fight, featuring an inactive 42 year old against a 36 year old C-list fighter was on PPV in Australia, makes a mockery of the sport and is an insult to those boxing fans in the country who came out to support Green and those who actually bought it.
Bolonti, who famously took a dive against Jean Pascal at the end of last year and was stretchered out of the Arena feigning injury, (in a bid to earn a DQ win) was also beaten by Britain's Tony Bellew in 2012, and left those in attendance and watching elsewhere – including this writer – wishing he would repeat his diving antics.
He was evidently there only for the money, having been drafted in late to replace original opponent Tamas Kovacs, and the exercise in disappointment became all the more ludicrous when post fight Green began to call out the 40 year old Mundine for a rematch of their 2006 encounter.
"He (Bolonti) hardly laid a glove on me," said Green, "I'm just happy to have got 10 rounds under my belt and emerge victorious and now I want to relax for a while."
As the attention turned to fellow veteran Mundine, boos rang out at the mention of his name;
"He's avoided me for 10 years nearly and he's got nowhere to go. People don't want to see him fight unless it's against me.
"He's talking 60:40, this that.
"I ask the people of Australia who they will pay to see fight more, me or Anthony Mundine? The pay-per-view figures tell the story."
Mundine fights a TBA on October 14th.
If this is PPV, then it must be extremely tough being a boxing fan in Australia at the moment!
Twitter @Undilutedpoison