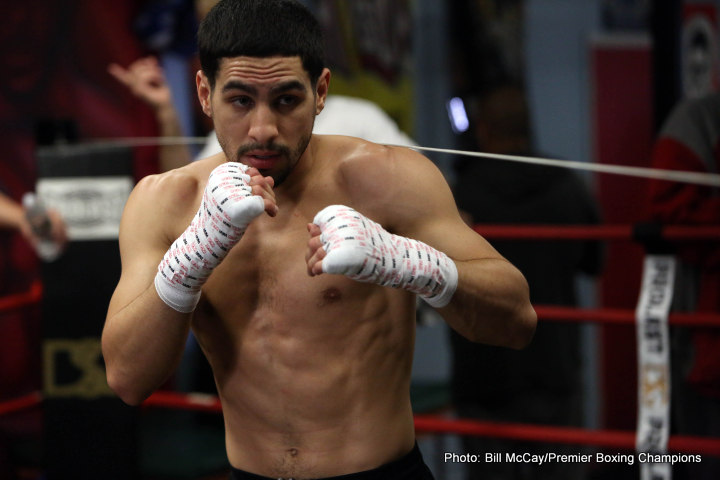 Fight fans would like to see Danny Garcia, the WBC welterweight champion who also ruled as a 140-pounder, fight the biggest and best fights. Unbeaten at 32-0(18) Garcia looked sensational in relieving Amir Khan of his WBA 140-pound title and then defending it against the always-dangerous Lucas Matthysse. But since then, "Swift" has apparently lost a step. Struggling with Mauricio Herrera and Lamont Peterson down at 140 (and blasting out woefully overmatched Rod Salka), Garcia has since looked somewhat ordinary in defeating Paulie Malignaggi and, last time out, in winning the vacant WBC 147-pound belt, Robert Guerrero.
Now it looks like Garcia will defend against former WBC welterweight champ Andre Berto. Certainly, both fighters spoke about the potential match-up after Berto's 4th-round KO, revenge of a win over Victor Ortiz on Saturday.
"We're managed by the same person. Let's make it happen," Garcia said when working as an analyst on the Berto-Ortiz rematch.
"I need that Danny Garcia fight. I want that WBC title back," said Berto.
So there we are, the fight looks likely to happen (unless of course, Floyd Mayweather goes through with his comeback hints and chooses Garcia as his return foe later this year, in which case Garcia and his team would forget all about Berto in a heartbeat!). Will fans get excited about Garcia Vs. Berto? Berto looked good in smashing Ortiz, but hasn't Ortiz been a part-time fighter, arguably one close to being shot, for some time now? Berto understandably felt good to have gotten revenge over the man who out-pointed him in a great fight five years ago, but how much did the win really prove?
Berto can punch, of course, and if he caught a sluggish Garcia with one of his best punches there could be fireworks, but yet another points win for Garcia looks a whole lot more likely, doesn't it? An injury-free Berto, still only 32 but having had a tough career, might be capable of giving 28-year-old Garcia a good fight, but beat him? That looks unlikely. Fans would rather see Garcia defend against the likes of the Shawn Porter-Keith Thurman winner, Kell Brook or Errol Spence Junior. Maybe Garcia will take one or more of these fights one day, but it looks like it will be Berto, 31-4(24) next.