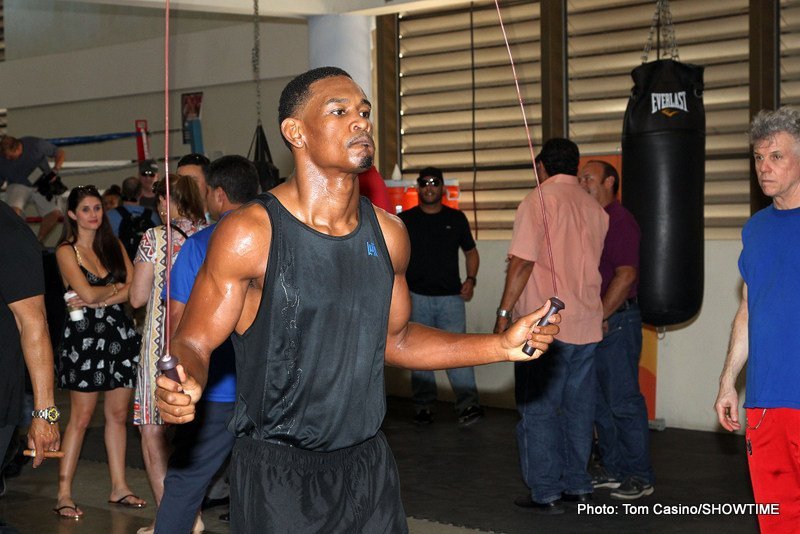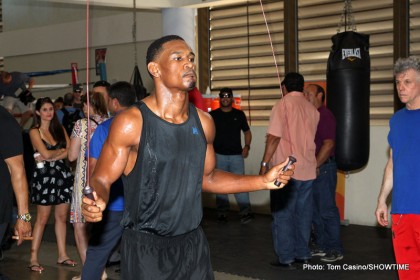 The long mooted clash between WBA (reg) 160 lb champion Daniel Jacobs and unbeaten fellow New Yorker, Peter Quillin, is finally looking set for December when the two will meet in a 'Battle of Brooklyn,' to determine the borough's top dog at middleweight.
Promoter Lou DiBella has told ESPN.com he is looking at December 5th as the provisional date for the clash and has the Barclays Centre on hold as contracts and other minutiae are ironed out between the Al Haymon advised fighters, yet while this date admittedly isn't concrete just yet, he insists the fight most definitely is.
"[But] the fight is going to happen. It will get done and it will be a big fight," he said. "There are a lot of people who have wanted to see this fight for a long time, and it's going to be a good one."
The fight was dependent on former WBO champ, Quillin, coming past heavily over-matched unknown, Michael Zerafa last Saturday, in what was essentially a formality, and "Kid Chocolate" did the job in style, sending Zerafa reeling back towards the ropes with a right hand in the 5th round, before detonating another on the Australian's chin moments later, brutally ending matters.
Speaking after that fight, Quillin said;
"What's important [now] is that I'm ready for Danny Jacobs. Now it's time for Brooklyn to see me and Danny Jacobs. We've waited for a long time for it. I like Danny because I'm a big fan of his. But business is business, unfortunately."
In reply to Quillin, Jacobs – who fans last saw defeat Sergio Mora inside 2 rounds when the "Latin Snake" injured his ankle and was unable to continue – said;
"It will be one of the biggest fights that Brooklyn has had in a long time. I'm a mover, I'm a power puncher, and I have a high boxing IQ. He has trouble with guys that move, and I can think on the fly.
"This [fight] is all the motivation I needed. What other motivation do you need to get your butt in the gym and get prepared? They call me the 'Miracle Man.' It's no secret that I have motivation to be the best I can be. Come Dec. 5, Brooklyn is going to have a new star."
Twitter @Undilutedpoison