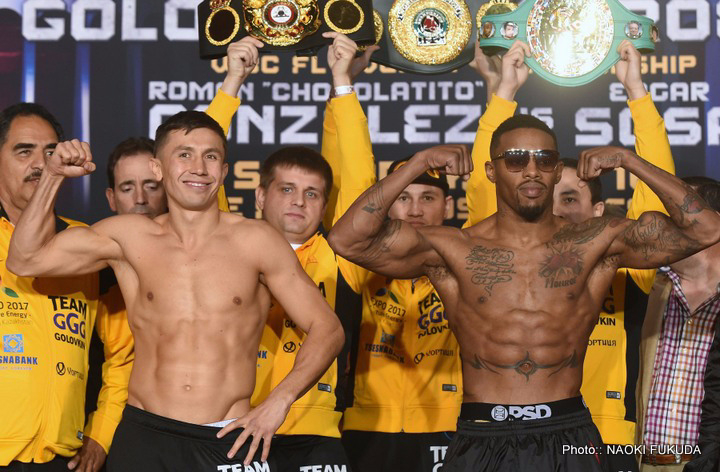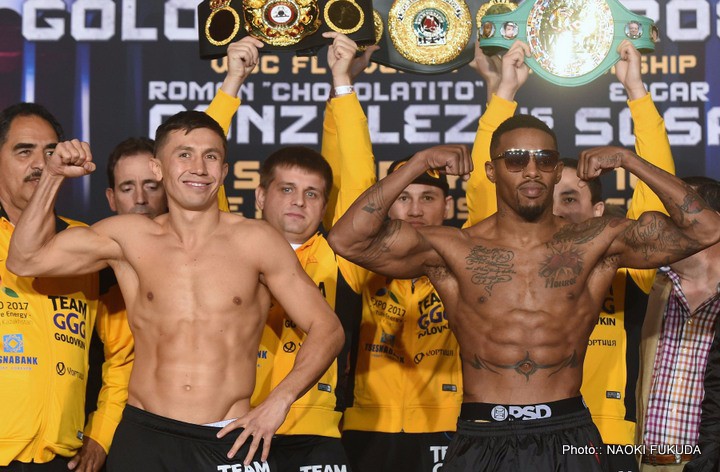 I have to admire ESPN's Boxcino tournament winner Willie Monroe Jr's (19-1, 6ko) attitude towards tonight's impending clash with unbeaten Kazakh wrecking-machine Gennady Golovkin (32-0, 29ko). The slick, yet light punching southpaw believes in his heart of hearts that he can win this one – and deserves props for even stepping up to the challenge in my humble opinion, especially when it is clear that the division's WBC champion Miguel Cotto – who fights former GGG victim Daniel Geale on June 6 – doesn't seem to fancy the job.
Both fighters made weight yesterday and all the talk going into the fight, rather than focusing on Monroe Jr – is of Golovkin's potential future fights with the likes of Canelo Alvarez, Cotto and even Floyd Mayweather.
The talk is of course being done by us – the writers, fans and even Golovkin's oft vocal trainer, Abel Sanchez.
Golovkin himself will be fully focused on the New York underdog in front of him tonight as he goes head hunting in search of his 20th straight knockout.
Yet bizarrely, ahead of the contest, a small group of people are predicting that the light punching Monroe will somehow trouble Golovkin because of the Kazakh's supposed 'lack of experience' fighting southpaws.
I just can't see a Honeyghan v Curry style upset here – can you?
Monroe, while definitely slick, has not boxed at anywhere near the level of guys who have fallen to Golovkin in the past. His Boxcino fights, while undoubtedly entertaining enough, showed us nothing that would suggest he can trouble Golovkin who is the most dangerous, hard hitting and unfancied fighter in the 160lb division.
That's what I meant about props to Monroe for taking the fight.
Golovkin's WBA (super) title is on the line and I fully expect him to defend it in style. I expect him to get off to a slightly slow start as Monroe tries to stay mobile and GGG methodically figures him out – but let's remember Golovkin has the highest KO rate in 160lb history, is a master at cutting off the ring and possesses one of the best left hooks in the business. None too shabby against a light hitting mobile southpaw.
If Monroe had even an element of power – to potentially trouble Golovkin – I'd place more stock in his chances.
Monroe's ribs are going to likely take a battering in my eyes. If it even gets very far. I'm seeing a stoppage much like the Matthew Macklin one – although while not a southpaw – he succumbed to that brutal left hook on the ropes in the 3rd round. If Monroe tries to jab his way out as he is getting backed up to the ropes or the corner, I predict an early night.
I just can't see Monroe being as tough as Golovkin's last opponent – Britain's Martin Murray – who took Golovkin 11 rounds and is one of the world's most deserving fighters of a world title – and one of the most unlucky when it comes to owning one.
Golovkin, who thrives on the challenge of proving himself against something different to the likes of Macklin, Rosado and former world champ Geale is up for this challenge of a "different" style opponent. He told Sky Sports;
"It's a different style but it's a good test for me. I want to show the fans I beat any style. I can beat a southpaw. This fight is not easy for me but I like a drama show. I like a good fight. I like fun, lot's of action"
I'm not sure how long Monroe will survive. If Gennady couldn't punch like he can I'd say he could nick enough rounds, which he may well early tonight, but I just feel when he tastes a punch when caught – which won't be long – he is going out. No way can I see him seeing the final bell.
Boxer v Puncher?
Schoolboy error if you place stock in that. GGG can box too. And boy can he punch…
But credit for taking the fight Willie. You can come again.
Golovkin KO/TKO 5
Thanks for reading
Twitter @Undilutedpoison