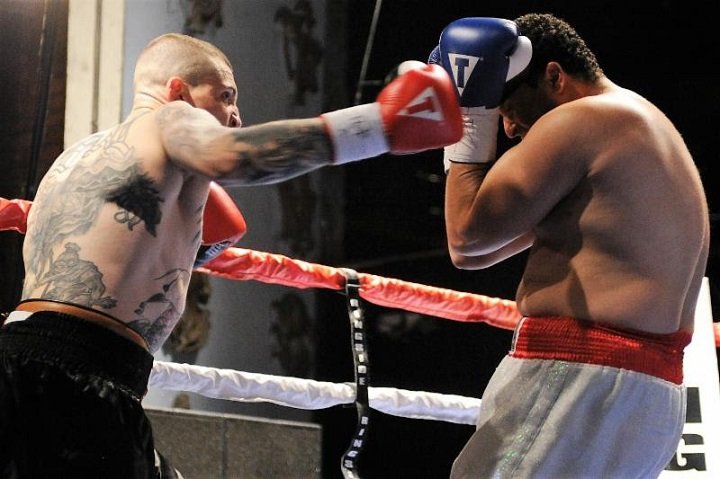 Vinnie "American Nightmare" Carita punished Gilberto Matheus "El Magico" Domingos as he landed one powerful punch after another on a defenseless Domingos throughout the first round of this cruiserweight bout. Then, just before the round end, Carita landed a devastating right hook to the body that dropped Domingos, who beat the ten-count. Domingos was in an immense amount of pain as he struggled to his corner, which caused his team to stop the fight.
"This was a nice victory for me, but I was hoping to get in more rounds, but unfortunately I did not get them tonight. Based on his record, I thought he would be more competitive, but that fell short," said Carita. "I am trying to step up my quality of opponents, but each time I do, they do not last past the second round. I am ready to face Marco Huck, Mairis Briedis, or anyone else in the top twenty of the cruiserweight division."
Carita upped his record to 16-1-1, 15 KOs with the technical knockout victory and remains unbeaten in his last thirteen bouts. Domingos fell to 22-7, 20 KOs, and most likely broke a rib from the knockdown.
"New England's Future 2" was promoted by Rivera Promotions Entertainment at the sold out Worcester Palladium in Worcester, Massachusetts.
Former NABF and NABO featherweight world champion Matt "Sharp Shooter" Remillard made an impressive return to the ring after being out of the sport for the last six years, as he garnered a hard-fought eight-round unanimous decision over Augustine "Ruthless" Mauras (80-71, 79-72 and 78-73). Remillard improved to 24-1, 13 KOs, while Augustine "Ruthless" Mauras dropped to 6-2-3, 3 KOs.
"I wanted to stop him, but he was a tough fighter who was slippery on the inside, and hung in there, and kept throwing punches the entire fight. If the fight went a little longer, I think I would have gotten him out of there," said Remillard. "Even though I did not stop him, it was good that the bout went the distance because I got some much needed rounds in."
The first four rounds featured good back and forth action from both fighters, but Remillard got the better of the exchanges and displayed the sharper combinations and jabs. Mauras was deducted a point in the fourth round for excessive head butting. Remillard took over the fight from the fifth round on as his ring rust began to wear off. He out worked and out landed Mauras and connected on the harder punches, especially to the body, which appeared to have an effect on Mauras' offensive production, which dropped off sharply in the last four rounds.
"I give myself a C + tonight," said Remillard. "I had a lot of ring rust because I had not fought in several years, but as the fight progressed, I began to get into more of an offensive rhythm and that is when I really started to take over the bout. I hope to be back in the ring in June and stay as active as possible for the rest of the year."
Bryan Daniels knockdown "Money" Mike Sawyer four times in the first round, and after the last one the referee stopped the fight at two minutes and thirty-four seconds. Both heavyweights threw powerful punches at each other; however, Daniels was the only one that landed. Daniels upped his unbeaten record to 4-0, 2 KOs with the technical knockout win. Sawyer fell to 7-8, 5 KOs, but deserved a great deal of credit for getting up after each knockdown.
Donnie "Big Nasty" Palmer punished Bobby Favors throughout the first-round until the referee stopped the fight at two minutes and six seconds. Palmer improved to 9-1-1, 8 KOs with the technical knockout victory. He won his third consecutive bout. Favors dropped to 0-6. Palmer unloaded numerous jabs, and hard body and head shots, which constantly connected on Favors in this heavyweight bout. Favors did not throw many punches, instead he tried to cover up from Palmer's offensive onslaught. This was Palmer's first fight since he was shot in the stomach last summer by his sister's abusive boyfriend. He recently served as a sparring partner for former heavyweight champion of the world Wladimir Klitschko.
Anthony Laureano, the 2016 New England Golden Gloves Champion, beat up Bryan "The Brick" Abraham for the first two and half rounds which prompted the referee to stop this one-sided bout at two minutes and forty-five seconds in the third. Laureano landed whatever he wanted, when he wanted, including numerous power punches that badly staggered Abraham throughout this junior welterweight fight. Laureano upped his perfect record to 3-0, 2 KOs with the technical knockout win. Abraham fell to 6-25-1, 6 KOs.
Eighteen year old welterweight prospect, "Marvelous" Mykquan Williams scored a first-round technical knockout when he landed a powerful left hook that sent Israel "Tigre" Rojas to the canvas and the referee quickly call off the fight at two minutes and five seconds. Williams kept his undefeated record intact as he improved to 6-0, 4 KOs. Rojas dropped to 10-16, 3 KOs.
Elvis Figueroa (1-0, 1 KO), a three-time USA Boxing Nationals Champion, defeated Devison Ribiero via a technical knockout when Ribiero did not come out for the third round. There was good back and forth action for the first two rounds, but Figueroa got the better of the exchanges, landed the harder punches, and worked the body nicely in this super middleweight bout. Ribiero fell to 0-4.
Andy Gonzales dominated this one-sided welterweight bout against Antonio Chaves Fernandes en route to a four-round unanimous decision by three scorecards of 39-37. Gonzalez upped his record to 6-1, 5 KOs and won for the third consecutive time. Fernandes dropped to 7-31-4, 2 KOs. Gonzales out worked and out landed Fernandes, and connected on the hard shots, which staggered Fernandes several times. Fernandes did not offer much on offense besides an occasional jab.
The 2014 New England Golden Gloves Champion, Adrian "Tonka" Sosa made quick work of Oscar Diaz in this welterweight bout, as he dominated the first minute and half after which he unloaded a barrage of powerful punches that knockdown Diaz, who was unable to beat the ten-count. The fight was stopped at one minute and thirty-four seconds. Sosa is still unbeaten as he improved to 3-0, 2 KOs with the technical knockout win. Diaz fell to 0-11.
Luis "Pancho" Santiago (0-0-1) and Alex Montes (1-2-1) battled to a competitive, hard-fought draw in their four-round featherweight bout. Each fighter received a 40-36 scorecard, while the third one was 38-38. Santiago and Montes both landed at a consistent and rapid rate. Santiago was the more accurate puncher, while Montes was the aggressor and landed the harder shots. Hopefully, both boxers will fight one another in a rematch.
Derrick Whitley (1-0) had a successful junior middleweight professional debut as he defeated Anthony Everett by a four-round unanimous decision (two scorecards of 40-36, and one 39-37). Everett dropped to 1-5. Whitley landed several powerful shots that staggered Everett in the last three rounds.