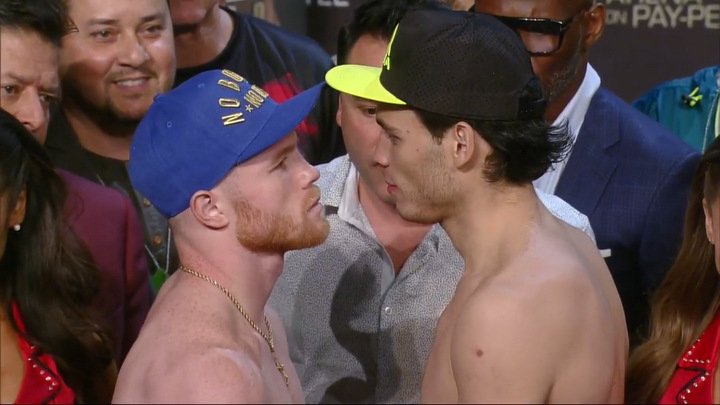 The city of sin Las Vegas, Nevada will be buzzing for this weekend's bout between Saul 'Canelo' Alvarez and Julio Cesar Chavez Jr. It's a fitting fight that will only heighten the Cinco de Mayo celebrations. Beyond the event, which has been promoted very well by Oscar De La Hoya and his Golden Boy Promotions, will the actual fight match the hype? It's a fair and obvious question to ask given the lack of activity from Julio Cesar Chavez Jr. in recent years.
When this matchup was announced much of the hardcore fans scoffed for a couple of reasons. As previously mentioned Julio's activity level along with discipline missing weight has significantly dropped his stature amongst a fan base that wanted so badly to back their fighter. The last real opponent he faced was at light heavyweight in 2015, a division he had no business being in and it showed in the ring. In the first Brian Vera fight, Chavez Jr. stained the family name by being so far overweight not even the 50-year veteran promoter Bob Arum could spit shine.
Criticism against Canelo and Oscar De La Hoya was warranted as well having invited Gennady Golovkin in the ring after nearly decapitating Amir Khan last May. Oscar went as far as to say he couldn't wait to call Golovkin's promoter Tom Loeffler to begin negotiating that Monday morning. Instead Golden Boy Promotions and Canelo chose a much safer rout facing an unproven Liam Smith for a trinket at 154-pounds.
Many in the boxing media and avid followers of the sport could see the irony in Canelo skipping past middleweight and fighting at a catchweight of 164.5 pounds. After Oscar stressed the company line of Canelo is not a true middleweight and will grow his body into 160.
The last month or so images and videos began to circulate of Julio Chavez Jr. showing signs of being focus in training camp. Now that fight is upon us it's clear to see the son of a Mexican legend Julio Cesar Chavez Sr., has taken this fight to heart. Whether he makes the weight healthy and can show his true fighting spirit won't be determined until Saturday night on HBO PPV.
If in fact J.C.C Jr. is able to perform at his highest level it could be a very entertaining scrap. Usually Canelo has the weight advantage against opponents, that won't be the case this go round. But will size have much to do with the outcome? The only way Chavez can be effective is to penetrate the pocket getting all the way inside the comfort zone of Canelo. Leaning on his fellow Mexican combatant and digging to the body is the key to smothering Canelo's high-octane offense.
For Canelo the jab is a crucial weapon to keep Julio honest and as always to set up his other weapons offensively. The major item that stands out for Canelo will be body punching, arguably the most important factor. Even with Chavez Jr. making the weight limit will have taken its toll and what better way to exploit that fact then using a body attack.
In my mind Canelo is too fluid and gifted in his combination punching for Chavez Jr. That's not to say Julio won't have his moments in this main event fight taking place at a sold-out T-Mobile Arena. The pressure Julio applies will do some damage because Canelo is not exactly fleet of foot. As far as pace, it should be fought on a sustainable level with very few lulls after a round or two.
Will it be a full-out war that Golden Boy Promotions is smart in claiming? Given the track record of both men it's unlikely we get a fight of the year candidate. In reality neither man has engaged in that many brawls but both keep a solid work rate. There will be spots of exchanges but for the most part it will be a lopsided victory on the scorecards but exiting action within the rounds.
My official prediction is Canelo Alvarez by Unanimous Decision.
Side Note: If you're investing in this card Lucas Matthysse returns to the ring against a quality guy in Emanuel Taylor.
Written by Chris Carlson Host of the Rope A Dope Radio Podcast available at blogtalkradio.com/ropeadoperadio Subscribe on iTunes, Player.FM, Tunein, & Stitcher. Visit The Rope A Dope Podcast YouTube Channel & Follow on Twitter @RopeADopeRadio