SHOWTIME CHAMPIONSHIP BOXING® Live At 5:15 p.m. ET/2:15 p.m. PT
Kell Brook vs. Errol Spence Jr. – IBF Welterweight World Championship
Kell Brook – 146 ½ pounds
Errol Spence Jr. – 146 ¼ pounds
Live at approximately 4:30 p.m. ET/1:30 p.m. PT exclusively in the U.S. on the SHOWTIME Sports Facebook page and the SHOWTIME Sports YouTube channel.
George Groves vs. Fedor Chudinov – vacant WBA Super Middleweight World Championship
George Groves – 167 ¼
Fedor Chudinov – 167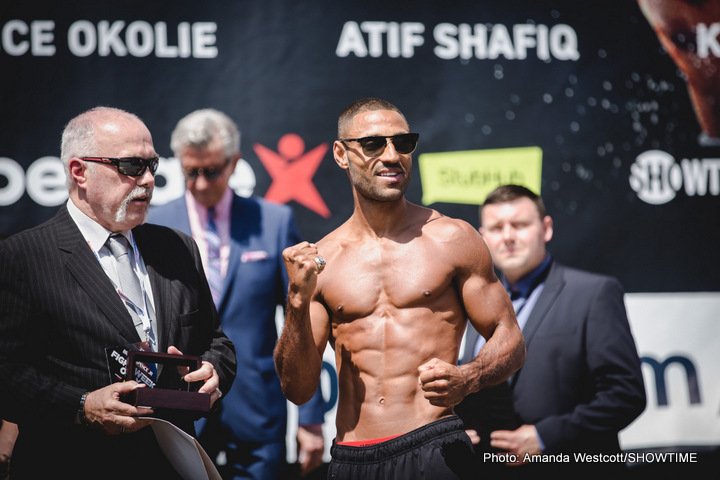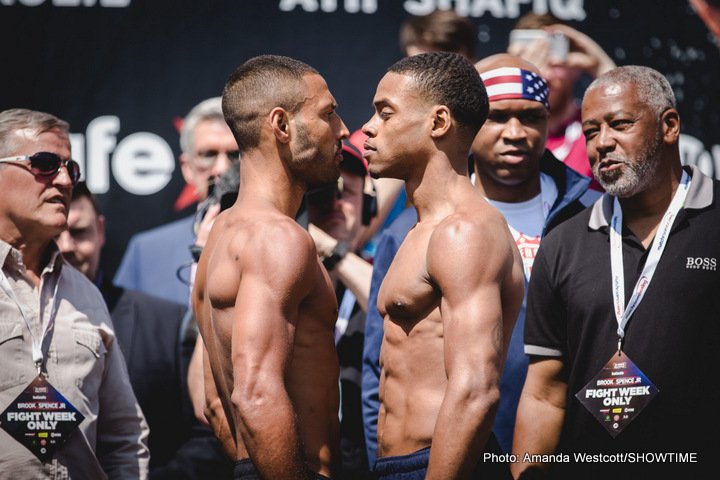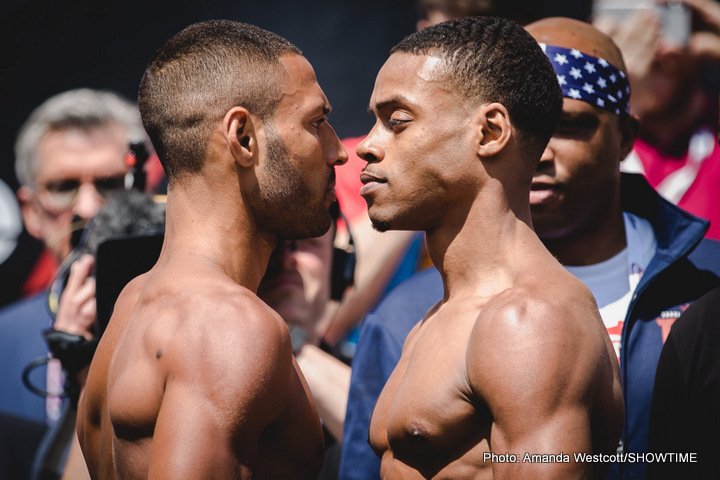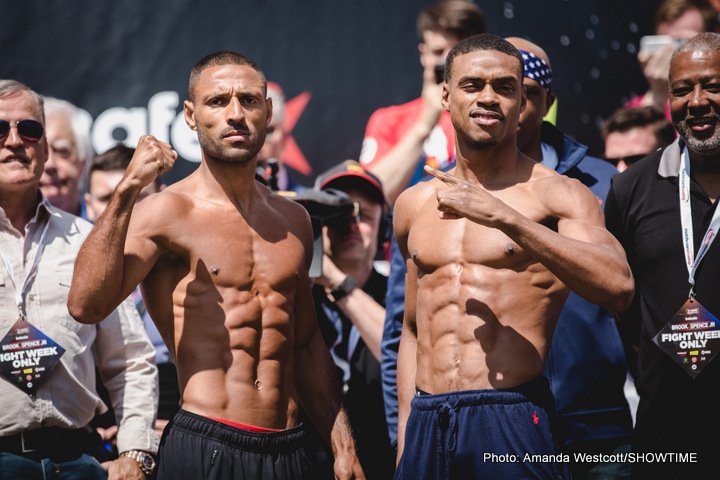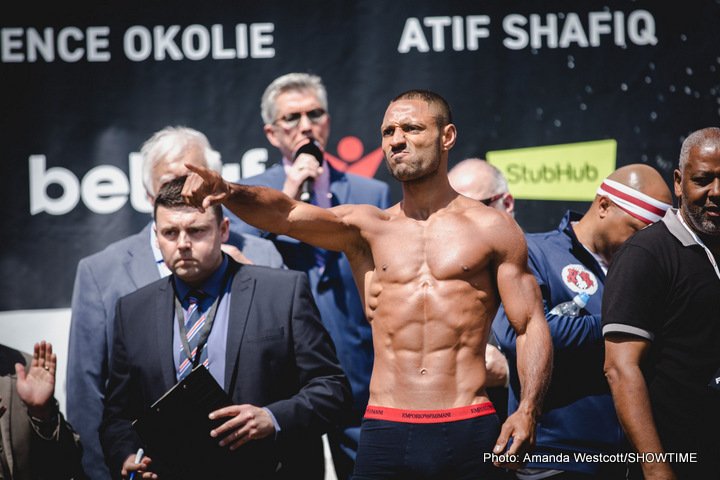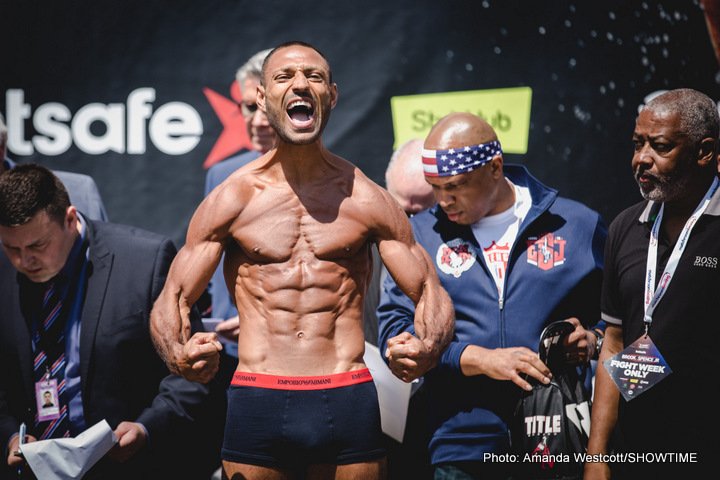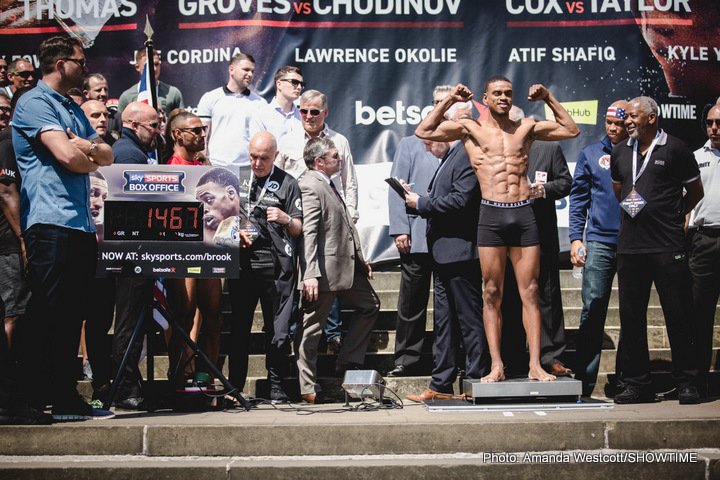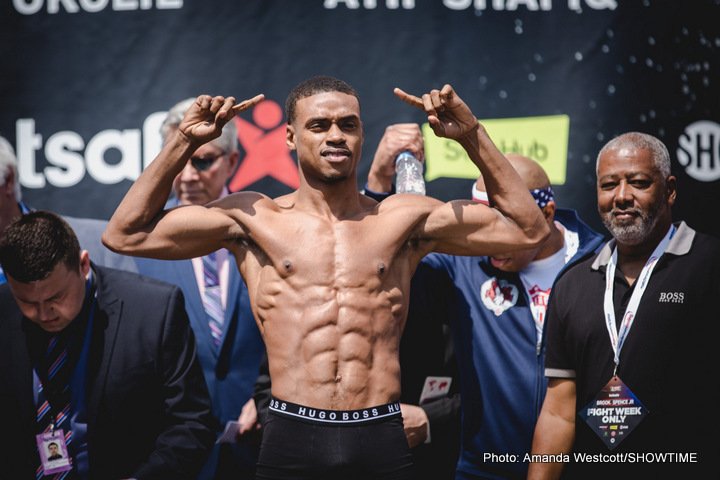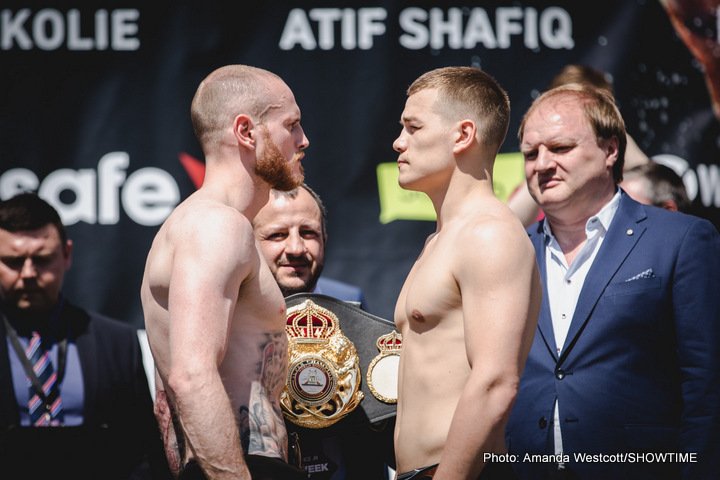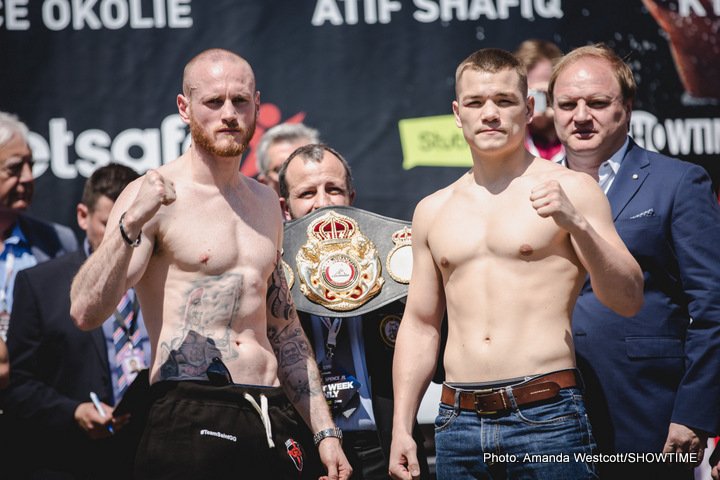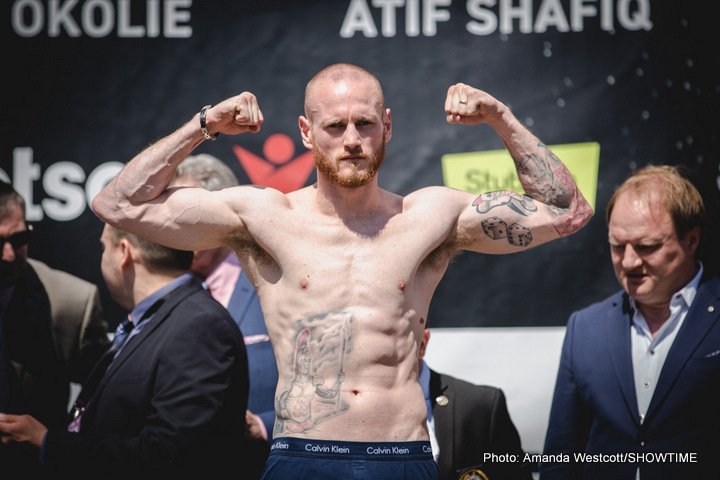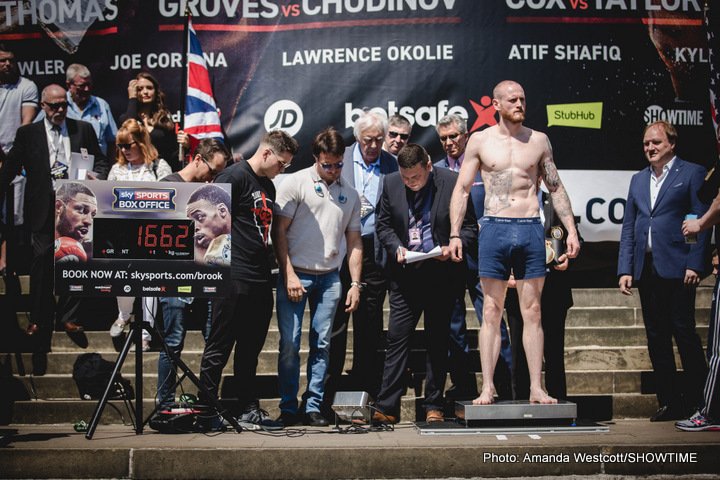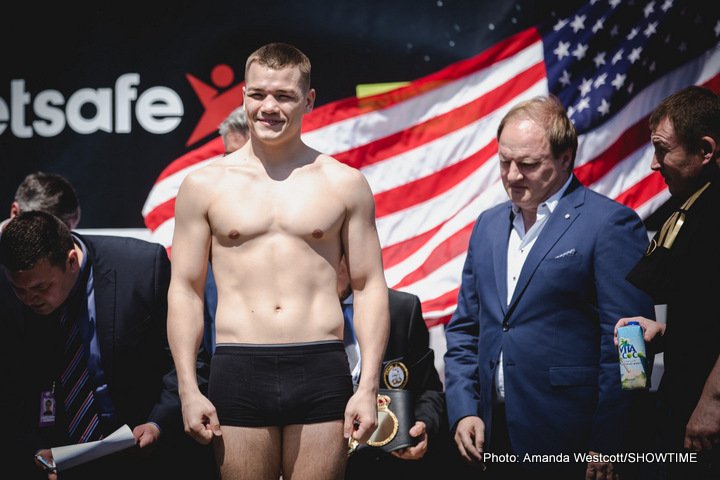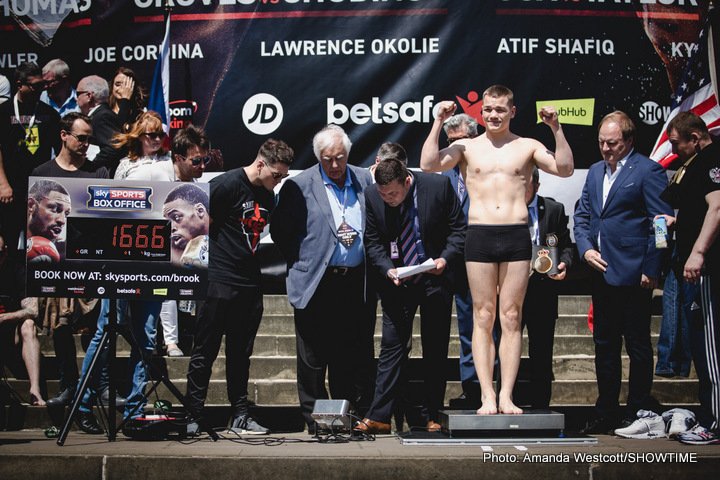 The final press conference was held today in Sheffield, United Kingdom, in advance of this Saturday's mega-fight fight between International Boxing Federation (IBF) Welterweight World Champion Kell "The Special One" Brook (36-1, 25 KOs) and undefeated No. 1 mandatory contender Errol "The Truth" Spence, Jr. (21-0, 18 KOs).
Canadian boxing fans will be able to watch the exciting four-fight Brook vs. Spence, Jr. card, presented by Matchroom Boxing, exclusively on Super Channel, starting at 3 p.m. ET/ 12 p.m. PT, live from the outdoor Bramall Football Ground in Sheffield, Yorkshire, United Kingdom.
BROOK VS. GOLOVKIN & BIZIER REPLAYS ON SC1
Preceding the 3 p.m. ET / 12 p.m. LIVE fights, Super Channel will air the following replays on SC1, starting at 1:30 p.m. ET / 10:30 a.m. PT:
These fights will also be featured on Super Channel On Demand.
The other televised fights on 3-hour Super Channel broadcast this Saturday are three-time World title challenger "Saint" George Groves (25-3-0, 18 KOs) against former WBA Super Middleweight World Champion Fedor Chudinov (14-1, 10 KOs) the 12-round co-feature for the vacant World Boxing Association (WBA) Super Middleweight World Championship; David "White Rhino" Allen (11-2-1, 8 KOs) takes Lenroy "TNT" Thomas (20-4, 10 KOs) for the vacant Commonwealth Championship, followed by the professional debut of 2012 British Olympian Anthony Fowler versus Arturs Geikins (3-7-1, 2 KOs) in a four-round middleweight match.
All fights and fighters are subject to change.
Brook-Spence, Groves-Chudinov workout photos & quotes for Saturday
Kell Brook will make his fourth IBF Welterweight World Title defense against U.S. star Errol Spence Jr. at Bramall Lane in Sheffield, England this Saturday May 27, live on SHOWTIME (5:15 p.m. ET/2:15 p.m. PT).
Brook (36-1, 25 KOs) and mandatory challenger Spence, (21-0, 18 KOs), clash on SHOWTIME CHAMPIONSHIP BOXING in one of the biggest fights in the 147-pound division, and the elite pairing are promising to deliver an electric night of action.
Both fighters participated in a public media workout today, Wednesday, at Peace Gardens in Sheffield, England. Below is what they had to say:
KELL BROOK
"We are going to rock Sheffield on Saturday night. I'm ready, I'm pumped, I can't wait.
"There is a lot of pressure but I always perform better under pressure. I'm meant to be on the big stage, I'm ready for the pressure and to see the bright lights.
"[Errol Spence] is a serious dude from America, he's a young hungry lion, but he's not beaten anyone like me. I'm a champion and I've been a champion. I'm defending. I know both sides of the coin, I've prepared very well.
"I'm ready for a war. And that's what you're going to see – a war Saturday night. There are going to be two winners Saturday night: that is going to be myself and everyone watching.
"There's no way he can beat me. I'm a man possessed and I have a serious job to do. This is my night to shine.
"I love it [being the underdog]. I was born for it. People don't have me winning this fight, but that just gives me the extra energy I need to go out and prove them all wrong.
"This guy is a talented guy, but he's never been tested. He's never been in with someone who is so determined like me. Who's bigger, stronger, who has all this energy, who's meant for this game, who's meant to be a winner. He hasn't been in with someone with that mindset, and that's what I'm coming to bring on Saturday.
"All the hard work has been done. The talking will stop; we're ready to let some fireworks fly now.
"I can see us both maybe hitting the canvas. You're going to be on the edge of your seat from round one. He's not going to take a backwards step, and I'm not [either]. All I can say is it's going to be a thriller.
"I've arrived. It's a dream come true. It's going to be so perfect for me that night to walk out and just see everyone. The electricity is going to be phenomenal."
ERROL SPENCE JR.
"This is my time, this is my era. This is my time to shine. This is my time to get the belts, this is my time to unify and become the undisputed welterweight champion of the world. This is just another stepping stone to get to where I want to be.
"I'm 100 percent prepared, I'm 100 percent focused, and I'm 100 percent ready to give the fans what they want, which is a real great fight.
"I can't let the fans get to me. I'm not worried about him having his hometown fans. Eventually everyone will be my fans by the end of the night.
"I don't feel the pressure at all. I feel like there is more pressure on him because he's fighting at home. Of course there's pressure on me to win, but I welcome that pressure. It's going to do nothing but motivate me, make me more hungry and make we want to win even more.
"You just have to have that 'it' factor, and I think I have it. I'm not worried about the crowd, I'm not worried about the boos or anything like that.
"It's a good step-up. Kell Brook is a good fighter, he has great skills. I welcome this step-up – I've been asking for it for a long time and I'm finally getting my opportunity.
"My confidence comes from my hard work. I know the hours and time that I put in the gym."
"This is an ideal situation. I would be disappointed if I was fighting someone else because he vacated. I'm a real fighter, I want to fight the best, I want to fight the champion and earn it the right way. I can't wait to prove I am one of the best fighters in the welterweight division.
"I've been on the USA team for a long time. As an amateur, representing U.S. in the Olympics and as a pro having this USA patch on me and fighting for my country. I feel Saturday is kind of like a USA vs UK battle. And U.S.A. is going to win."