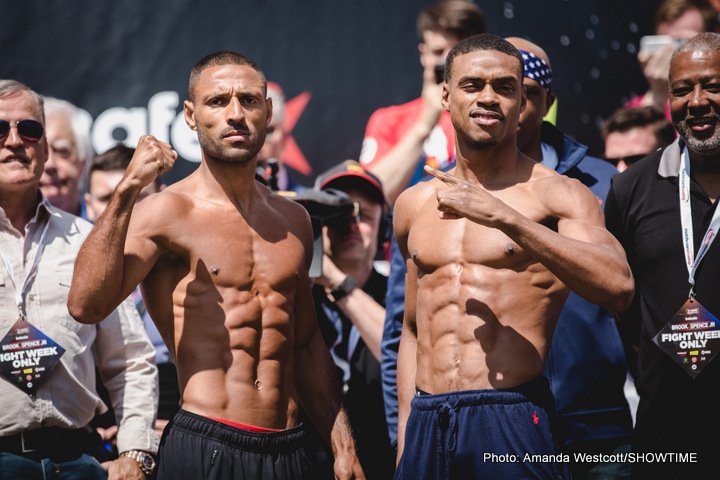 Another month, another outdoor stadium event in the fertile grounds of the United Kingdom boxing scene comes to fruition as Kell Brook defends his IBF welterweight strap against Errol Spence. Some 27,000 fans will fill Bramall Lane Stadium in Sheffield, England to witness their hometown fighter dare to be great. Crossing the pond is an unbeaten American who looks the part and finally gets cast in a role of a lifetime.
In the red corner stands arguably the best welterweight in the world Kell Brook. In the blue corner the ultra-talented Errol Spence who gets a chance to live up to his nickname 'The Truth'. Only one man can end the night with his hand raised barring an unforeseen draw result.
Kell Brook is a household name in the U.K. after years of tolling in the professional ranks waiting for his shot at a world title. Injuries and bad luck played a part in forcing this long journey to fame and fortune. Three separate scheduled fights with Devon Alexander fell by the wayside. Not to mention the Carson Jones setback. Finally the stars aligned for the boxer they call 'Special K' to take the show on the road to America to face a red-hot Shawn Porter in 2014.
Hand speed, movement and an inside clinch proved to be too much for Porter to deal with. In true Kell Brook unfortunate fashion, while vacationing, the Sheffield native was stabbed and faced a real possibility of never stepping foot in the ring again.
Although last September Brook took his first 'L' his fighter spirit impressed many by jumping up two weight classes to take on middleweight Kingpin Gennady Golovkin. Yet another injury sprung up this one of the serious variety having broken his orbital bone. Instead of heading up to the junior middleweight division Brook chose to keep his 147-pound belt he worked long and hard for.
Errol Spence may be untested at the tippy-top level of the deepest weight division in boxing but that hasn't stopped every Tom, Dick, and Harry of labeling him the crown jewel at 147. Last April on NBC, Spence destroyed Chris Algeiri in 5 rounds, yet struggled to find a worthy opponent in the Top 10 of the IBF rankings. Spence was stuck in the dreaded high-risk low-reward category with no championship belt to lure guys in to sign on the dotted line. In August 2016 following the USA gold medal basketball victory Spence was on center stage and took full advantage of the Olympic spotlight with a brutal knockout of a normally durable Leonard Bundu in the highest rated boxing telecast since 1998.
The time has come for young Errol who waited through an injury extension to secure this humungous fight with Kell Brook. The unknown mysteries will come to the forefront on Saturday night but in the meantime let's discuss what we do (think we) know.
The jab as always will come into to play quickly and who ever lands it repeatedly will gain the early lead. This podcaster gives the nod to Kell Brook, based off him landing his jab against two quality fighters. In fact the jab and movement on the outside favors Brook and is a recipe for success.
Inside the trenches, besides Brook's clinch game, Errol Spence stands apart with his viciously thrown body punching and effective aggressiveness. Both men pack a punch and feature high-level speed to deliver eye-catching shots. Sorry Kell no pun intended.
Chin-wise Brook has shown a great set of whiskers while Spence's beard is still up for debate. Staying on topic, neither guy displays elite level defense which promises to only add to the two-way catch and shoot action. If we're talking about a fight that goes the distance you might want to favor Brook because he's already gone 12 hard rounds and the location of this event taking place in his backyard.
This boxing scribe (hack) thinks this matchup brushes shoulders with a 50-50 fight because of Kell's eye and weight adjustments to go along with Errol's lack of big game hunting.
Kell Brook will likely get out to an early lead behind a crisp jab and lighting fast straight-rights. Let's say somewhere in the 4th or 5th frame, Spence will begin to time Brook with his own ammunition via hooks and crosses.
Then the back and forth carnage will ensue giving the fans at the stadium and Sky Sports/Showtime television audience their money's worth.
Errol's body punching will prove to be too much causing Brook to put on the earmuff defense and enforce a stalemate-like clinch. Realistically, Spence could control 7 out of 12 rounds and still fall victim to the cards. To be honest it's hard to keep the weigh roller-coaster and eye injury from Kell Brook out of my mind. Regardless the outcome here's hoping the U.K. versus USA rivalry gets a scorcher of a fight.
My Official Prediction is Errol Spence by Split-Decision.
Written by Chris Carlson Host of the Rope A Dope Radio Podcast available at blogtalkradio.com/ropeadoperadio Subscribe on Apple Podcasts( iTunes), Player.FM, Tunein, & Stitcher. Visit The Rope A Dope Podcast YouTube Channel & Follow on Twitter @RopeADopeRadio