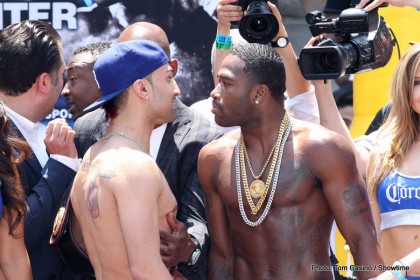 I can't recall another fight in recent years that had so much 2 way trash talk leading up to the event. If the fight lives up to even 50% of the hype that got very personal at times, we could see both men fighting with some extra emotion in the ring this Saturday from Brooklyn, New York at the Barclays Center. This fight isn't a PPV but you would never guess from the buzz that it has created even with Adrien Broner being a huge favorite at the sportsbooks.
Will Paulie be able push Broner the way Ponce De Leon and Fernando Quintero did? Or will the pre fight presser's be the only thing we remember about this fight that could be downright boring?
If Adrien Broner turns out to be as good as fighter as he is talker, he could be a major star in a sport that needs a youth movement to rise to the top before the likes of Mayweather , Pacquiao, and old heads like Hopkins and Marquez call it a day. Malignaggi has already resume wise, walked the walked for the talk he has talked throughout his career. Sometimes inconsistent other times displaying pure boxing skills. Paulie may not always bring his "A" game but win or lose his fighting pride shows up in every fight. He has a good chin and the ability to fight under hard circumstance, as was the case in his fight with a then prime Miguel Cotto in 2006.
One reason why the "Magic Man" is such a huge underdog is the results of his fights with Amir Khan and Ricky Hatton ending in T.K.O. After seeing what Khan did with his jab, speed, and combination punching it's hard not to think history will repeat itself. But it may be a little misleading. Broner has all three of those things, the difference between him and Khan is the game plan in which those skills are delivered.
Amir's jab is more active along with his overall offensive strategy early and throughout fights. Adrien takes his time before he unleashes his full arsenal on his opponents. A lot of that fight was fought in the middle of the ring one can only assume Paulie won't make that mistake again. Broner has shown patience inch by inch closing the distance while stalking his opponents. Even when he has them hurt he won't reach or throw looping punches from left field, instead he aims for the body to open up the head enabling him to score HBO replay type knockout punches.
Malignaggi wants fighters to come right to him the way Juan Diaz did with constant pressure, that's where he's in his comfort zone exposing their flaws and aggressiveness. Timing them with counters and keeping an active jab in their face at all times. Broner has never faced a fighter like Malignaggi who can throw a punch and retreat or escaped all in one motion. His footwork and defense to make fighters miss can be a thing of beauty.
Will Broner stay poise and focused or will he fall for some of the traps that Malignaggi will try set? This is where emotion comes into play for Broner. Paulie has already admitted that there will be slow moments in the fight and when that crowd starts to bring the boo birds out, which one will force the action in an attempt the shut them up. My guess is neither. But could we see Adrien reaching with his punches or up his activity early on trying to go for the knockout that most are predicting? Fair or not anything less than a knockout for Broner will be looked at as a disappointment in many fans eyes.
The pressure for him to perform at a high level is brought on by his constant bravado he displays in every interview and press conference. Hate him or love him you have to admit it the bad guy persona, which at times sounds like a broken record of Floyd Mayweather's greatest hits, has worked for him to this point. It will continue to work for him as long as he keeps racking up wins and more importantly raise the level of adversary he faces, which up until this point has been very week.
Broner has shown plenty of weakness in his fights with De Leon and Quintero, who both brought the fight to him. Broner made some adjustments in the both fights. He seems to have learned some import lessons when being attack. Early and midway through those fights he was throwing one punch at a time. Instead of just throwing a lead left hook or right hand, he put them together or followed his jab with something. But the style in which Ponce De Leon fought Broner won't help Paulie that much.
Fernando Quintero was aggressive behind his jab was able to land lead looping right hands very effectively. Quintero not only brought the pressure and closed the gap. He was able to do some work on the outside when Broner was rushing him trying to overwhelm him with speed and pressure. At times he showed the ability to move his head and upper body. We know Malignaggi's best magic trick is now you see me, now you don't. If Quintero can give Adrien a "Problem" with good but not great hand speed and have success getting out of the way of punches, there is no reason why Paulie can't have success this fight. Quintero had enough success versus Broner to earn a draw on Judge Jesse Reyes scorecard and Judge Michael Mitchell scored the fight for Broner 77-75.
The big question is how much success can Malignaggi have? The work rate he showed versus Juan Diaz may get him in deep trouble with a guy like Broner who is faster, more accurate, and has shown more punching power than Diaz did at similar weights.
With this being Adrien Broner's first fight at welterweight. Weight and how his body and power adjust to it could be a major factor in the outcome being a distance fight or ending in a technical knockout.
The most interesting thing thing for me is how Broner reacts on offense with a guy not just standing right in front of him like most have. It's doubtful that Paulie will get into his chest or for that matter would even want to. It may take an aggressive fighter with power and a chin, who is fighting at his natural weight class to beat Broner. Many think he lost to Ponce De Leon at 130. Ponce's best wins are at 126 and 122. Surprisingly, Broner is not as good as one would think with his skill set, on the move when forced to show counter his punching abilities from being pressure on to the ropes. But he won't have to deal with that in this fight.
Only time and quality opponents will tell if Adrien Broner is a good as he has looked since the De Leon fight. My gut tells me that Broner will take his time like usually and stalk Paulie like Jason Voorhees does in his Friday the 13th movies, nice and slow. This fight may take all of the early rounds to get warmed up and may never reach a boil. My pick is Adrien Broner to defeat Paulie Malignaggi by decision.
Written by Chris Carlson Owner and Host of Rope A Dope Radio at www.blogtalkradio.com/ropeadoperadio
Follow on Twitter @RopeADopeRadio
YouTube Channel "The Rope A Dope Report" Subscribe at http://www.youtube.com/user/kg21carlito Visit http://ropeadoperadio.wordpress.com/