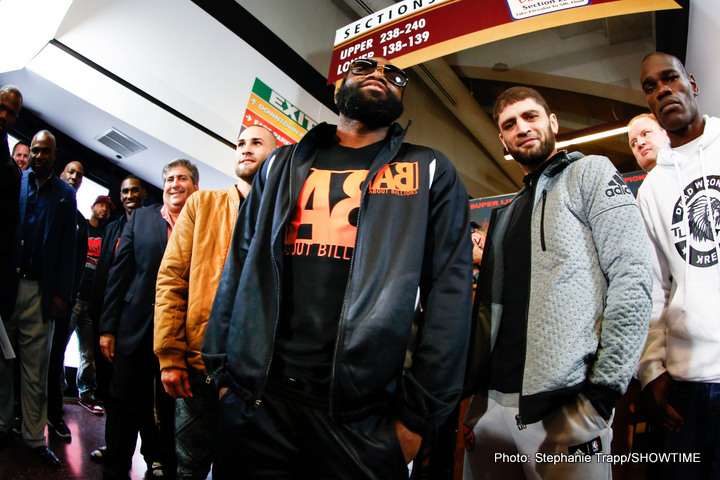 Adrien Broner faces Khabib Allakhverdiev this Saturday night in Cincinnati, OH at the U.S. Bank Arena. The Showtime broadcast includes rising Puerto Rican talent Jose Pedraza taking on a vet in Edner Cherry. Beyond the obvious issue of a title at stake, the matchup is a solid one for Broner to get well after losing to Shawn Porter in June.
Two boxers fighting for a 140-pound strap both coming off losses isn't exactly a ringing endorsement. Either way it's a do or die situation for Broner, who has chosen wisely to keep his mouth shut of late. When he has spoken Broner is saying all the right things in the run-up to this important event. Less is defiantly more for Broner as he prepares for this true crossroads fight.
The problem for Broner has been how he spends his time between bouts outside of training camp. His weight issues have been well documented. If he can get that under control there's still some promise left at 140.
If Broner is victorious he will have won his fourth belt in as many weight classes. On the surface it's a phenomenal accomplishment. However, only one of those titles came against a top fighter at lightweight. No matter what your opinion is on Broner or him getting this title opportunity, he'll have his work cut out for him versus a very capable junior welterweight.
Khabib's last fight was back in April 2014 against the unbeaten Jessie Vargas with a WBA strap on the line. The same WBA belt he won by beating Souleymane M'baye the previous summer. The Vargas outcome can be somewhat disputed because of how closely fought the contest played out. It was a tick-for-tat scrap that this scribe scored a draw.
In that fight and a few others, Khabib showed a good jab to go along with a nice straight left hand. Plus hooks with either hand, a busy work rate gives Allakhverdiev a good shot to send Broner packing into the abyss. Ok maybe that term is a bit overboard.
Khabib pressured Jessie Vargas fairly well in their fight and closed the gap as the fight wore on. Broner has issues with pressure fighters that don't allow him to take breaks in between flush lands. Instead of letting Broner control the pace as he attempts to walk down his opponent, Khabib will have to force Broner to earn it every single round.
Another thing I noticed in Khabib's fight with Vargas was lack of head movement on defense and overall speed. Broner is faster handed than Vargas and at 140-pound should be more willing to throw in combination. If (a big if) Broner is in as good a shape as it appears, it will allow him let his hands go the deeper this fight goes.
Khabib should be able to push Broner to the brink. Activity could be a difference maker with Allakhverdiev having fought just once in 2013 and 2014. Not to mention being on the shelf since two April's ago.
The styles match up well for both men which should give us fans at home something to get excited about. Look for this fight to play out similar to Broner's hard-earned victory over Emmanuel Taylor. Defiantly competitive but a clear enough win for Adrien. Even in victory Broner will still need to prove he can stay discipline between camps in the coming years.
My official prediction is Adrien Broner by Unanimous Decision
Side Note: Jose Pedraza returns to make his first title defense against faded but still durable Edner Cherry. Cherry should give Pedraza the work and rounds he needs for progression.
Written by Chris Carlson Owner and Host of Rope-A-Dope-Radio blogtalkradio.com/ropeadoperadio
Follow on Twitter @RopeADopeRadio