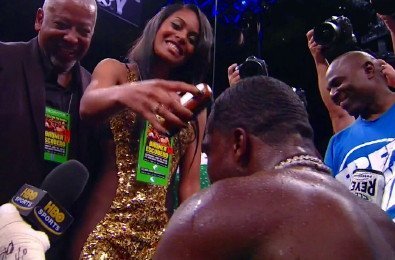 By Rob Smith: Former WBO super featherweight champion Adrien Broner (24-0, 20 KO's) mentioned wanting to fight guys like Juan Manuel Marquez and Antonio DeMarco next after he laid waste to Vicente Escobedo last month in a fine performance in Cincinnati. Broner couldn't make weight for the super featherweight fight and will now be moving up to 135 to campaign in the lightweight division. However, the division is lacking in a big way any real names for Broner to fight apart from DeMarco, Ricky Burns and Yuriorkis Gamboa.
Gamboa would be an ideal fight for Broner, but given Gamboa's recent reluctance to fight former WBA World lightweight champion Brandon Rios, it's probable that Gamboa would pass on a fight against the equally big Broner.
One opponent that would be absolutely perfect for Broner is 38-year-old Juan Manuel Marquez, the WBO light welterweight champion. To face him, Broner would be required to move up in weight to 140, which shouldn't be a problem for him because he fought Escobedo last month while weighing 146.
Both Broner and Marquez are 5'7″, but Broner has a four inch reach advantage over Marquez and that would be a big factor in his favor. With Broner's Mayweather-esque style of fighting, he'd likely pick Marquez apart just as Mayweather did in his win over Marquez in 2009. Mayweather practically shut Marquez out in beating him by a lopsided 12 round unanimous decision. Broner is just an inch shorter than the 5'8″ Mayweather and his reach is only an inch shorter than Mayweather's reach. I believe Broner could easily beat Marquez with no problems whatsoever. The issue I see is getting the fight made.
Marquez's promoter Bob Arum might not be too thrilled at matching Marquez up with Broner and having him possibly spoil a big money rematch against Manny Pacquiao. But if Arum isn't going to match Marquez with Pacquiao in November, then he might as well give Marquez as big a fight as possible because he doesn't have too much time left in his career. Broner would be a perfect fight for Marquez. Apart from putting Marquez back in with Mayweather or Pacquiao, Broner would perhaps be the next biggest fight for him. You can't put Marquez with Miguel Cotto because he's too big for him. Broner would be perfect because he's not as heavy as Cotto.