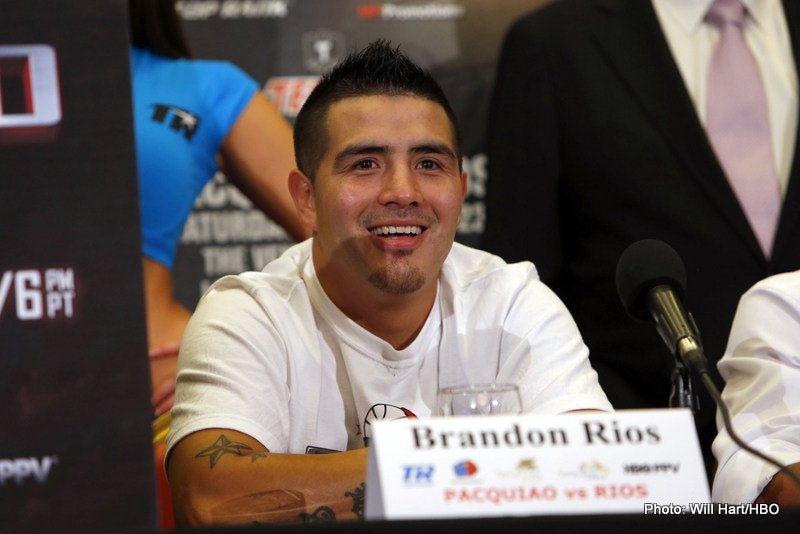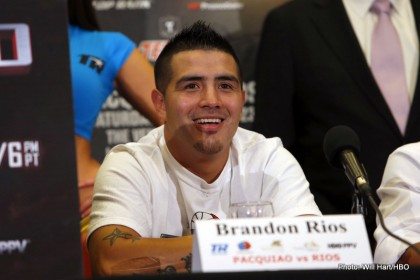 OXNARD, CALIF (October 31, 2013) — Former world champion BRANDON "Bam Bam" RIOS (31-1-1, 22 KOs), of Oxnard, Calif., and reigning Trainer of the Year ROBERT GARCIA hosted their only U.S. Media Workout today at the Robert Garcia Boxing Academy in Oxnard.
KEVIN HART, who stars as a savvy boxing promoter in the upcoming Warner Bros. Pictures movie "Grudge Match," was also in attendance.
Rios is in deep training for his eagerly-anticipated welterweight collision with Fighter of the Decade, Congressman MANNY "Pacman" PACQUIAO (54-5-2, 38 KOs). Rios departs for Macau on November 11 to acclimate to the environment.
BRANDON RIOS
"I am going to China to win. I am going to wear down Pacquiao like I do all of my opponents. If I get a knockout, good. I am physically strong and I am going to take it to him.
"My team – Robert Garcia and Cameron Dunkin – believes in me. They have from the beginning. my dad, Manuel, has always believed in me and he's going to China with me.
"Let Freddie Roach know I am a man, I come for the win, the kill. Tell Freddie that – I want him to know.
"I am in the prime of my career, not like Pacquiao
"I will be ready for Pacquiao. I have two smart men in my corner – Robert and his father."
ROBERT GARCIA
"We've been training three months and Brandon has better footwork, head movement, and hand speed.
"We are preparing to face the Manny Pacquiao who was so dominant a few years ago. We have a game plan to win this fight. Brandon is fully prepared and has the mental toughness to break down and beat Manny."
KEVIN HART
"I plan to order the Pacquiao – Rios HBO Pay-Per-View seven times on November 23. I want to make sure I won't miss it."
*******************************
Promoted by Top Rank® and Sands China Ltd., in association with MP Promotions and Tecate, Pacquiao vs. Rios will take place Saturday, November 23 at The Venetian® Macao's CotaiArena™. It will be produced and distributed live by HBO Pay-Per-View®, beginning at 9:00 p.m. ET / 6:00 p.m. PT.
For Pacquiao, boxing's only eight-division world champion, this marks the pound-for-pound box office monarch's 2013 debut as well as his first fight outside the U.S. since his 12-round super featherweight unanimous decision victory over former world champion Oscar Larios in 2006, which took place in the Philippines. Rios, one of boxing's most exciting fighters, has only fought outside the U.S. once, in México in 2008 when he won a 10-round split decision over Ricardo Dominguez.
HBO Sports' groundbreaking "24/7" reality franchise, which has captured 17 Sports Emmy® Awards, returns for its 18th boxing installment with 24/7 PACQUIAO/RIOS. The series debuts Saturday, Nov. 9, immediately following the Boxing After Dark tripleheader from Corpus Christi, TX. All new episodes premiere in prime time Saturday, Nov. 16 and Thursday, Nov. 21, just two days before the welterweight showdown in Macau.
For fight updates go to www.toprank.com or www.hbo.com/boxing, on Facebook at facebook.com/trboxing, facebook.com/trboxeo or facebook.com/hboboxing and on Twitter at twitter.com/trboxing, twitter.com/trboxeo, twitter.com/hboboxing and twitter.com/pacrios.