Luis Alberto Lopez (29-2, 16 KOs) retained his IBF featherweight title with a grueling twelve round unanimous decision win over the tough challenger Joet Gonzalez (26-4, 5 KOs) on Friday night at the American Bank Center in Corpus Christi, Texas
Gonzalez looked overmatched early in the fight, getting hit with massive uppercuts, hooks, and stab jabs from Lopez. But in the championship rounds, Joet came on, taking advantage of the fatigue and drop in work rate of Lopez to win rounds.
The scores were 118-110, 117-111, and 116-112.
Boxing247 will give live updates & results below of the Lopez-Gonzalez card.
– In the co-feature fight, 21-year-old Xander Zayas (17-0, 11 KOs) defeated Roberto Valenzuela Jr. (21-5, 20 KOs) by a fifth round stoppage. The referee Mark Nelston stopped the fight because Valenzuela Jr. had a bad cut on the bridge of his nose that was bleeding profusely without stopping.
The action was halted twice in round four to have the ringside doctor examine Valenzuela Jr's cut, and both times he allowed it to continue. The referee decided in the fifth to stop the fight because Valenzuela was bleeding too much and unable to land anything.
Zayas scored two knockdowns in the first round, although one of them looked like he'd pulled Valenzuela down to the canvas and then hit him while he was falling. It was a cheap shot.
Through most of the fight, Zayas moved nonstop and made it difficult for Valenzuela to land his punches. The speed difference between them was significant, as Zayas had much better hand speed, and he took advantage of Valenzuela being slow and not having a good left hand.
– 19-year-old Lightweight Emiliano Vargas (7-0, 6 KOs) put in an impressive performance tonight, stopping Alejandro Guardado (5-1, 1 KOs) in round three in a demolition.  Vargas stunned the Spaniard Guardado with a right hand, which sent him in retreat mode to the ropes.
Guardado tried to cover up, but Vargas teed off with a machine gun flurry of punches, with many of them missing, but a couple got through, worsening his condition.
Desperate to escape, Guardado fell back to the center of the ring and attempted a defensive position while taking nonstop shots from all sides by Vargas. Finally, the referee Lee Rogers decided he'd seen enough and stepped in and waved it off at 1:07 of the round. It was a complete massacre.
– Lightweight fringe contender Jamaine Ortiz (17-1-1,8 KOs) labored to an ugly ten round unanimous decision over journeyman Antonio Moran (29-6-1,20 KOs).
The scores were 99-91, 98-92 and 97-93. Ortiz was under his right eye in the eighth round and looked tired at the end.
You can argue that the fight should have been scored as a draw because neither fighter did enough to win, but it's unsurprising that the name guy, Ortiz, was given the win. He looked awful, though, and terrible to watch.
Ortiz could not stand his ground due to the withering body punching from Moran, which gave him all kinds of problems.
Both fighters were hurt many times in the fight, and Ortiz, who looked like a welterweight inside the ring, was on the run the entire second half after being hurt to the body multiple times in the first half.
– In an entertaining contest Featherweight Rubin Villa (21-1, 7 KOs) showed off his talent, defeating the game Brandon Valdes (15-4, 7 KOs) in winning an eight round unanimous decision. The judge's scores were 78-74, 78-74, and 78-74.
Villa ran away with the fight in the championship rounds, catching Valdes with some beautiful shots. Surprisingly, Valdes took all Villa could dish out and was able to go the distance.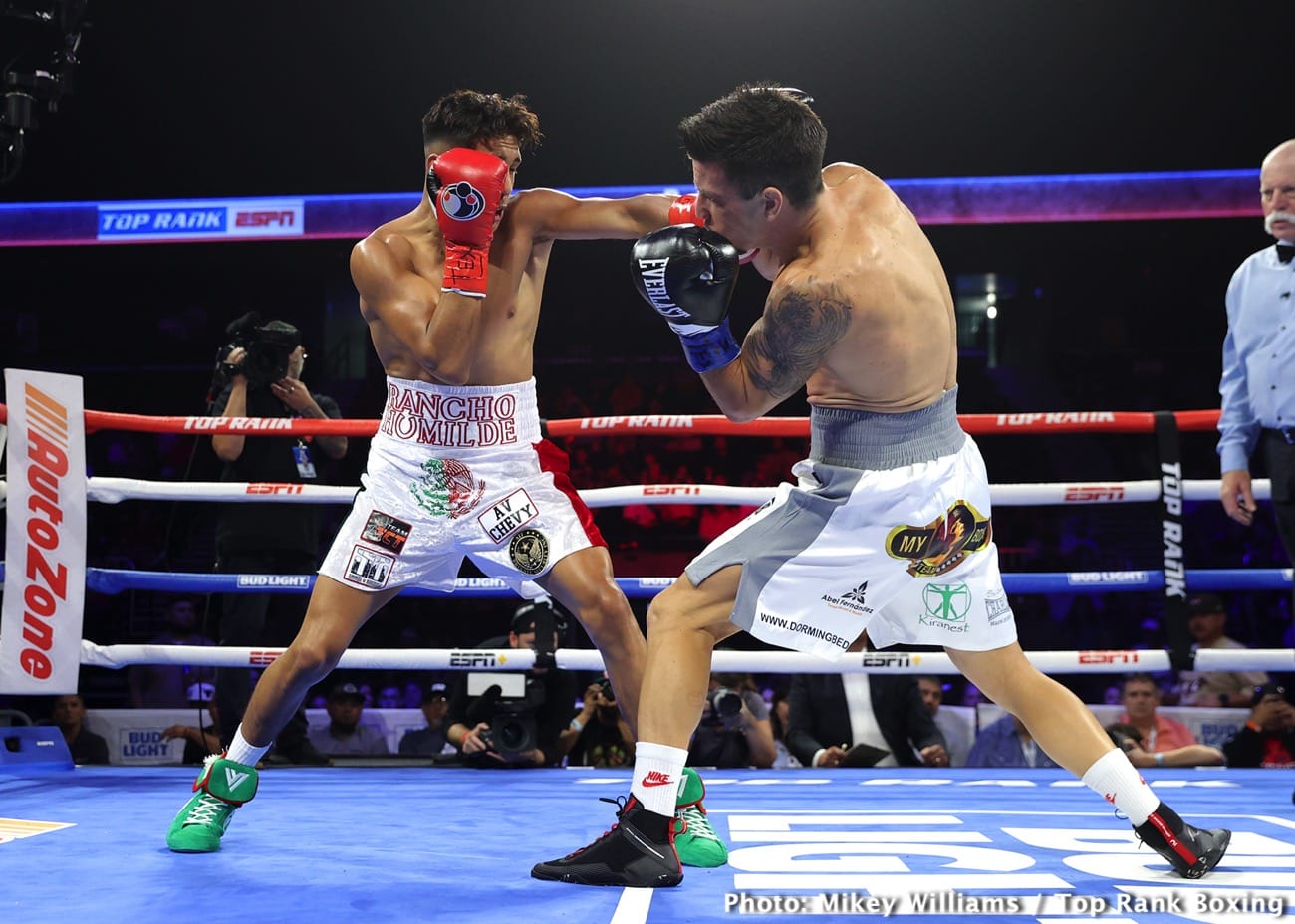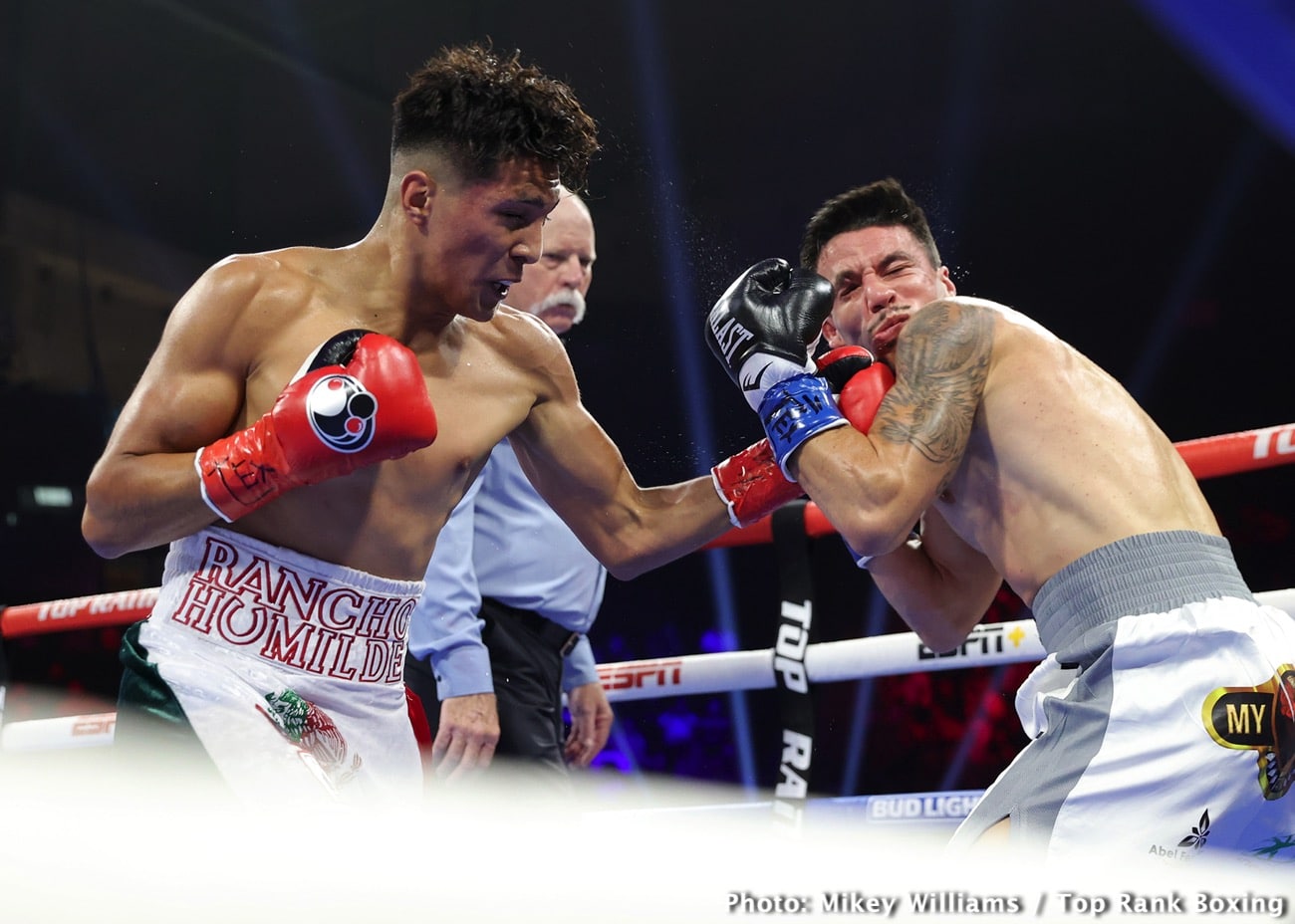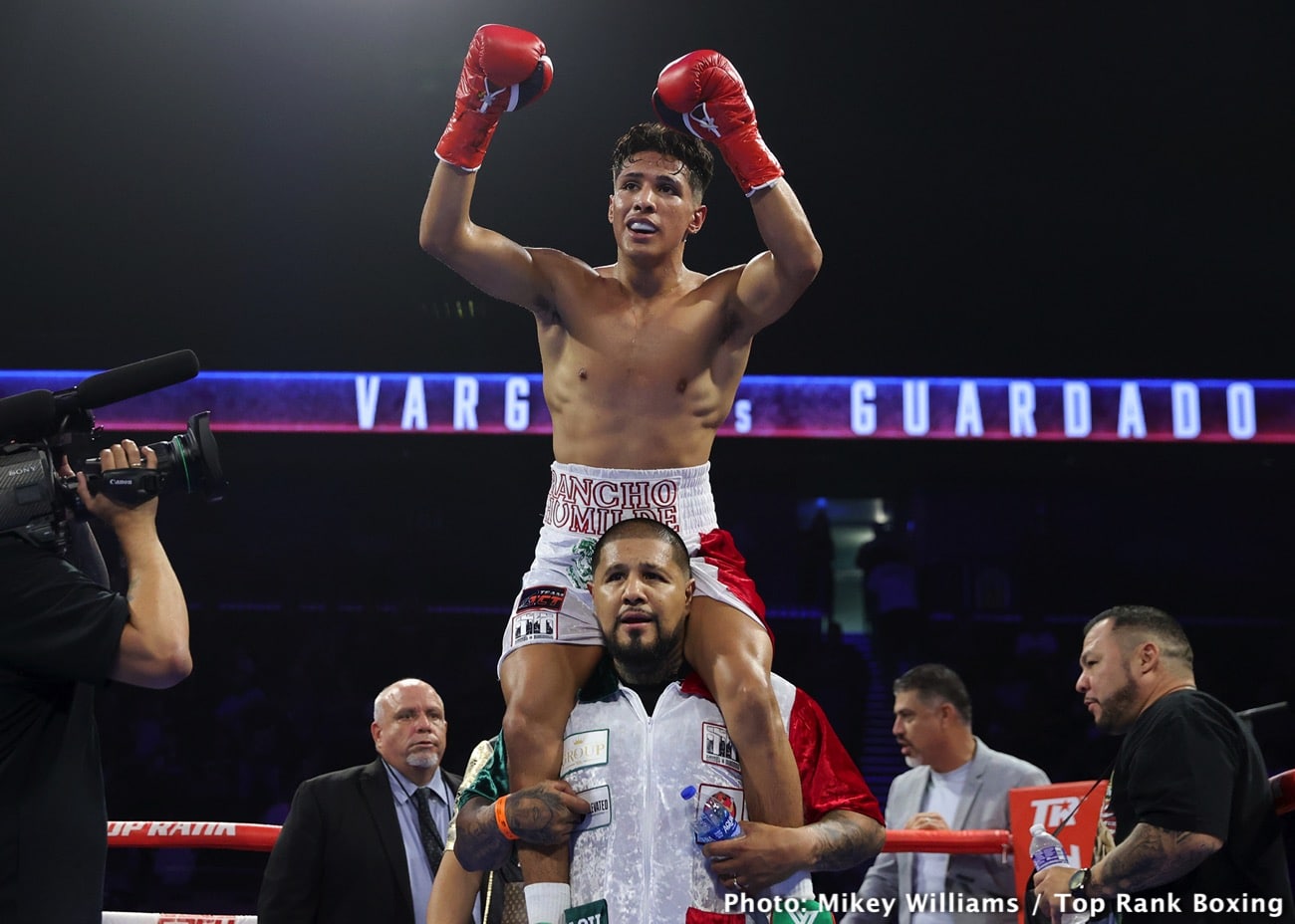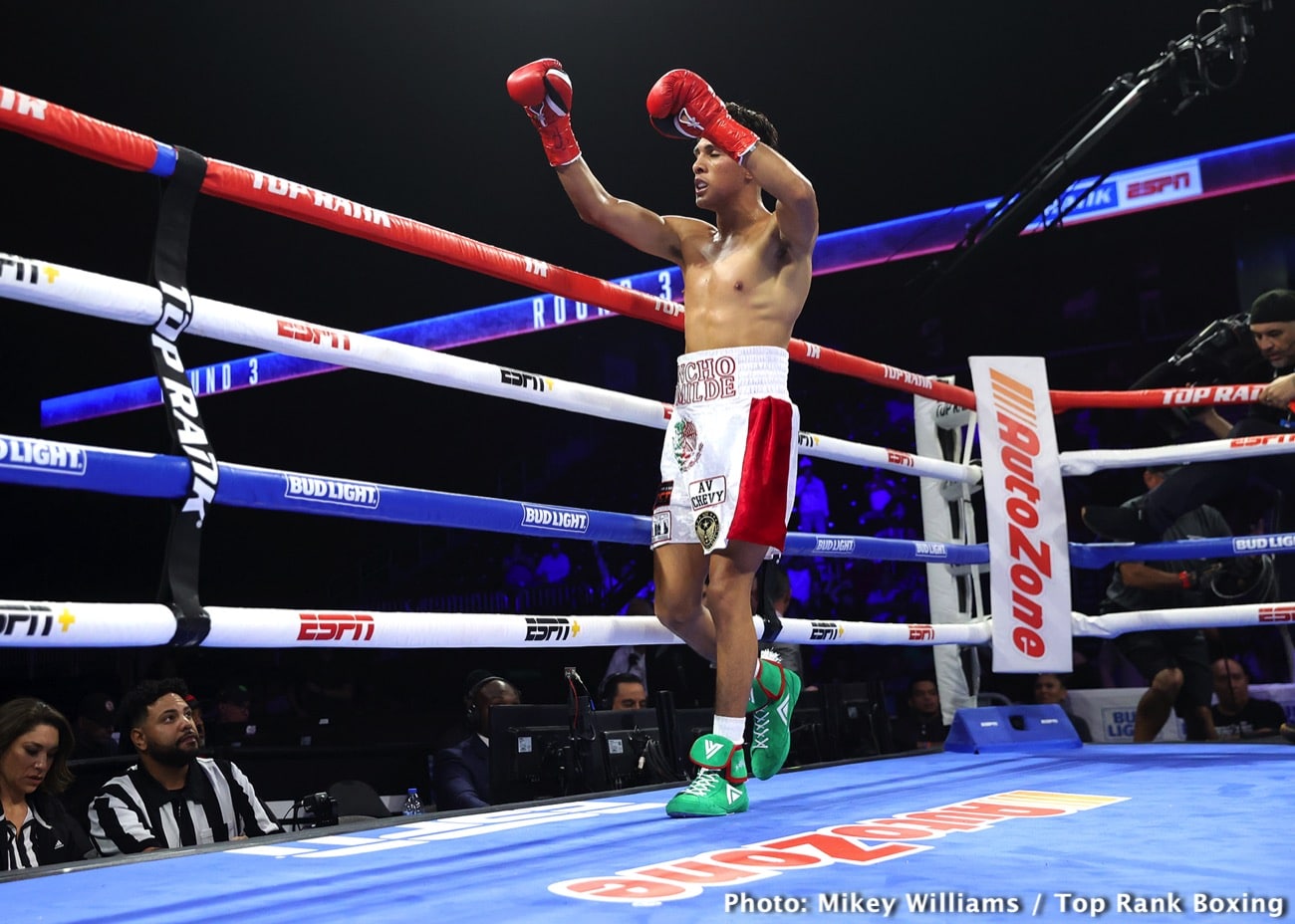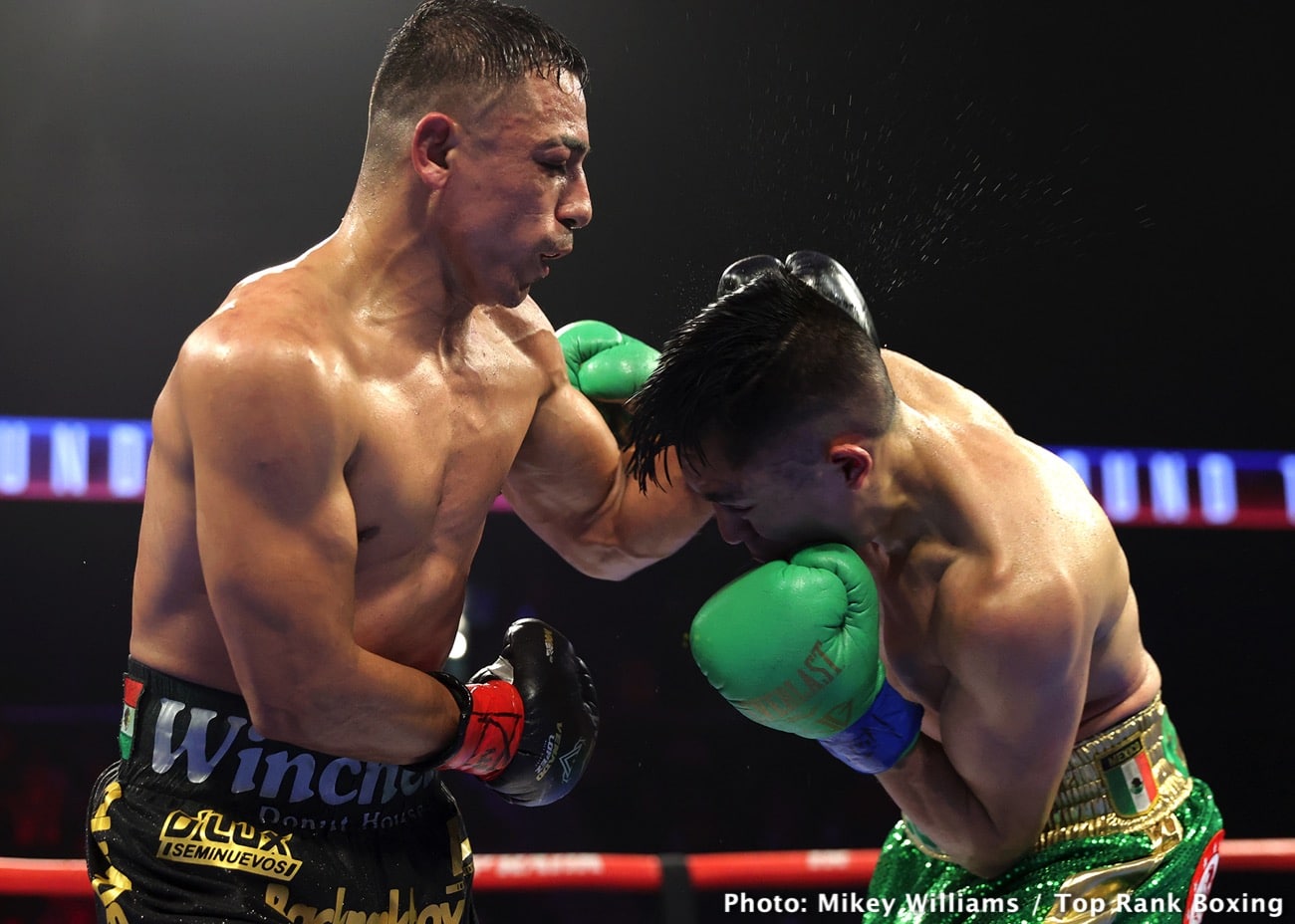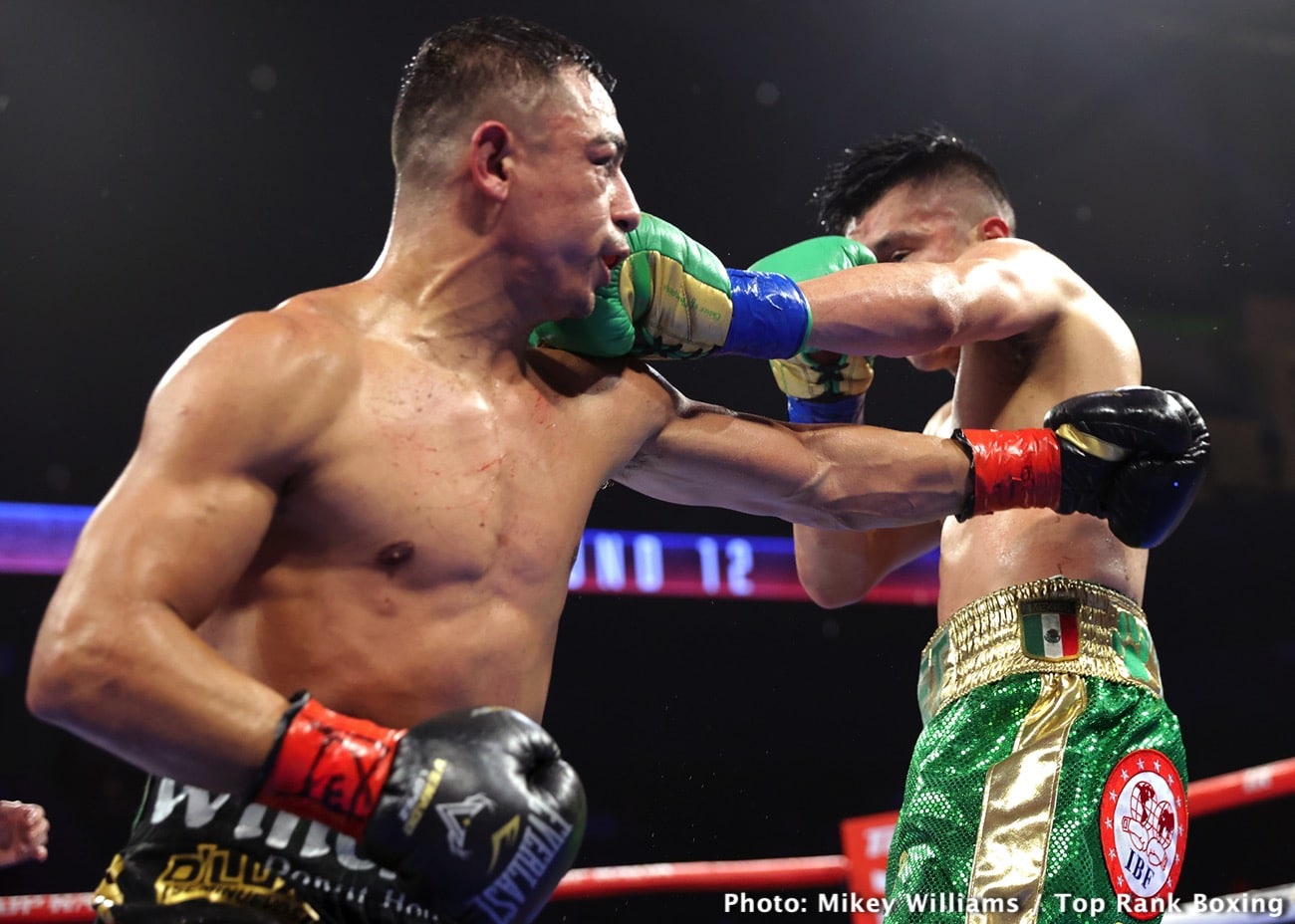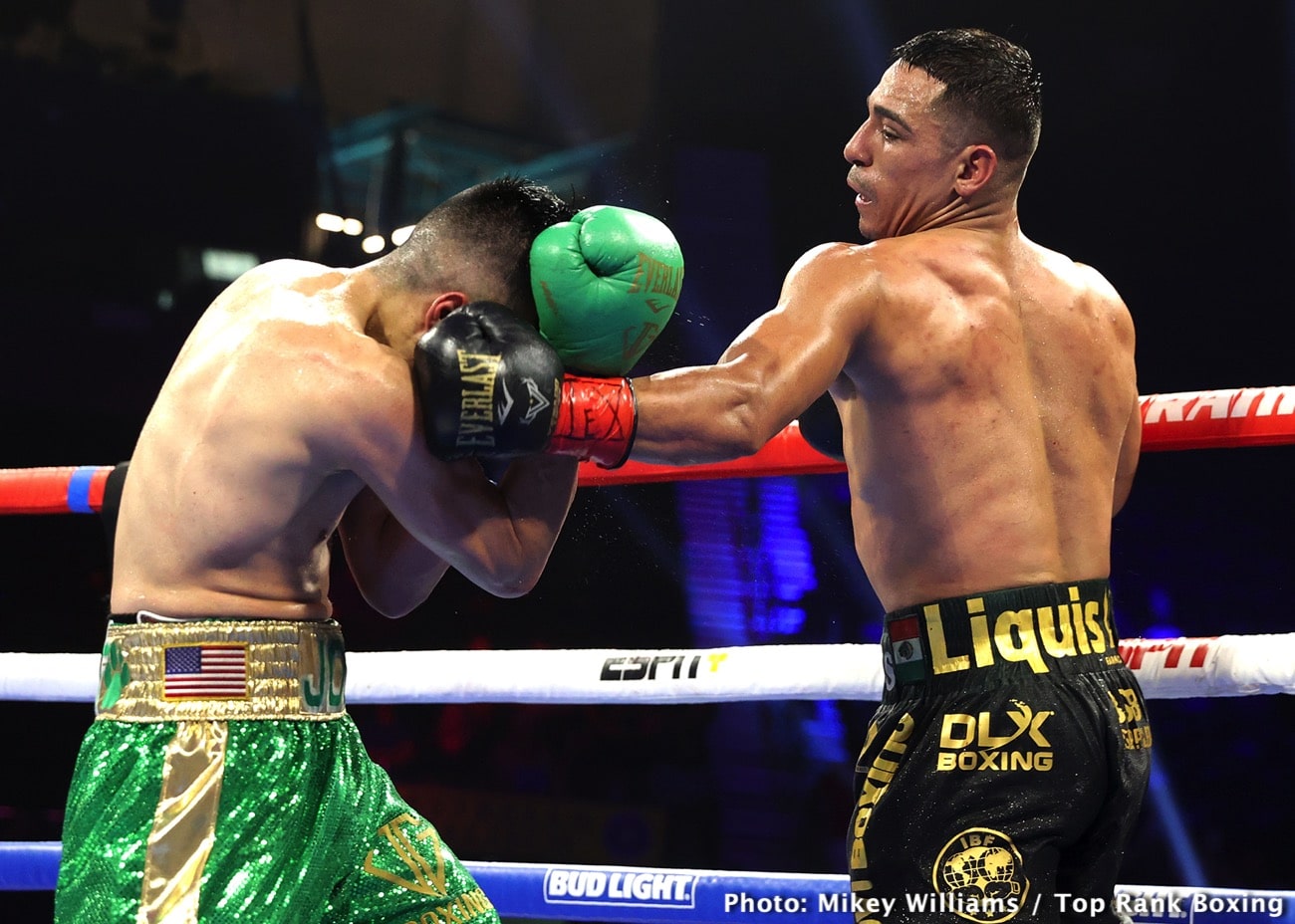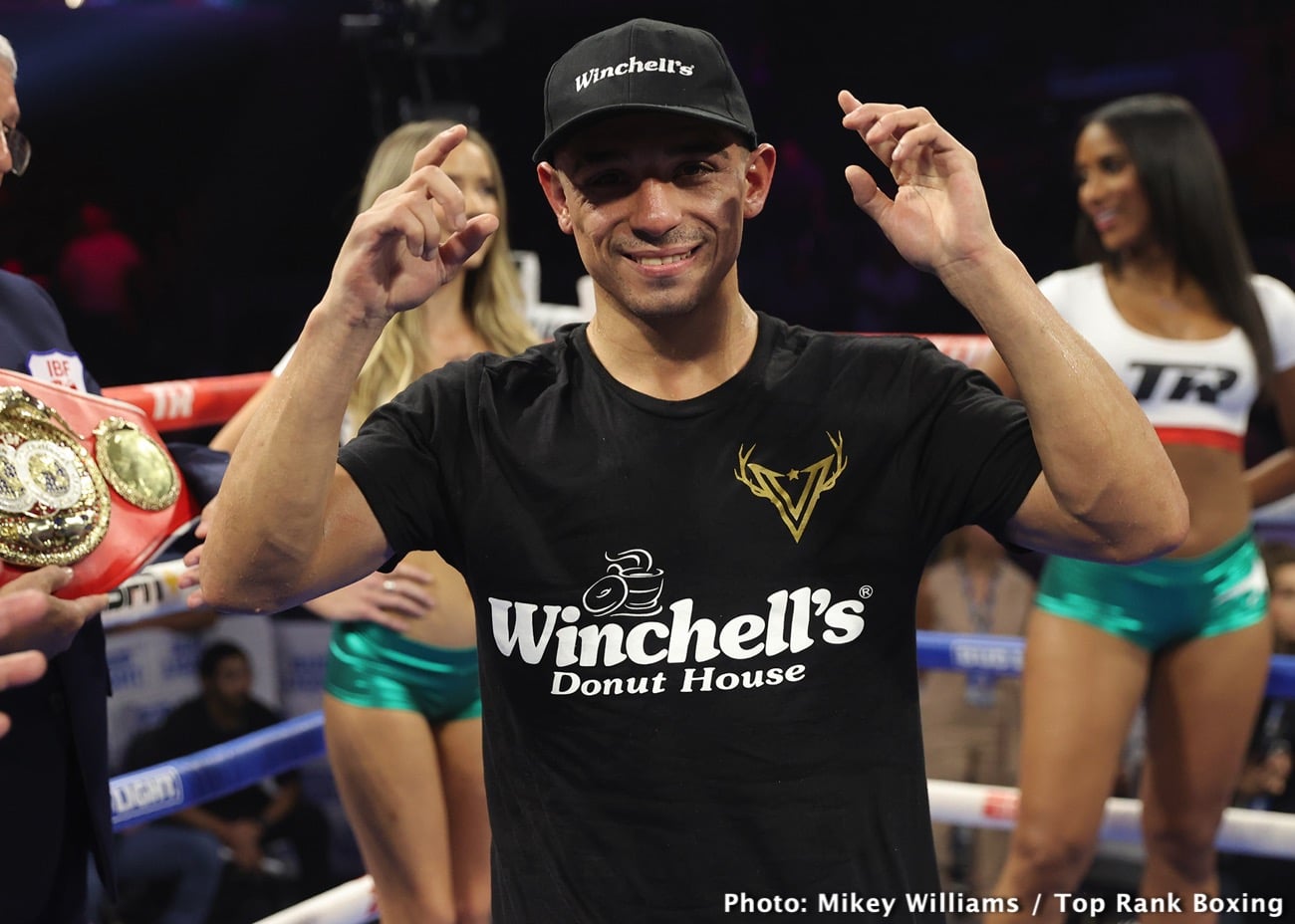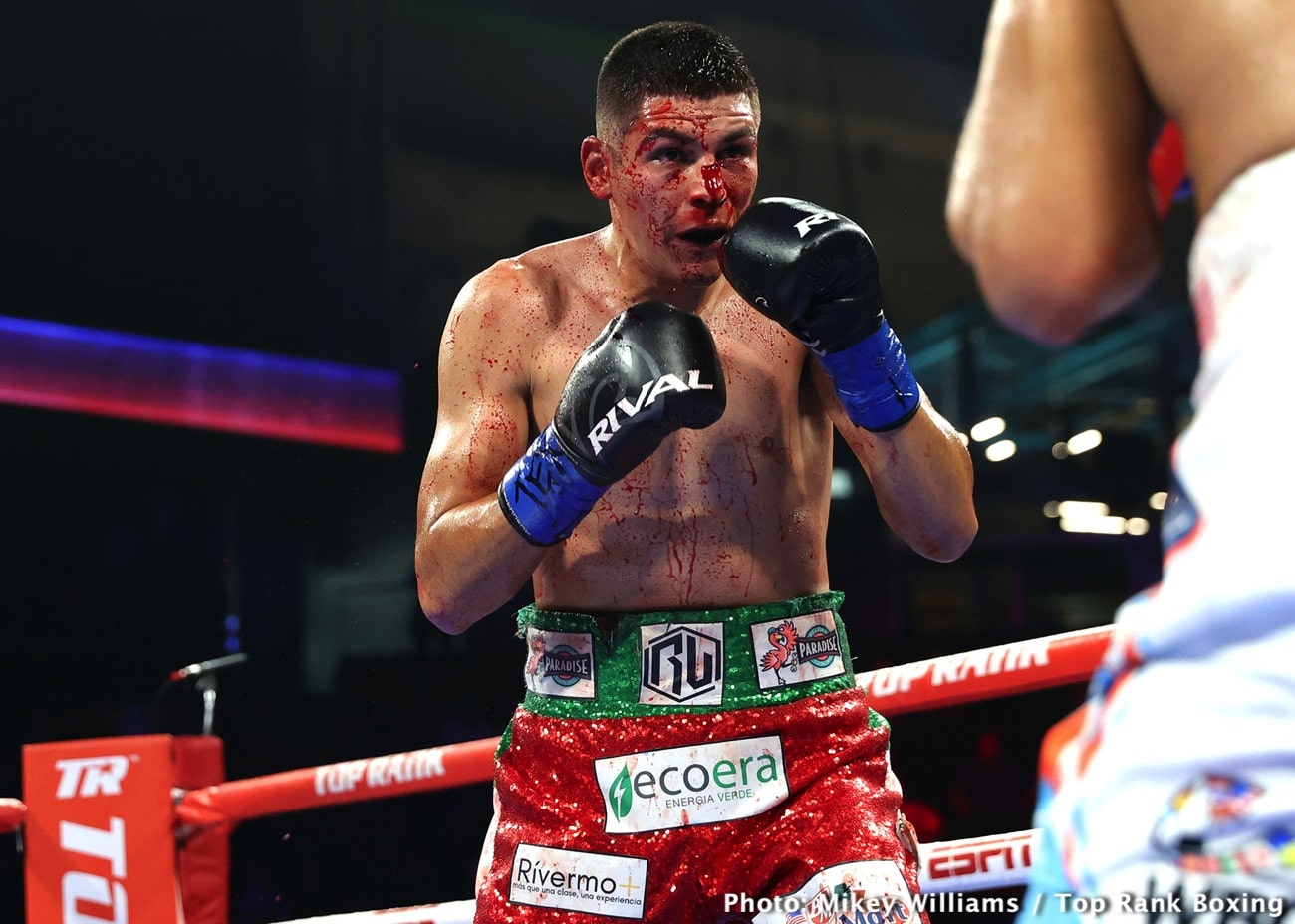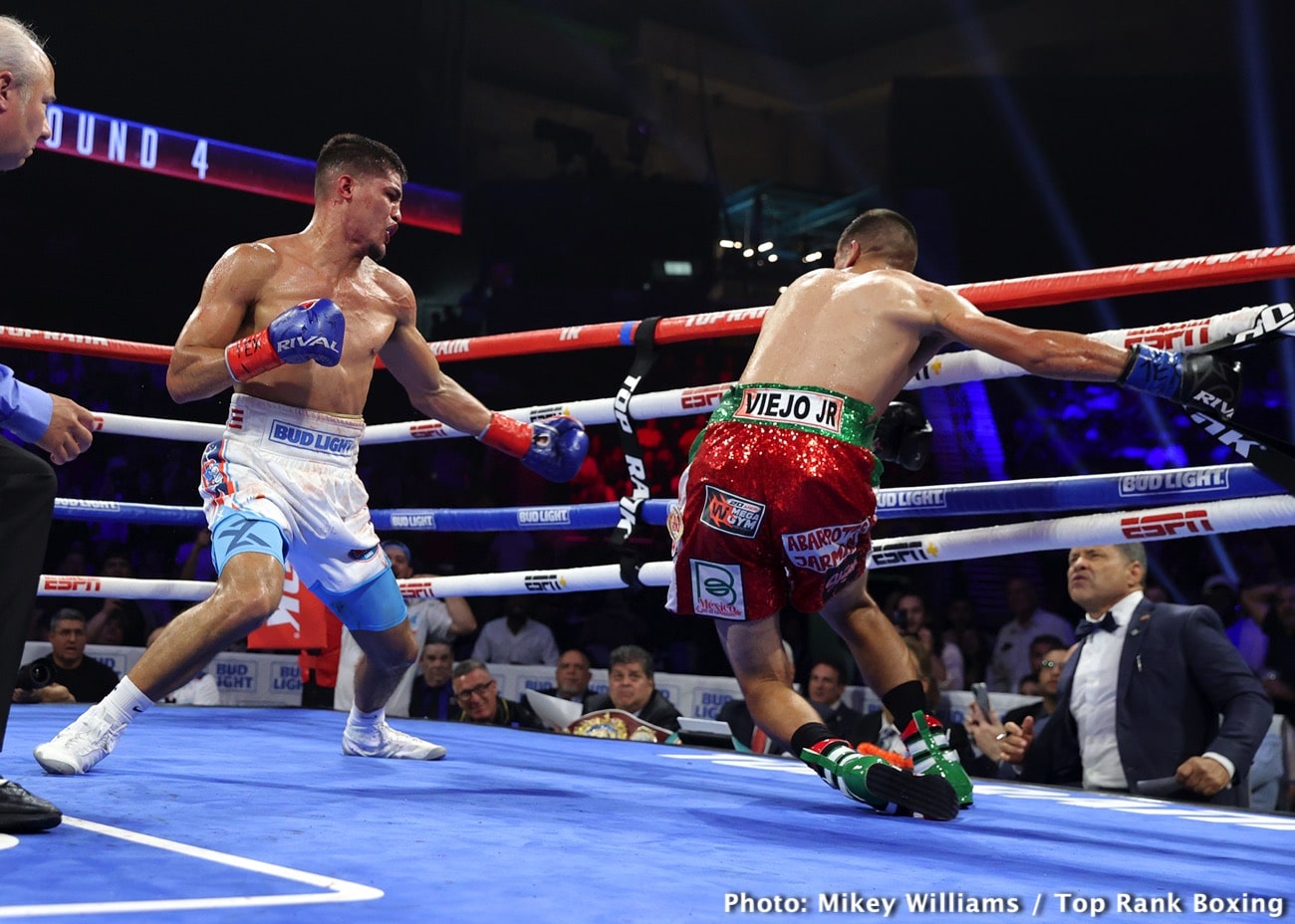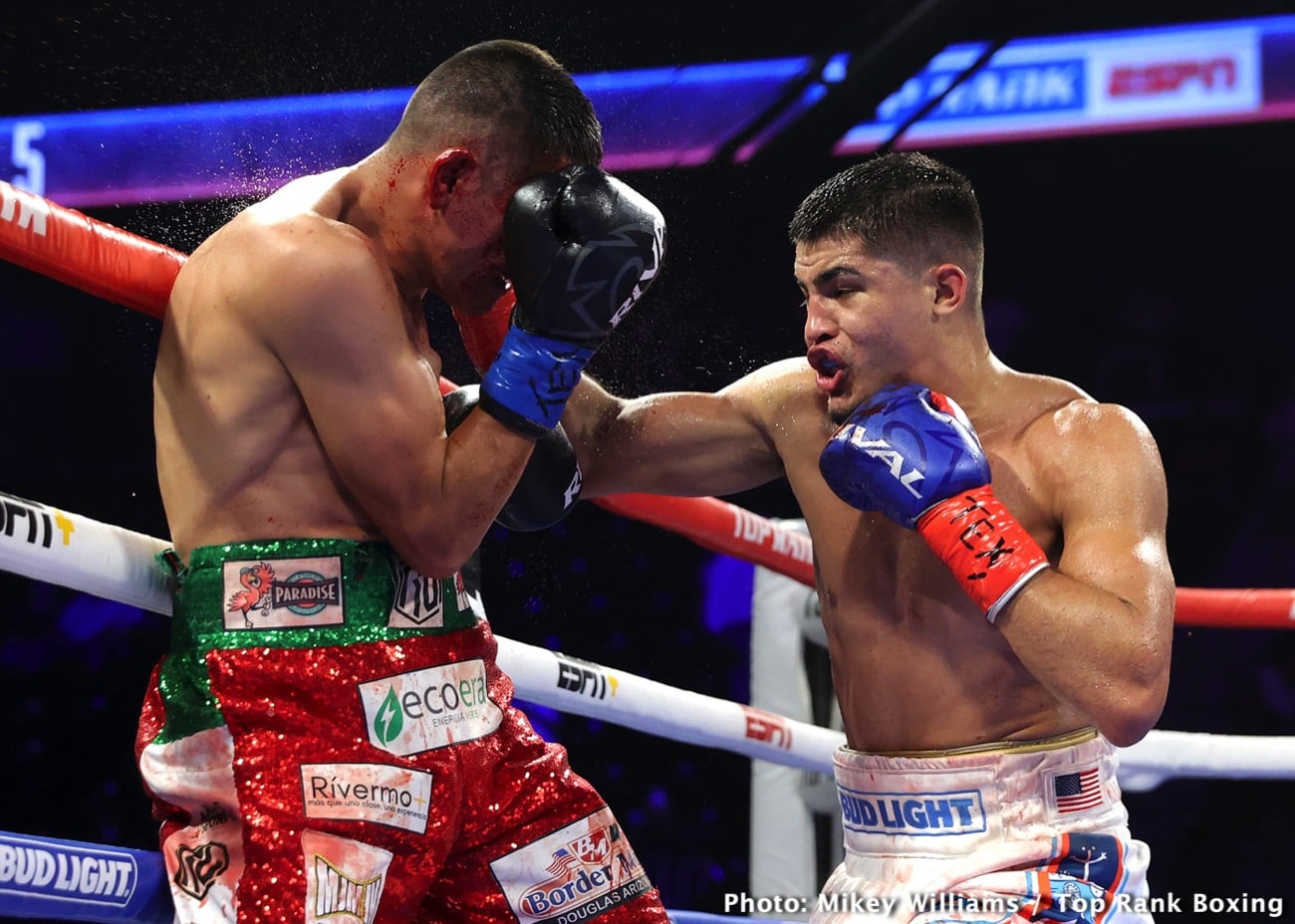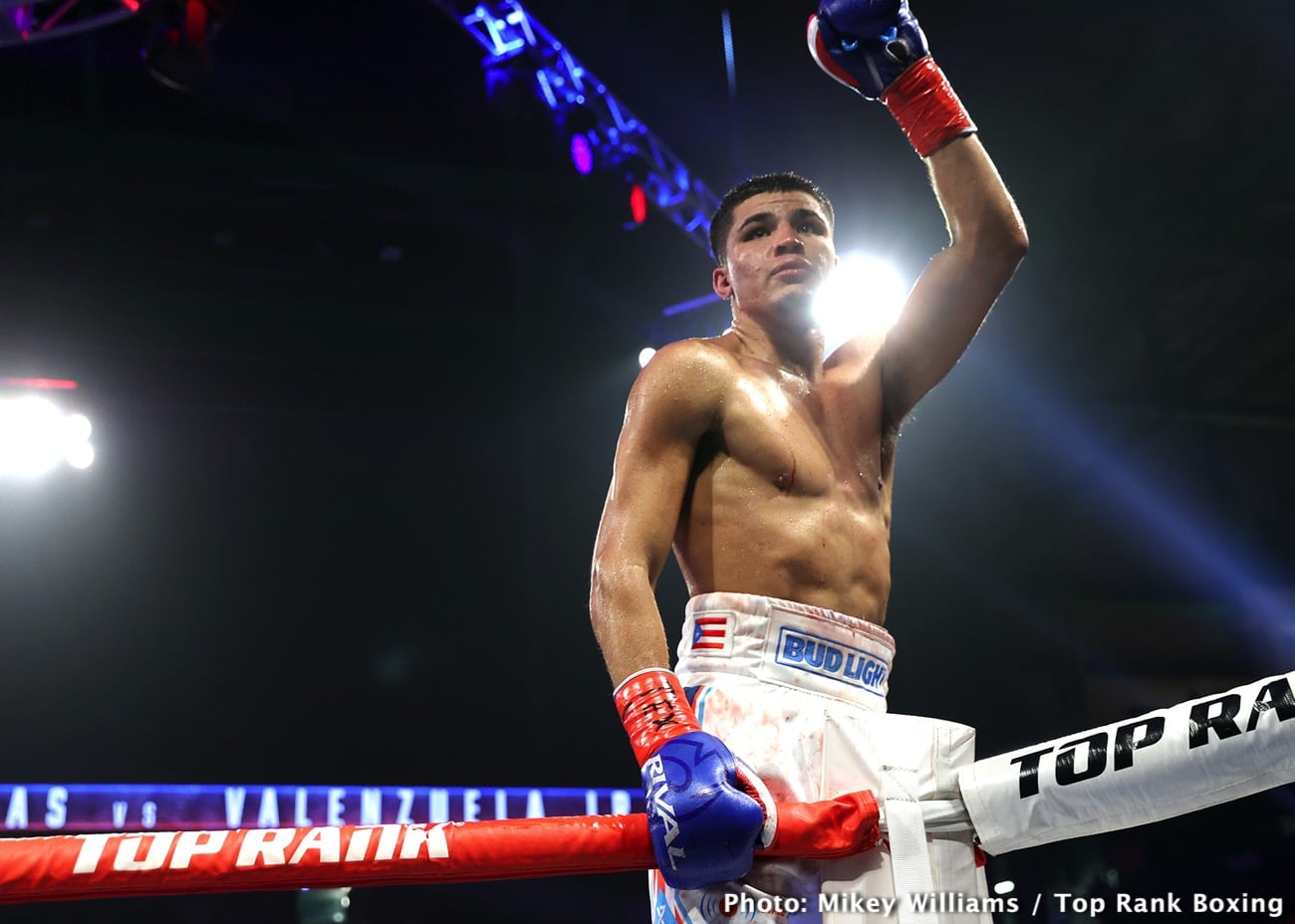 The odds are stacked against underdog Joet Gonzalez (26-3,  15 KOs), who is going up against the massive puncher, IBF featherweight champion Luis Alberto Lopez (28-2, 16 KOs) tonight in Top Rank's card at the American Bank Center in Corpus Christi, Texas. This might be the last chance saloon for Joet, as he's repeatedly lost when stepping it up.
It's difficult to predict how Joet Gonzalez will do against IBF 126-lb champion Luis Alberto Lopez because he's a fighter who looks great sometimes but then turns around and looks terrible when Top Rank puts him in with live dogs.
If Joet is at his best tonight, he could dethrone Lopez, but he's going to need to take a lot of heavy shots for that to happen. Lopez is no joke in the power department, and he's going to be landing some serious heavy artillery on Gonzalez for as long as this contest lasts.
You can argue that if Joet makes it the full 12 round distance, it'll be a moral victory on his part because many boxing fans believe Lopez is going to knock him out at some point tonight.
Joet has never been stopped before, though, and he's been in with the hard punchers Emanuel Navarrete and Isaac Dogboe, so he may be able to make it out of the fight on his feet.
Still, that doesn't mean Gonzalez is going to win the fight. It just means he will hang around and soak up punishment for 12 rounds.
The other two fights on the main portion of the ESPN+ card are as follows:
Xander Zayas vs. Roberto Valenzuela Jr. – 10-round junior middleweights
Emiliano Fernando Vargas vs. Alejandro Guardado
The start time for the main portion of the card is at 10:00 p.m. ET, 7:00 p.m. PT, and the preliminary fights begin at 6:30 p.m. ET.