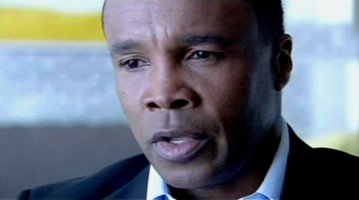 Boxing is an inherently psychological undertaking. It is an activity that exposes the contestants to far more than the simple prospect of defeat: the potential combination of public humiliation and genuine physical harm percolate in a fighter's mind to a degree that few who have not lived the experience can reasonably quantify. Far from being a mere test of physical skills then, boxing is perhaps one of the purest tests of human will power. Some of the biggest contests in boxing history have therefore been won or lost through cunning, bravery and fortitude as much as they have speed, strength and stamina.
With George Groves and Carl Froch recently providing a fascinating insight into the pivotal role that pre-fight mind games can play as their super middleweight title showdown approaches, here I take a look back at some classic examples of when fight-psychology played an important part in big championship fights.
Ray Leonard W12 Marvin Hagler, WBC Middleweight Championship, April 1987
Leonard had defied the boxing world by even taking the fight with Hagler. Having only boxed once in five years, he was moving up two weight classes from his favoured welterweight division to take on one of the meanest and most respected champions in all of boxing. It looked liked mission impossible on viagra. Long before they signed on the dotted line Leonard had already begun his unrelenting campaign of psychological warfare, though.
After inviting Hagler and the boxing press to a dinner speech in December 1982 – where it was expected he would announce his intention to fight Hagler – Leonard instead dangled the lucrative possibility in Marvin's face before surprising everyone by announcing his retirement. Hagler was furious. It was the first of many blows landed in a protracted mental struggle.
When the real fight negotiations eventually took place in 1987, Hagler was guaranteed the lion's share of the purse, but he ceded ground in other crucial areas. The champion's camp had wanted a traditional fifteen round fight; Leonard insisted on twelve. He got it – along with a large twenty-foot ring that would undoubtedly favour the fighter who chose (or was forced) to move and box during the fight. He then also managed to insert a spy into Marvin's fight camp for a number of days to report back on the sparring and the advice Hagler was receiving from his trainers. Once again, Hagler was furious.
A series of small mental victories like this can begin to have an impact in such an ego-driven enterprise as boxing. In his autobiography, Leonard tells how he mocked Marvin at the press conference to announce the fight, and that, "From that day forward, everything I said to reporters… was designed to work on Hagler's psyche". He then recounted how as the first round came to a close, he went to throw a left jab, just as the bell rang. "Hagler flinched and covered up. I suddenly realized that he was as nervous as I was. He was mine." (Source: Sugar Ray Leonard, The Big Fight: My Autobiography, Random House, 2011).
Throughout the fight the smaller, weaker Leonard pulled every trick in the book to create the masterful perception that he was winning the fight – even when that was not necessarily an accurate version of the reality unfolding in the ring. Smiling, poking out his chin, firing well-timed quick fisted flurries and teasing, winding bolo punches all caught the judges' eyes and toyed with Marvin's mind, while Angleo Dundee conjured the impression in Leonard's corner that everything was going swimmingly, celebrating victory when in fact grave danger loomed large.
Leonard had already provided the necessary needle to ensure that Hagler fought the wrong style for large portions of the fight, but as they approached the centre of the ring for the twelfth and final round, Ray still had one more psychological trick up his sleeve. "Wanna fight me now? Wanna fight me?" He shouted at Hagler as they went to touch gloves. "I could not resist getting inside Hagler's head one last time", he recalled in his autobiography.
The eventual split decision in Sugar Ray's favour is still bitterly disputed to this day. While there is a strong argument that Hagler did enough to win, there is no denying the success of Leonard's psychological games, and the fact that he pulled one of the greatest examples of mind over matter in the history of boxing.
Mike Tyson TKO1 Bruce Seldon, WBA Heavyweight Championship, September 1996
A great mind-set can take a fighter to heights his body would not ordinarily allow him to reach. However, a fractured mind can also take him in the opposite direction. For Bruce Seldon, unfortunately the latter seemed to be the case.
'Iron' Mike had amassed an aura of invincibility since his release from prison in 1995. He was back, and he was indestructible (again). Tyson's raw power and ferocity between the ropes accompanied by his badass persona out of them seemed to have many fighters mentally beaten before they got into the ring with him, but few demonstrated it with the aplomb Seldon managed to.
When the first bell rang, Tyson came out and walked forward, swinging punches; meanwhile Seldon circled and threw a few weak, 'please don't hit me' type jabs. Tyson then landed an overhand right from the outside, which seemed to glance off the top of Seldon's head rather than land with devastating force. Seldon went down to the canvas face first though. Referee Richard Steele initially waved to say "no knockdown", so sure was he that a clean punch hadn't landed. He eventually began counting and Seldon rose, looking shaky on his legs with his eyes telling a story that he wanted to be somewhere else.
The referee waved the fighters to continue, at which point Tyson came in and landed a clean but fairly ordinary looking left to Seldon's face. Tyson, of course, was a heavy hitter – but then Seldon was the WBA heavyweight champion, and heavyweight champions are not supposed to be floored quite so easily. Again Seldon flopped to the canvas in the same belly first, prostrate position though. Once again he made it to his feet, but once again his face and his legs told a story of fear and surrender, and Richard Steele was forced to wave the finish after just 109 seconds. It was perhaps the meekest capitulation in the history of heavyweight championship boxing.
Evander Holyfield TKO11 Mike Tyson, WBA Heavyweight Championship, November 1996
The problem with an intimidating persona is that it can be a double-edged sword. If the opponent buys into it, the fight is as good as over by the time the fighters stare each other down at the weigh-in. If the opponent remains unfazed, however, then you'd better have a 'plan B' – or else it could be a very long night.
Tyson had steamrolled four opponents in a total of just eight rounds since being released from prison, including the farce against Seldon, and the majority of the boxing media were so convinced that Holyfield would be torn apart by 'The Baddest Man on the Planet' that there was genuine fear for his safety. Holyfield, for his part, had previously sparred with Tyson and knew something that few others did: he knew that Tyson was essentially a bully. And the only way to beat a bully is to show him you are not scared, by fighting back.
Before the fight began, Tyson paced around the ring with his usual menacing face, buoyed by his posse of sycophantic hangers on; Holyfield, on the other hand, bounced to the ring smiling and singing gospel music.
In the early rounds, Tyson hit Evander with some of his best shots, but Holyfield simply weathered the storm, stuck to his game plan and kept firing back. In the fifth, Tyson landed his signature, vintage combination: a wicked double right hand, first to the body, followed by a devastating uppercut to the head. It landed cleanly, snapping Holyfield's head back, and it seemed like Tyson was finally getting to his man. When Holyfield took the shots and kept coming back for more though, there was no 'plan B' for Tyson. The intimidation that had served him so well in the past was now as useless as the blinged-up groupies who cheered him on from ringside.
The point of no return for Tyson came in the sixth. First he was cut by a head clash, and while the sight of blood seemed to anger and confuse Tyson, it spurred Holyfield into a new gear, and he really began to find his rhythm – lifting Tyson off his feet with a beautifully timed uppercut. They say a picture tells a thousand words, but far less than that were needed to describe the look on Tyson's face as his backside crashed to the canvas.
As the fight progressed, the 'this isn't supposed to be happening' look on Tyson's face became more pronounced until it was replaced by one of forlorn resignation. 'The Real Deal' proceeded to administer a beat-down until the teacher in the schoolyard, referee Mitch Halpern, rescued the bully and waved the finish at 37 seconds of the eleventh round. Against all the odds, Holyfield confounded the critics with one of the purest displays of self-belief ever seen in a boxing ring.
Steve Collins W12 Chris Eubank, WBO Super Middleweight Championship, March 1995
In perhaps the most infamous example of pre-fight psychology in a British or Irish ring, Steve Collins managed to convince the world he had been hypnotized into an unstoppable fighting force that would be impervious to pain.
Leading up to the bout, Eubank sounded genuinely concerned about what he would be facing in the ring. "I wanted to call the fight off… I would call the fight off if I could now, because I'm going into unknown territory," he stated to Sky Sports on the day of the fight. "I don't know what I'm dealing with tonight… I'm fighting someone who is mechanically orientated, and that is just an unknown area. It's not fair that I should be put into this situation".
(Source: http://www.youtube.com/watch?v=DR1BmRvYCww)
Interviewed before the fight, Collins' personal 'hypnotist', Dr. Tony Quinn, had been asked about whether or not Collins would be immune to pain – the possibility of which could jeopardize his health. "It's true he will feel less pain than he normally would, that is definitely true" answered Quinn. "He'll also find he's able to move much easier, for instance… I've slowed [things] down, so when he sees the punches coming at him, they look about three times slower than normal." (Source: Ibid) If such outlandish claims were true, Collins would be moving more like a superhero than a boxer on the night and Eubank's concerns would be entirely justified. Watching the interview back now though, there is a discernable smile playing across the lips of Dr. Quinn as the words come out…
Eubank emerged on his Harley Davidson motorbike before strutting towards the ring to his famed 'Simply the Best' theme tune. Meanwhile, Collins meditated in his corner for the entire duration of the ring walk and pre-fight introductions – eyes closed, hood over head, listening to earphones to block out the surrounding drama, a picture of mental focus. "Steve Collins is oblivious to this… trying not to get psyched out", noted Glenn McCrory for the Sky Sports commentary. "The psychological battle here is incredible", concurred Ian Darke.
Over twelve rounds of a competitive contest both fighters showed their mettle and tested the other's resolve. Eubank was put down in the eighth round from a body shot (though he claimed it was a trip); Collins was heavily floored against the ropes by a head shot in the tenth round, but Eubank couldn't finish him. At the conclusion of the fight, the Irishman's hand was raised in a close but unanimous points victory.
Speaking in the post-fight interview, the 'Celtic Warrior' was asked how much of a role the hypnotism had played in his victory. "We fooled the world", laughed Collins. The whole 'hypnotism' operation was a ruse; a clever ploy to take the play away from Eubank and sow the miniscule seeds of doubt in his mind that could provide a psychological edge in such an intense battle of wills. There was nothing fake about Collins' fighting heart or mental focus though: his time had arrived and his determination to prevail was truly unflappable.
Antonio Tarver TKO2 Roy Jones, WBC Light-Heavyweight Championship, May 2004
Perhaps even without Tarver's pre-fight torment, the 'perfect' left hook that crashed against Jones' jaw in the second round of their rematch would have nevertheless found its target. We will never know. What we do know is that Tarver provided one of the boldest, most memorable sound bites in the history of boxing moments before his rematch with Jones began.
After Roy Jones' magnificent title victory over John Ruiz to become the first middleweight in a hundred years to win a version of the heavyweight title, he did not get long to bask in his glory. At the post-fight press conference, the new light-heavyweight champion Antonio Tarver goaded boxing's pound-for-pound king: "I want my shot at history, Roy. Stop running from me. I was so glad that you won tonight, so when we do meet, your legacy will be in tact when I knock you out." Jones made a point of telling the press that he would deal with Tarver's impudence and "take him out" before he retired. (Source: http://www.secondsout.com/archive/the-buzz/tarver-v-jones-iii-on-hbo-ppv)
True to his word, Roy shed 30lbs of muscle in the space of eight months to attempt to recapture his old throne and shut Tarver's big mouth in the process. Weight-drained and – probably for the first time ever – looking like an ordinary fighter, Jones somehow managed to eke out a twelve round majority decision victory. Tarver had given the legend too much respect during the fight, and had paid the price on the scorecards. In their rematch, he made no such error.
As they prepared to go to the centre of the ring to receive the referee's instructions, Tarver refused to take his mouthpiece from trainer Buddy McGirt. McGirt worried that Tarver had some outrageous plan up his sleeve; he did, but McGirt needn't have worried.
Referee Jay Nady finished his instructions and then proceeded with the standard, "any questions?" This is more of a rhetorical device from the referee – a ritual he is obliged to perform. It is not supposed to be an invitation to strike up a discussion. Tarver had other ideas though.
"Yeah, I got a question" he replied swiftly. "You got any excuses tonight Roy?"
Nady, taken off-guard for a split second, quickly regained his composure. "Let's not ask questions like that."
Tarver simply yelled the question again as he began walking backwards to his corner, "You got any excuses tonight Roy?"
Jones, surprised at the audacity of his confident foe, simply stood and stared, but came back with nothing. Few people would have: as an example of bold, spontaneous pre-fight psychology, it was a brilliant, ingenious quip – but it was dangerously close to crossing the border into the stupid or just plain insane. There was, of course, a significant chance that the remark could have returned to haunt him.
In the event, the brash words of Tarver were justified by his actions, as he went on to spark-out arguably the greatest fighter for a generation with a perfectly timed left-hook to the jaw to seal his place in boxing history, and in pre-fight psychological folklore.