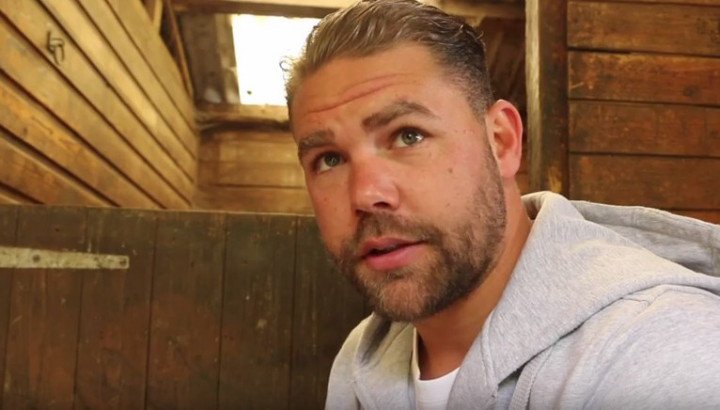 Unbeaten middleweight Billy Joe Saunders, holder of the WBO belt, says it's time to "find out how good I am." Next up, the talented southpaw will meet Russian unknown Artur Akakov, in what will be Saunders' first fight of 2016. Next up afterwards, as long as he comes through with belt safely in hand, will be a mega-fight against either Saul Canelo Alvarez or Gennady Golovkin.
This is the word according to promoter Frank Warren, who told Sky Sports how Saunders will meet one of these two juggernauts in his next fight, as long as he beats the once-beaten Akakov.
"Yes. Provided he wins he will fight one of those guys, 100 percent," the top British promoter said this week. "If he loses then he won't. He's got nothing to bring to the table [if he loses]; he's got to bring the belt. He needs to get the ring rust out of his system. After that we can get things moving."
Saunders does indeed need to get moving. Disappointingly, following on from his big wins over Chris Eubank Junior and last time out in December of last year Andy Lee, Saunders has done nothing. Akakov might assist Saunders in ridding himself of some rust, but that's about it. We should then finally get to see Saunders – a fast-handed, quick-thinking boxer with respectable punching power – in the kind of massive fight his talents deserve. And, like the rest of us, BJS is keen to find out just how good he is.
"I want to see how good I am," Saunders said. "In my own head, I know I'll beat him [GGG]. I'm not the one to walk into the arena thinking, 'It's Golovkin here. It's going to be a good pay day but I'm going to get beaten up' No way, because I wouldn't take that fight [if I thought that way]. I've earned what I set out to earn, it's not about that [money] any more. It's to see how good I am."
Whether it proves to be Canelo (who is interested in the fight once he is injury-free) or Triple-G next, the odds say Saunders will be in tough, maybe in deep, too deep. But it takes a great fighter to bring out the greatness in another, and maybe Saunders is a special talent. At his peak right now or thereabouts, BJS could be on the verge of a massive 2017. Or, conversely, he could be heading into a bad beating.
But this much is definite: Saunders is good enough to deserve a shot at one of the two pound-for-pound stars who, in truth, we all want to see fight each other. Can Saunders ruin a potential 2017 super-fight and in so doing arrive as a superstar himself?