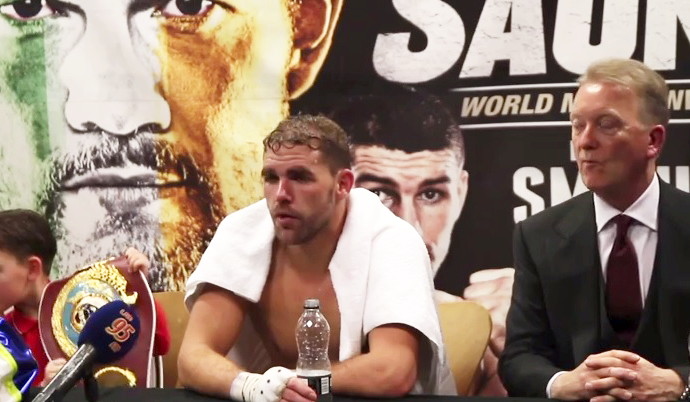 British southpaw Billy Joe Saunders has made it clear many times: he is not scared of any man. The conqueror of Chris Eubank Junior and the reigning WBO middleweight champion has announced how he will defend against Max Bursak on April 30th, but that fight will, hopefully, be a big step towards a super-fight with the avoided Gennady Golovkin.
As quoted by The Mail, Saunders has spoken to his promoter Frank Warren and he wants a summer stadium fight with GGG this year:
"[I need] to keep busy. It's challengers like Bursak, hopefully beating him, moving on to the next level," Saunders said at today's press conference to announce the Bursak fight at The O2. "I'm hopefully testing the waters for one of the super-fights. I'm not looking at it as a warm-up or anything – this is a world title fight – I'll be using it as a training camp and for more ring time. You've got Canelo and Khan fighting, and you've got Nick Blackwell and Eubank, and you've got Golovkin, but I spoke to Frank last week and said I would like the Golovkin fight in the summer. I'm trying to be up there with your [Joe] Calzaghes and your Ricky Hattons."
A Golovkin-Saunders fight would be a massive – absolutely massive – fight for British boxing. GGG faces Dominic Wade on April 23rd and then Saunders fights Bursak a week later, assuming they both win, as the form book says they will, they could meet in June, July or August. We all know Golovkin wants that mega-fight showdown with Canelo Alvarez, but if negotiations drag on for that fight (as most critics fear will be the case) why not a GGG Vs. Saunders fight in the meantime?
Saunders is a most credible foe for any middleweight, he truly believes he can beat Golovkin and the fight would be a huge hit with the UK fans. And as good, or as great, as many people believe GGG to be, Saunders, with his speed, his style and his sheer self belief, is capable of giving the Kazakhstan terror a real handful of a fight.
I'm not saying Saunders will beat Golovkin, but he may well give him the toughest, trickiest fight of his pro career. And at least Saunders, a true fighting man, is willing to get it on with GGG. That's not something you can say about too many of today's middleweights.
With Manchester in the running to host the awaited Tyson Fury-Wladimir Klitschko rematch, and now this fight being a real possibility, 2016 could prove to be a smashing year for British boxing.