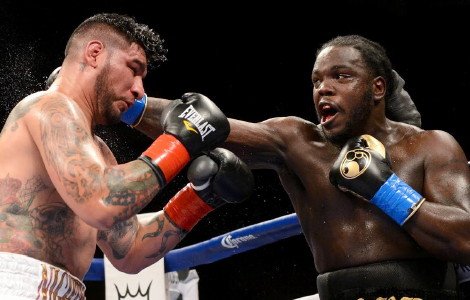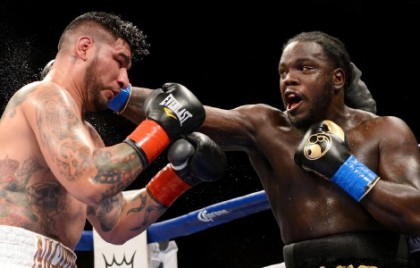 Canada`s Bermane "B. Ware" Stiverne became the World Boxing Council ("WBC") Heavyweight Champion after he defeated Chris Arreola on May 10, 2014 when he landed two crushing knockdowns in the sixth round that prompted the referee to quickly halt the bout. This victory enabled him to become the first Haitian-born heavyweight world title holder. Stiverne possesses an outstanding record of 24-1-1 with 21 victories coming by way of knockout.
He`s unbeaten in his last thirteen bouts and among those wins have come against Arreola in their first bout, Ray Austin, Franklin Lawrence and Demetrice King. Over the past couple of years, Stiverne collected the WBC Silver World Champion, WBC International Champion, World Boxing Association Fedelain Champion and the WBC USNBC Champion. The hard hitting orthodox boxer who has knocked out 81% of his opponents, will be making his first title defense against the undefeated yet untested, mandatory challenger, Deontay Wilder, 32-0, 32KOs. Stiverne and Wilder matchup should be an outstanding all action slugfest between two top ten heavyweight boxers, which fight fans will be sure to enjoy.
Stiverne was gracious enough to take time out of his busy training camp to discuss what it was like to finally become a heavyweight champion, his challenges that he has had to overcome to get to this point in this career, his thoughts on Wilder and much more.
James Stillerman: What was it like to win the WBC Heavyweight Title over Arreola?
Bermane Stiverne: It was one of the best days of my life. It was a dream of mine ever since I started boxing and it was unbelievable that I was finally able to achieve my goal after being a professional for nine years where I`ve had my share of ups and downs. It just goes to show people that if you`ve a dream and put in the hard work and dedication, you can achieve anything you set your mind to.
James Stillerman: Has your life changed at all after the victory?
Bermane Stiverne: My life hasn`t changed that much since winning the world title. The only difference for me is that I`m much more popular now than I was before with many more people who recognize me.
James Stillerman: Did you think of ever giving up on your boxing career?
Bermane Stiverne: I never was close to giving up on boxing, but it certainly was a though that I considered in 2009 when I received a draw against Charles Davis, two of my cousins died and I wasn`t fighting as often as I wanted. Shortly thereafter, I started to train at Floyd Mayweather`s gym and from there on my boxing career improved. I saw Mayweather train so hard and he was so focused and passionate about boxing and training despite the fact he was making millions of dollars and yet from the way he trained, you would`ve though he was poor. After seeing the way Mayweather prepared for his fights, it made me rededicated myself to the sport and work even harder than before and since that moment, my career has taken off.
James Stillerman: Is it true that you`ll fight Wilder in your next bout?
Bermane Stiverne: Yes, that`s true that Wilder will be my next opponent. We`ve a scheduled mandatory purse bid coming up in September, so hopefully at that meeting, my promoter, Don King and his promoter, Golden Boy Promotions can finalize the remaining details and make this fight a reality. We are both extremely excited for this bout. I`m hoping our fight will happen in late November or early December.
James Stillerman: What are your thoughts on Wilder?
Bermane Stiverne: He`s an extremely strong and powerful boxer and is extremely dangerous; however, everyone has power in the heavyweight division. I`ll not take him lightly and I`ll train extremely hard for this one, like I`ve done with my last couple of matchups.
James Stillerman: How do you see that fight playing out?
Bermane Stiverne: This bout willn`t go the full twelve rounds because both of us have very good power and are aggressive boxers. I`m extremely confident that I`ll be victorious because I`m the more complete fighter who`s better technically skilled, has a stronger chin and is more battle tested from facing the more experienced opposition. All of these attributes will help me prevail over Wilder.
James Stillerman: How`s training camp going?
Bermane Stiverne: Training camp is going really well. I`m very happy with the way everything is going so far. My body is in great shape, my weight is on target and I`m fully focused and ready to go against Wilder at the end of the year.
James Stillerman: What makes you think you`ll be a successful heavyweight champion?
Bermane Stiverne: It comes down to being solely dedicated to boxing because if you aren`t, you`ll not be able to accomplish everything you set out to do. Boxing is my life and I`ve the skills, worth ethic and confidence to make multiple defenses of the WBC strap.
James Stillerman: Any closing thoughts or anything you want to talk about that I didn`t discuss?
Bermane Stiverne: I want to thank all my fans who are the best in the world. They mean everything to me and I show my respect to them by responding to every fan who sends me a message. I`ll reward them with a successful defense against Wilder.
Stiverne lives in Las Vegas, Nevada. He`s managed by Camille`s Estephan`s Eye of the Tiger Management, trained by Don House and his U.S. publicist is Bob Trieger of Full Court Press. For more information and updates on him and his upcoming fight with Wilder, follow him on Twitter @bstiverne and Instragam @BermaneStiverne.