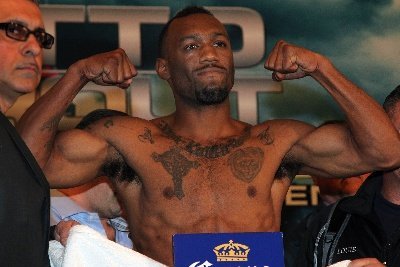 By Joseph Herron, photo by Tom Casino / Showtime – Corinthians 13:13 – "And now these three remain: Faith, Hope, and Love; But the greatest of these is Love" (New American Standard Bible, 1995)
In the hard sport of boxing, less than one percent of the entire populous of prizefighters are ever given an opportunity to compete for the brass ring on its biggest stage. Love of the fight game is crucial, but passion alone simply isn't enough to reach the sport's highest pinnacle. Countless hours of dedication to the craft, driven by a resolute belief in oneself has proven to be a time tested recipe for success in the squared circle.
On Saturday, December 1st, a 27 year old fighter from Las Cruces, New Mexico will receive his time to shine at the "Mecca of Boxing", New York City's world renowned Madison Square Garden, when he faces his greatest challenge to date.
WBA Junior Middleweight Champion Austin "No Doubt" Trout will defend his title against ring veteran and three division world champion Miguel Angel Cotto this weekend in the main event of a Showtime televised fight card.
While most casual fight fans and mainstream sports enthusiasts will view the slick southpaw as a relative unknown going into the highly anticipated contest, the El Paso, Texas born boxer is anything but an overnight success story. The dream of eventual super stardom began to gestate within the unheralded fighter at an early age.
"This is something I've been preparing for my entire life," admits Austin Trout. "I started competing in the ring when I was about ten years old. But because my mother was such a big fan of the sport, I've been following the sweet science for as long as I can remember. When my mom would have people over to watch all of the big fights in the nineties, that's when I first fell in love with boxing."
"One of the reasons why my mom got me involved in the sport of boxing was because I was small for my age when I was young. It made her feel better to know that I would be competing with other kids that were the same weight for my age…until my first fight actually took place. She was crying and wanted to pull me out of the sport after my first bout."
"Although I was competing, I didn't really get serious about the technical craft of boxing until I was about 15 or 16 years old. That's when the other fighters really started to hit hard. I realized then that it was time to either buckle down and do this full time or quit. I learned back then that a love for the fight game wasn't good enough. I had to commit to getting better and become the best that I could be or it just wasn't going to work out. That's when I really started to work at getting better and began to get serious about the fight game."
Since his epiphany initially took place, Austin has been successful at every level in possibly the most physically demanding sport on the planet.
The ambitious Mr. Trout was a 2004 US Amateur Champion in the Welterweight division and was the runner-up to make the 2004 US Olympic Boxing Team. After 200 amateur bouts, Austin turned pro in 2005 and quickly escalated up the Junior Middleweight ranking system. The talented southpaw has remained undefeated throughout his professional campaign in one of the most talent enriched divisions in boxing.
But despite capturing a portion of the Junior Middleweight crown by defeating Rigoberto Alvarez in 2011, the proud fighter admits that he's never faced an opponent with the credentials of Miguel Cotto.
"I understand why most are choosing Cotto as the favorite going into this fight. He's the known fighter and he's been in the ring with the best fighters in boxing. I know I haven't fought the level of opposition that he has, but it hasn't been by choice. I hope everyone realizes that there's a big difference. I've been eagerly waiting for the opportunity to step in the ring with the best fighters in boxing."
But getting the highest ranked opposition to face the current WBA Junior Middleweight Champion has been surprisingly difficult for Trout and company. With minimal network exposure, coupled with a difficult southpaw style, match-ups with the best of the 154 pound division have been almost impossible to create.
"When I first won the belt, I thought the big names would jump at the chance to fight for a world title. But that wasn't the case. We tried to get a fight with Canelo Alvarez earlier this year and it didn't materialize. We tried to get several different fighters in the ring for over a year and had to settle for activity bouts. So when my promoter, Greg Cohen, asked me several months ago how 'Cotto/Trout' in Madison Square Garden sounded, I thought he was playing with me."
But the most potentially impactful fight of Austin's entire career indeed became a reality. With his meeting opposite Miguel Cotto just hours away, Trout is planning to make the most of this singular opportunity.
Although the fighter most affectionately known as "No Doubt" is the incumbent champion and will be announced as the reigning and defending title holder on Saturday night, Austin will be fighting in front of a very pro-Miguel Cotto crowd at Madison Square Garden.
The talented southpaw has not only grown accustomed to fighting in front of his opponents' home fans, Trout insists that his travel log has mentally prepared him for his biggest fight to date.
"I truly believe that God put me on this difficult path for a reason. Looking back at my road to this point, I now understand why I had to fight in hostile territory so many times before. Everything that I've had to endure to date has been necessary to prepare me for this moment on December 1st."
"Most of my best performances have been in hostile territory as the visiting fighter, so I'll feel right at home at the Garden. All of my experiences fighting in Canada, Panama, and Mexico will serve me well when I'm fighting in front of several thousands of Miguel Cotto fans."
Austin claims to draw strength from adverse situations.
"When I hear boos from a hostile crowd, I get energized and motivated. It really drives me to silence them. When you have an entire arena full of opposing fans booing to begin the fight, and then they become dead silent by about the fourth or fifth round, it's a great feeling because you know you're doing something right."
While Austin remains supremely confident going into this most crucial bout, many fight scribes and boxing pundits question whether or not Trout's physical and mental toughness will prove to be indicative of boxing's elite level.
Not only has the Las Cruces resident yet to face serious adversity in the ring, the current WBA Champion has never needed a cut man during any one of his previous bouts.
"It's true…I've never been cut during any fight. My cutman has been in my corner to simply kick back and enjoy the fights. But I don't think that should be viewed as a weakness. If anything, it should be a testament to my skill level in the ring."
"I know what kind of fighter Cotto is and we're prepared for the toughest fight possible. I'm prepared to face every possible scenario in the ring. I've planned for every version of Miguel Cotto and will be ready to adapt and overcome."
Though Austin's supporters view this opportunity as a potential "changing of the guard" type of contest, most fight cynics compare this match-up to another young fighter's grand opening which took place last year.
In September of 2011, young Victor Ortiz was given a similar chance to prove his mettle against the biggest star of the sport, Floyd Mayweather Jr. The young Welterweight title holder was granted a shot at boxing superstardom but ostensibly couldn't handle the pressures that came with competing on the biggest stage of the sport.
Austin has no doubt that his big break will ultimately prove to be more fruitful.
"I'm extremely grateful to have been given this chance to prove my skills against a fighter like Miguel Cotto. He's a proven warrior and I give him a lot of credit for keeping it old school by giving a young, hungry lion a shot at something that transcends any world title."
"But, I won't be content with anything less than a big victory on Saturday night. I know it's not going to be easy and I'm fully aware of the task at hand. I know that Cotto has fought the best fighters in boxing and has only legitimately lost to the two best pound for pound fighters in the world."
"I look at those fights and I know I have the tools to do the same. I'm a huge fan of the sport and have been watching Miguel Cotto for years. I'm very familiar with the champion at 140, 147, and 154 pounds. I know in his last fight he went toe to toe with the best fighter on the planet. My goal is to make that fight look like nothing."
Despite being the underdog going into this pivotal contest, everything in Austin's heart and mind tells him that he's ready for big time boxing.
"My faith tells me that I'm here for a reason," declares Austin "No Doubt" Trout. "I've prayed for this special opportunity and God has delivered it to me. I have to thank the Lord for this moment. Everything that I've had to endure throughout my career has culminated to this point and it couldn't have happened in a more perfect way."
"All of my struggles both in and out of the ring have mentally, physically, and spiritually prepared me for this and I know I'm ready; the faith that I have in God and in myself tells me that I'll be victorious on Saturday night."
"I know Cotto's people haven't planned it to be this way, but this will be a changing of the guard. He's had his time, and this is my time now. Even though I'm coming into this fight as the champion, his name is bigger than my world title. I truly feel like the underdog and the dark horse going into this fight, but that's not a bad thing for me."
"I've experienced this throughout my entire career. People have always counted me out and I've always been successful. It motivates me. Cotto can't outbox me…and when he realizes that and resorts to being the aggressor, that's when we'll have him. If people want to bet on Cotto and lose their money, it's fine by me."
"It's been a long road to get here, but the struggle has been worth it. Everyone will see the real Austin Trout on Saturday night. I want to thank all of my friends, family, and supporters for all of their unconditional encouragement. They will see that it will finally pay off when I have my arm raised in victory on Saturday night."