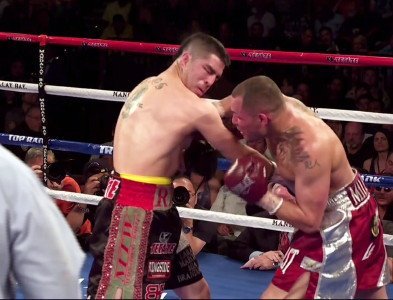 Despite last night's fight between Brandon Rios (31-1-1, 23 KO's) and Mike Alvarado (34-1, 23 KO's) on HBO being incredibly exciting for boxing fans, Top Rank promoter Bob Arum is saying no to the idea of them facing each other in an immediate rematch.
Arum wants to put them in with other fighters first, and then match them up at some point in the future. This is no doubt a risky move because if one of them gets beaten badly it could take some of the interest in seeing them fight again.
Alvarado defeated Rios by a 12 round unanimous decision last night by the scores of 115-113, 115-113 and 114-113.
Arum said as quoted by ESPN "I'd like to see one of them against [Ruslan] Provodnikov or for [Juan Manuel] Marquez to face one of them…I sort of feel I'd like to see these guys against other people, and then we can do a rematch…I don't like to do immediate rematches…I did it here because…HBO pressed me into the fight."
That's interesting that Arum says that he doesn't believe in making immediate rematches because he is looking to make an immediate rematch between Marquez and Manny Pacquiao. I think it really comes down to Arum perhaps not wanting to see Rios, the guy that Top Rank has been hyping in a big way, get beaten again before he starts making money for them.
If Rios gets beaten for a second time by Alvarado, then boxing fans aren't going to be excited by the idea of Arum putting Rios in with the likes of Marquez, Bradley and Pacquiao. One way to avoid this from happening is Arum putting off a third fight between Rios and Alvarado to keep Rios from taking another loss.
Rios is exciting fighter, but his questionable win over Richard Abril and his loss to Alvarado showed pretty clearly how limited he is as a fighter.
Arum might need to look to cash out with Rios immediately by putting him in with his top fighters because he can't afford to put him back in with Alvarado and have him get beaten again.