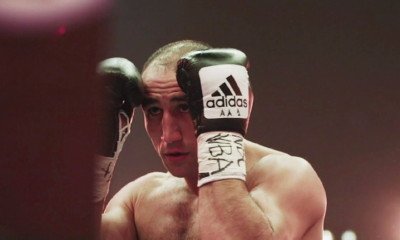 By Michael Collins: WBO super middleweight champion Arthur Abraham (35-3 27 KO's) won't be taking any chances for his first title defense of his World Boxing Organization belt by opting not to face a super middleweight contender at all and instead defend his title against middleweight Mehdi Bouadla (26-4, 11 KO's) on December 15th in Nuremburg, Germany.
I guess Abraham's handlers must not have liked what they saw of the top 15 contenders that the WBO had listed and chose to instead to fight the short 5'8″ Boudla, who is ranked #13 WBA in the middleweight division. Abraham can definitely win this fight, although it's not exactly sporting to be fighting a bottom dweller from a division below. If you're going to take an opponent from a lower division you'd like to see that fighter be a top 5 ranked guy instead of someone near the bottom like Bouadla.
Abraham, 32, won the WBO 168 pound title last August over German based Robert Stieglitz. Abraham had too much power for the limited Stieglitz and it was a pretty clear cut win for Abraham. However, Stieglitz was considered a paper champion by a lot of boxing fans and he was bound to lose his title sooner or later once he finally fought someone with semi-decent skills.
It was hoped that Abraham would defend his title for the first time against the likes of Mikkel Kessler, George Groves, Kelly Pavlik, James DeGale, Adonis Stevenson, Sakio Bika or Andre Dirrell. One of those guys would have made for an exciting opponent for Abraham to fight. However, the chances of Abraham losing to all of them would be incredibly high, so it's not surprising that Abraham's management chose instead a non-super middleweight for him to fight.
The fact is the WBO has really stacked their top 15 with a lot of excellent fighters at super middleweight and there's just just not a of easy options for Abraham to fight. Had he even chose the bottom contenders like Mouhamed Ali Ndiaye, Maxim Vlasov and Nikola Sjekloca, Abraham would have had a really tough fight on his hands because those guys can actually fight and wouldn't just roll over as soon as they get hit.
Bouadla, 30, has a lot of fluff on his resume. As far as I can tell, he's never really beaten anyone that you could call good, but maybe that's why he was picked out by Abraham's team. Bouadla was easily beaten by Mikkel Kessler last year in a 6th round TKO in a comical bout that looked like fighters from different weight divisions facing each other. Kessler was so much bigger than the smaller Bouadla that it didn't even look like a fair fight. Bouadla also has been beaten by Gennady Golovin and Affif Belghecham in the past.