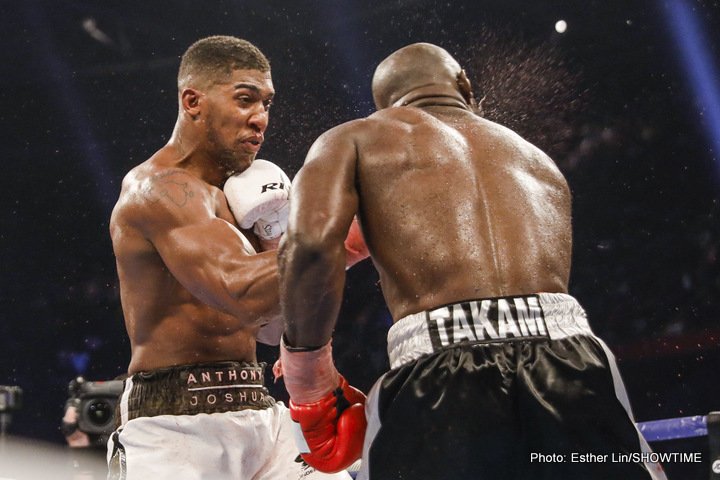 Anthony Joshua is tired, bored even, of critics pointing towards his stamina and suggesting how it, along with his chin, is suspect. With upcoming foe Joseph Parker and the WBO champ's team promising a tough, possibly long night for the WBA/IBF heavyweight ruler, AJ says he is not concerned in the least, and that those people who are asking about his stamina should "go back and study boxing."
In the toughest, most demanding sport of all, it's arguable that stamina, the possession of a full gas tank, is the most essential ingredient for any fighter. You can be as naturally talented as you want, as powerful as you want, but if you get dog-tired, forget it, you're finished (look at Ali-Foreman for a classic example). But Joshua says all heavyweights who engage in a war get tired, at least to a degree, and AJ is proud of the way he came back, when battling both fatigue and his toughest opponent yet, to win against Wladimir Klitschko. Joshua is also amazed how his "suspect" stamina is being judged on his fight with Carlos Takam.
"Tell me any heavyweight you know that hasn't gone into a war – Foreman-Lyle, Holyfield-Cooper – that hasn't felt the pressure and the heart rate go sky-high when they're in a big fight," Joshua told The Express. "[Carlos] Takam, I controlled him for ten rounds with ease. He bust my nose, I couldn't even breathe through my nose. That one fight is defining my stamina?It's boring. I don't really rate it. People asking about my stamina, asking about my chin, people asking about this and that, go back and study boxing. Then you'll know what it's like for heavyweights to be a real slugfest, what it's like for heavyweights to take power punches."
AJ added how he is "going through just what those people you have hanging on your bedroom wall were going though (referring to the greats fans have plastered on their walls in poster form). Joshua makes a good enough point: all heavyweights, no matter how great, have felt the pace when engaging in a hot fight. It's how a fighter battles through the fatigue that counts, and so far, AJ has come through even when his heart rate was "sky-high."
Some have pointed to Joshua's muscle mass and said that this is what has made him tire in fights, and they too have a good enough point. In many ways the Parker fight – Parker being a young, peaking fighter many say will "keep coming all night" – is the toughest yet for AJ. On paper anyway. What if Joshua comes through a tough and fast-paced 12-rounds and wins a decision? Would the critics then be forced to sing a different tune regarding his stamina?