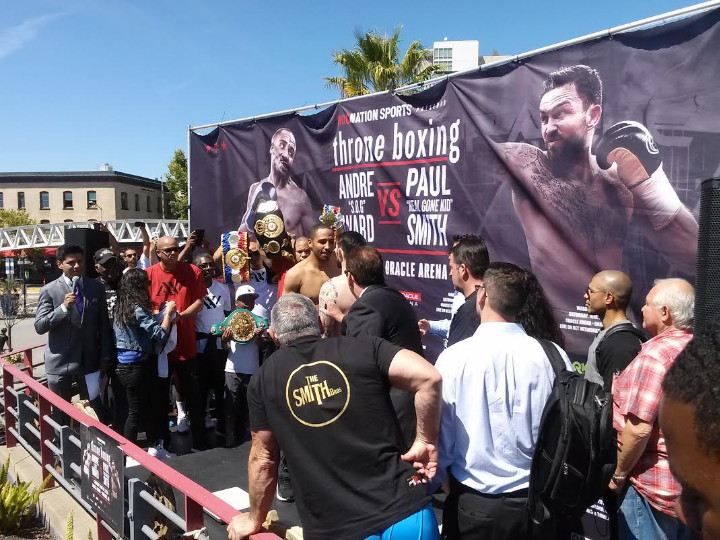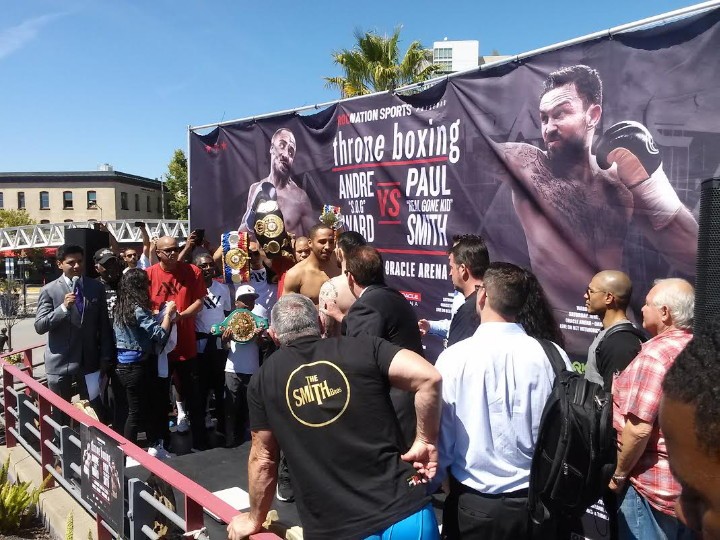 By Waldon White: Earlier today, WBC super middleweight champion Andre S.O.G. Ward (27-0 14 KO's) and challenger Paul "Real Gone Kid" Smith (35-5, 20 KO's) came together to weigh in for Saturday nights main event at Oracle Arena in Oakland, California. Fellow Roc Nation fighter Miguel Cotto also stopped by for a photo op. Ward weighed in at 171.8lbs, looking lean and ready to fight. Paul Smith weighed in at 176.4 lbs, which was 4.4 lbs. over the agreed upon 172 catch-weight.
Smith's camp decided to accept the fine rather than lose the additional weight required of all professional fighters. Smith may somehow think that the extra weight may give him an advantage over Ward, who has not fought since 2013.
The 32-year-old Smith last challenged WBO Super Middleweight champion Arthur Abraham earlier this year in a losing effort. Smith appeared soft around the midsection today and not in top shape. Many pundits feel that Smith is severely outmatched by the Olympic Gold Medalist Ward. However, Smith's camp believes he has a punchers chance due to the 20 KO's on his record.
Smith was short on words after the weigh-in and left promptly after the stare down. Ward appeared relaxed and jovial as he mixed with fans afterwards and took pictures. During the face off there was little tension as Ward talked to Smith, causing the British fighter to smirk in response.
Although it may not be the fight that fans or writers want to see, a tune up fight is something that is needed to assess a fighter like Ward after an injury or long layoff. This will give a slight gauge of where Ward currently stands as big fights could be right in the horizon. Given the state of boxing at this time, Ward's return could be a welcomed event. In a weekend featuring a fight between Adrien Broner and Shawn
Porter audiences will be tuning in for excitement and drama which is something Broner usually brings. The real look may just be the Ward /Smith bout which will see the potential return to elite status for Ward.
Ward has previously stated he'd welcome a fight with WBA middleweight Gennady "GGG" Golovkin, who is the face of excitement in the middleweight ranks as of late with a 33-0 record with 30 KO's.
This Saturday will mark Ward's return after 19 months away and the answer to many questions. The bout is promoted by Ward's new promoter Roc Nation at the Oracle Arena. Also featured will be Antonio Nieves (12-0, 6 KO's) and Stephon Young (13-0-1, 5 KO's). The fight will be hosted by MTV news correspondent Sway Calloway with a special performance by Nipsey Hussle. The fight will be broadcast live on BET and TIDAL.com stream 10:00PM ET/7:00PM PT.
Could you also include my twitter handle @theboxingdon. Thanks