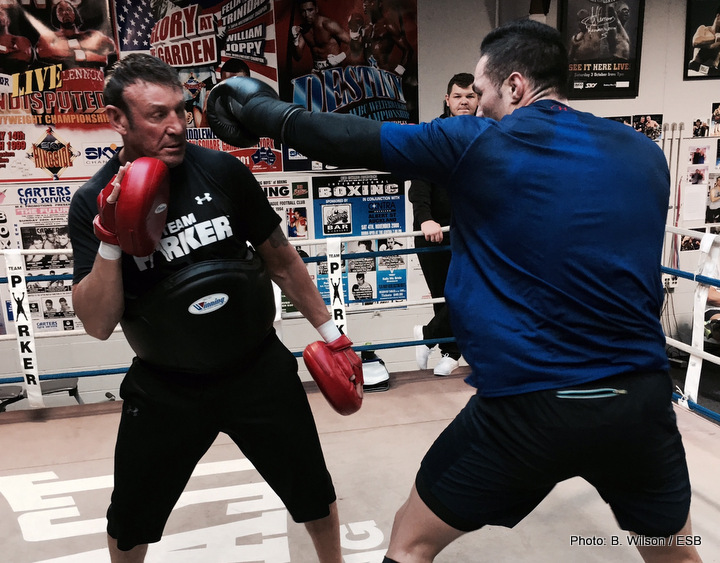 Kevin Barry, trainer of undefeated WBO heavyweight champ Joseph Parker, has backtracked a touch on the claims Team-Parker made a short time ago regarding Anthony Joshua's "dodgy chin." Ahead of the now-signed three belt unification clash between AJ and Parker, on for Cardiff on March 31, Parker has said how he believes Joshua has in fact got a "good chin."
However, this does not stop Barry from predicting how his fighter will knock out the WBA/IBF champ next month:
"I'd be foolish to pick a round but, but I can promise you this: when Joseph Parker does hit Anthony Joshua clean, if Joshua does go down I can promise you he will not recover like he did in the Klitschko fight," Barry told The Las Vegas Sports Network. "The fight will be over. Joseph Parker is a very, very good finisher. There will be times in this fight where both guys get hurt, but I like our chances a lot in this fight."
So, is Barry expecting and anticipating a slugfest, maybe a knockdown, drag out type of war? Of course, fight fans everywhere would be more than happy if this happened; if Parker and Joshua gave us a modern day Foreman-Lyle! In speaking with Eyes On The Game radio show, Barry stated how he feels AJ has a "very good chin," and that talk of the Brit having a weak chin was all down to pre-fight publicity and hype.
"Look, I think Anthony Joshua has got a very good chin. He's been hit by some big punches," Barry stated. "We don't think Joshua has a dodgy chin, we just know he can be knocked down. The pressure is on Joshua. There is huge public expectation."
But as Barry said, it was the big and powerful Wladimir Klitschko who knocked AJ down (he has been wobbled by other fighters, Dillian Whyte most famously) – has Parker got the firepower to be able to accomplish the job? Then there is the question of Parker's chin. Thus far, the New Zealand warrior's beard has served him well, without issue, but has Parker ever been in with a sledgehammer puncher like Joshua?
There is no question this fight will be lively though. Maybe we will even get a modern day classic on March 31. Does anyone think this one will go the full 12 rounds?