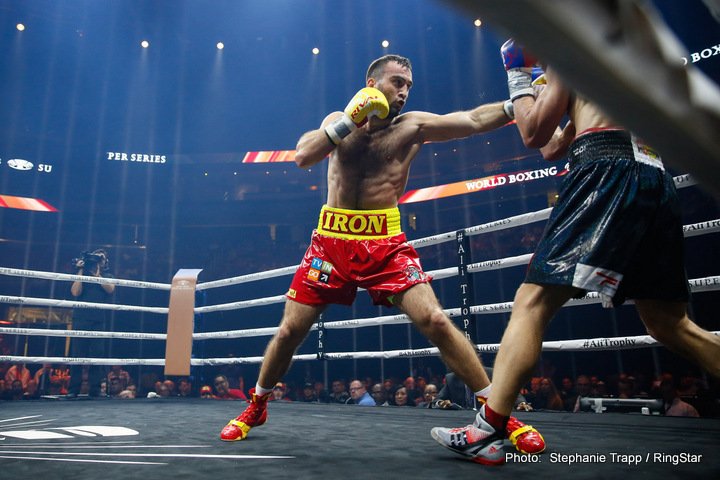 Russia's Murat Gassiev, unbeaten and holder of two cruiserweight world titles, and Ukraine's Oleksandr Usyk, unbeaten and holder of two cruiserweight world titles, share a dream. In fact, they share two dreams: that of winning the soon to be concluded World Boxing Super Series tournament, and that of moving up in weight and ruling the world at heavyweight.
As fans know, Usyk (the WBC and WBO king) and Gassiev (the IBF and WBA ruler) will clash in Saudi Arabia in May, their eagerly anticipated clash one that will decide who walks away with the prestigious Muhammad Ali Trophy (and with it many millions of dollars). But as much as that distinction would cover the victor with praise and plaudits, both men already have an eye on leaving their current weight class and conquering the heavyweight division.
As special as both fighters/ boxers/ warriors are, there is a real chance one, or maybe even both of them, could indeed follow the legendary Evander Holyfield and rule as an undisputed cruiser king and then as an undisputed heavyweight king.
Which of the two men has the best shot at making it in the sport's ultimate weight division?
Both Gassiev and Usyk stand at well over the 6'1″ mark – Gassiev being 6'4" and Usyk standing 6'2." So on paper at least, both fighters are just about tall enough to have a realistic chance of doing it; while in terms of skill, toughness, desire and mental fortitude, no fan can possibly write off either warrior's chances. For as long as the cruiserweight division has been in existence, fighters operating there have looked upwards, to the glory and the monetary rewards the heavyweight division can bring, and Usyk and Gassiev are no different.
Imagine if these two great (or near-great) fighters met again as heavyweights – who would win then? Can either man, or maybe both men, capture a title at a second weight? First up we have the anticipated classic that is the two of them putting everything on the line in the WBSS grand finale, but after that, both superb fighters who have, in their own quiet (too quiet?) way lit up the sport and covered it in nothing but glory, just might thrill us anew at a weight significantly above 200 pounds.
Heavyweights everywhere should look out if and when these two fantastic fighters invade the division. Holyfield before them was "too small" to be able to hang with the big boys, yet we know what happened there. It hasn't been done too many times, but can Usyk and/or Gassiev move up from cruiserweight and rule at heavyweight? It sure promises to be nothing but interesting finding out.