Dillian 'The Body Snatcher' Whyte will be enjoying a 19-lb weight advantage over the smaller 228.25 lb Alexander Povetkin on Saturday night in their rematch on DAZN and Sky Box Office at Gibraltar.
Whyte (27-2, 18 KOs) looked in excellent shape weighing in at 247.25 lbs on Friday at the weigh-in at The Rock.
You could tell from looking at the two heavyweights side by side which of them worked harder during training camp to prepare for the fight, as Dillian looked considerably more tone than the 41-year-old Povetkin (36-2-1, 25 KOs).
The former WBA heavyweight champ Povetkin's weight is four pounds heavier than the 224 lbs he weighed in for his first fight with Whyte on August 22nd last year at Matchroom Boxing headquarter in Brentwood, Essex, UK.
Povetkin vows to show "beautiful boxing" 
"Everything is fine, as usual," Povetkin said after weighing in on Friday. "What happens in the ring is a different story, but outside the ring, I will be respectful all the time.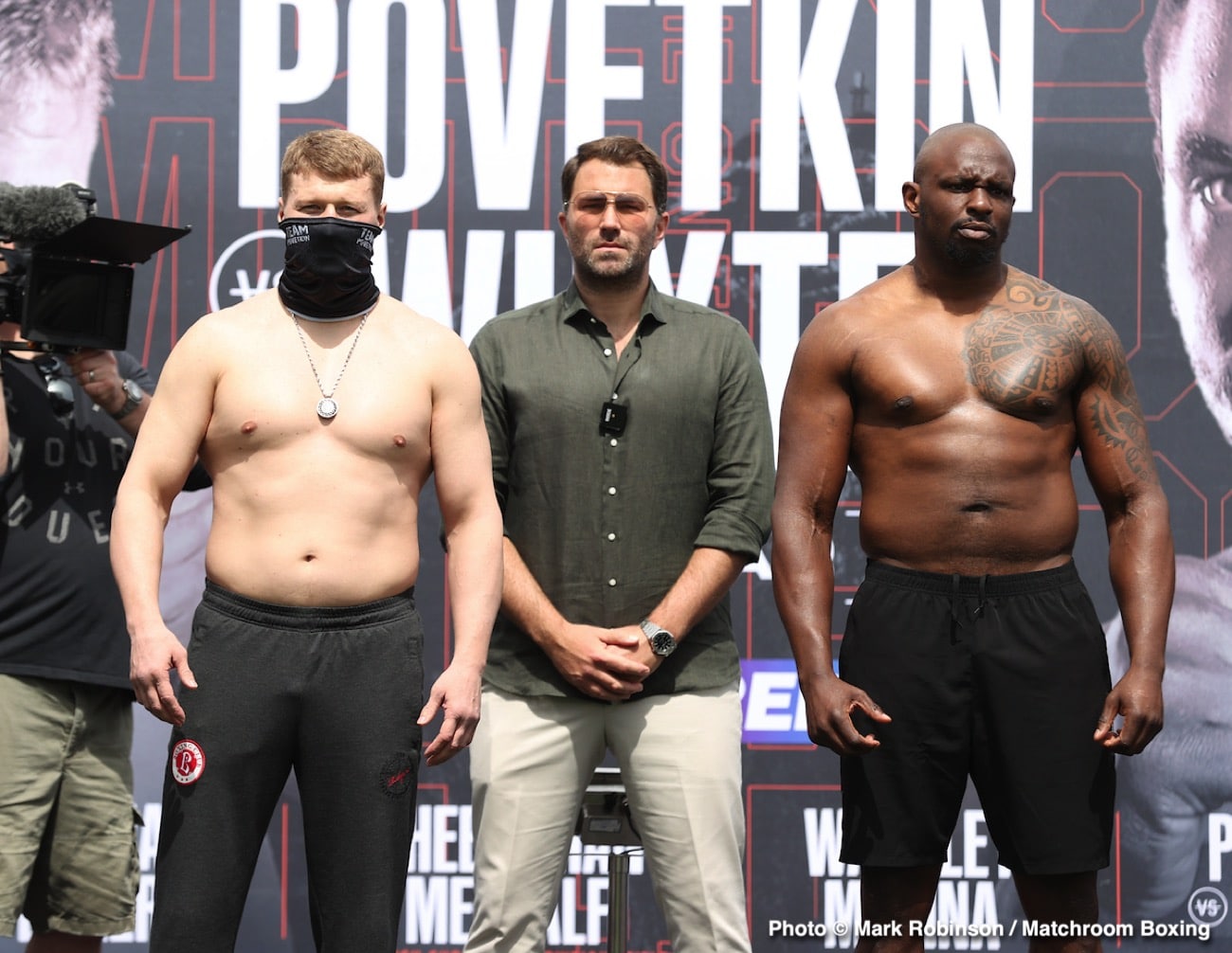 "My goal is to focus on the fight and show beautiful boxing. That's it," Povetkin said in giving a hint on how he plans on beating Dillian.
Povetkin said this week that he's been working on his mistakes last time he fought Whyte, which resulted in him getting knocked down twice in the fourth round.
The Russian wants to make sure that Whyte doesn't hit him as often as he did last time because he was getting worked over pretty good going into the fifth round.
If the smaller and older Povetkin is to have any chance to win, he's got to limit the number of shots that Dillian hits him with on Saturday. Povetkin isn't big enough to be involved in a war with the 247.25 lb Whyte on Saturday.
"It means everything to me," said Whyte after weighing in. "I was prepared for that last time, you know. I probably respected him too much. He's a good fighter.

"People start telling me this, that, and the other about Povetkin, and you can be more careful because of it. But this time, I don't care. I just don't care," said Whyte.
It looked like Whyte WASN'T careful last time he fought Povetkin, which is why he was knocked out.
For Dillian to be implying that he's going to be less careful, that sounds like trouble brewing for himself.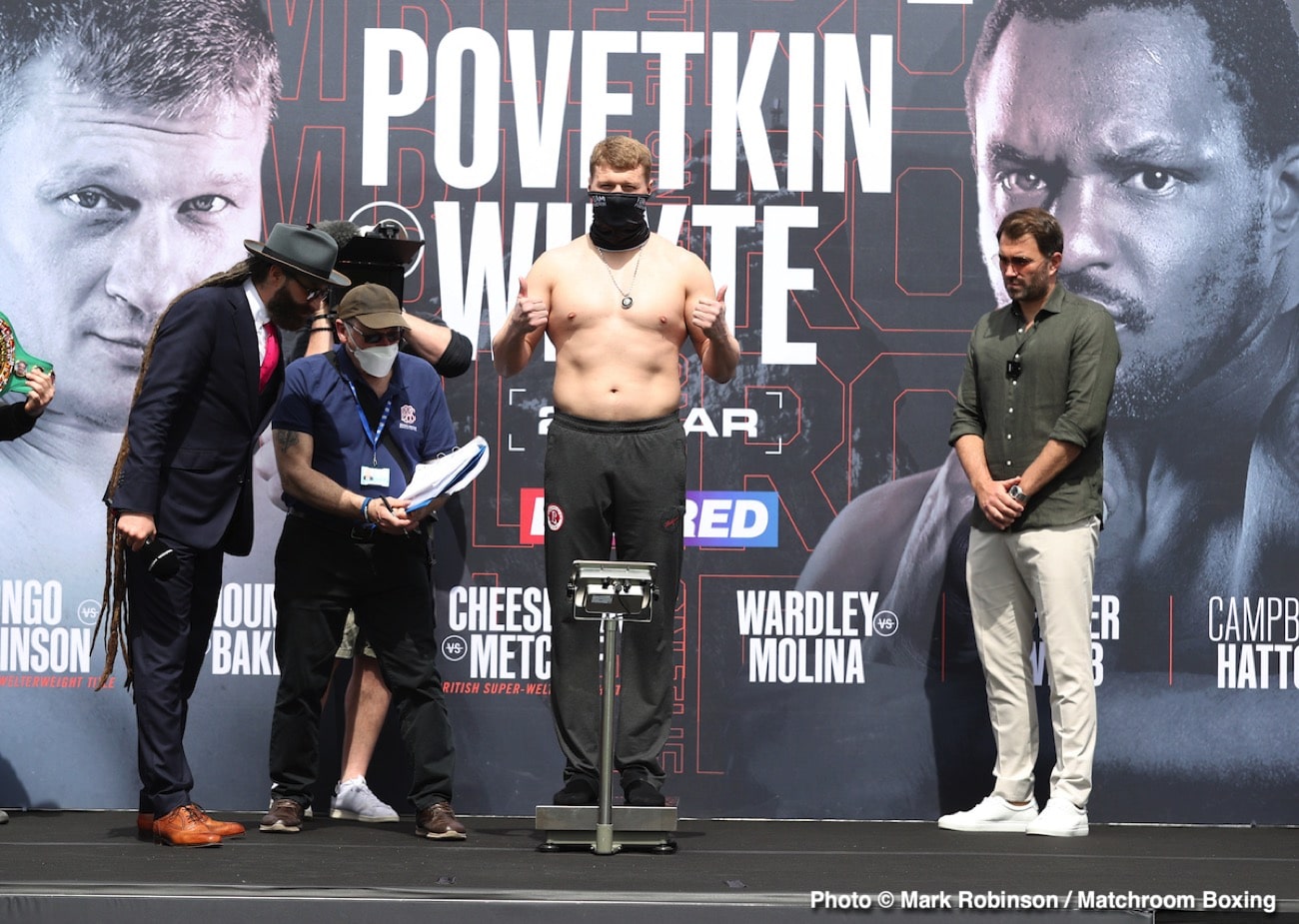 Going into this rematch with an attitude of being sloppy and wild probably won't get the job done for Whyte because Povetkin is too experienced, skilled, and powerful for him to be fighting him in that manner.
This isn't Dereck Chisora or Oscar Rivas that Whyte is fighting. Whyte got away with a lot in those fights because he wasn't facing elite heavyweights, so it would be smart for him to at least have a moderate amount of caution when he's in there with Povetkin.
If Whyte loses again, he can't say he wasn't given fair warning. His promoter Eddie Hearn has been telling him for weeks now that this is a "must-win" fight, meaning that if Dillian loses, his career could be on skidrow.
What Whyte has talked about wanting to do is put pressure on Povetkin, who is coming off a serious COVID 19 illness. By applying a lot of pressure on Povetkin the way Anthony Joshua did, Whyte will have a good chance of tiring him and stopping him in the later rounds.
Official undercard weights for Povetkin vs. Whyte 2:
Fabio Wardley 232.5 vs. Eric Molina 251
Ted Cheeseman 153.75 vs. James Metcalf 154
Campbell Hatton 137 vs. Jesus Ruiz 136.5
Chris Kongo 146.75 vs. Michael McKinson 146.25
Erik Pfeifer 246 vs. Nick Webb 262
Youssef Khoumari 130 vs. Kane Baker 128.5