A weight-drained-looking Adrien 'The Problem' Broner (33-3-1, 24 KOs) made weight on Friday, coming in at 146 pounds for his adjusted weigh-in for his bout against unbeaten replacement opponent Jovanie Santiago (14-0-1, 10 KOs) at the Mohegan Sun Casino, Uncasville, Conn.
As depleted as Broner looked today, you can't rule out an upset win by Santiago on Saturday night. I'm saying it right now, Broner could lose this fight. We've already seen that Broner is physically incapable of throwing more than a handful of punches per round.
With Broner looking drained from losing close to 40 lbs of fat during camp, a glorified fat farm, he could be on his way to another defeat. Broner hasn't won a fight since 2017, and he'd looked completely over-the-hill in his last three fights.
Santiago weighed in at 145 1/4 lbs in what amounts to be his Super Bowl-level fight against the former four-division world champion Broner in the headliner on Showtime at 9:00 p.m/ET.
This is as good as it gets for the 31-year-old Santiago, who may never get another opportunity for the remainder of his career to face a former star in the sport, even a faded one like AB.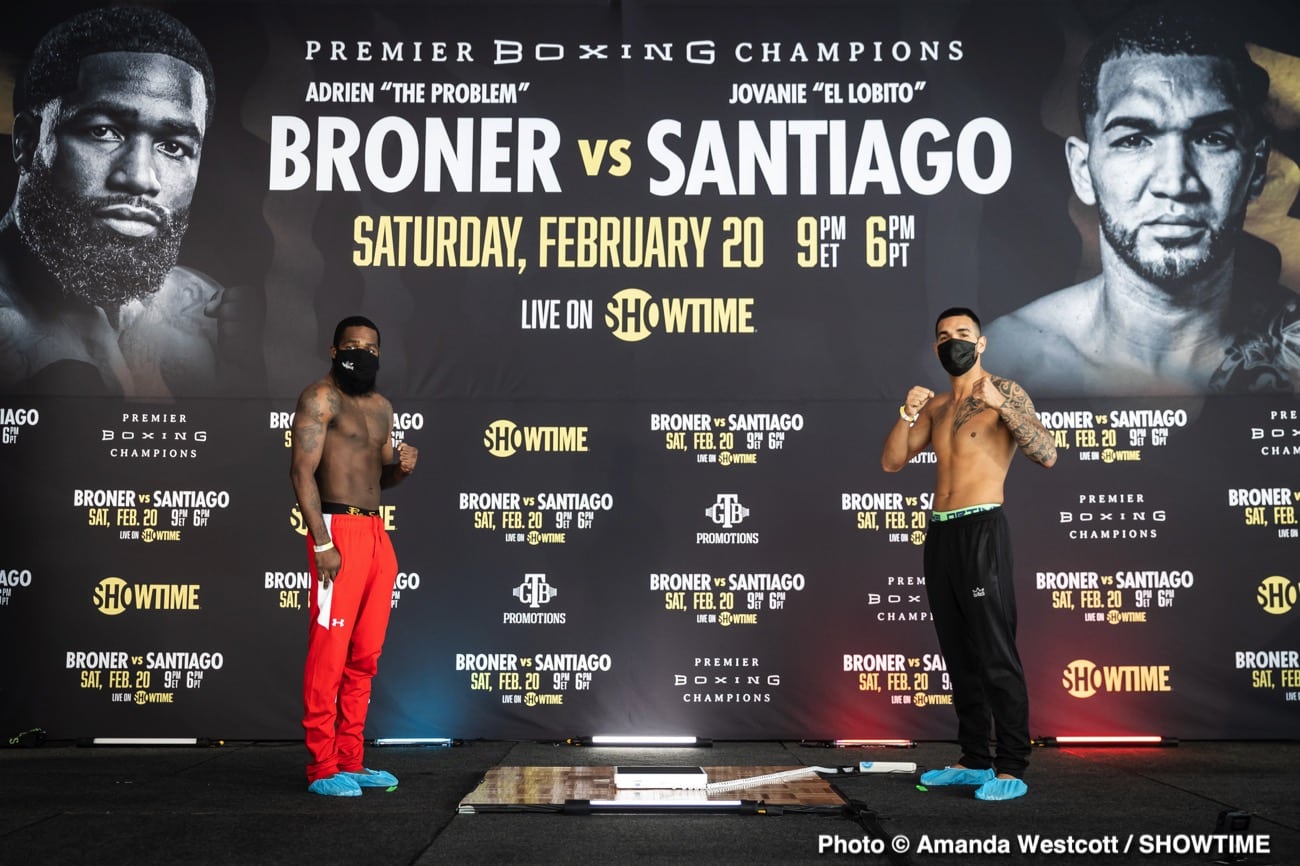 What's disturbing about today's weigh-in was how weak Broner looked while he was on the scales. He looked like someone who hadn't eaten a decent meal in weeks, and he clearly had been struggling to try and drop weight.
Broner, 31, and Santiago were supposed to be fighting at 140, but it was clear that they both needed the weight to be adjusted upwards by last Thursday. What's interesting is how far off Broner was from the 140lb limit he was supposed to be fighting at.
One could understand Broner missing the weight by two or three rounds, but NOT six lbs. Clearly, if the weight hadn't been readjusted on Thursday to 147, Broner would have come in at 146 lbs, and the boxing world would have been apoplectic at seeing this.
Moving forward, it's anyone's guess what Broner's plans are for him to find success in his comeback. He had said this recently: "140 pounds is the weight that I want to be at."
Obviously, that's no longer a given that Broner will be able to fight at 140 because if he can't be counted on to make weight for the division, it'll be utterly useless for his management to set him up in fights against the top guys at 140.
Hypothetically speaking, if Broner can make weight for the light-welterweight division, he'll be in a position to go after the IBF, WBA, WBC, and WBO 140-lb titles in 2021 as soon as the winner of the Jose Ramirez vs. Josh Taylor unification match vacates the belts.
That's what the plan is supposed to be. Teofimo Lopez is expected to move up to 140 and challenge the winner of the Ramirez-Taylor fight. Still, he likely won't win because he can't handle pressure, as we saw in his fight against Vasily Lomachenko.
If Broner can prove himself capable of making 140, he'll be in a position to face former WBA 140lb champion Regis Prograis for one of the vacant light welterweight titles later this year once the Taylor vs. Ramirez winner vacates the straps.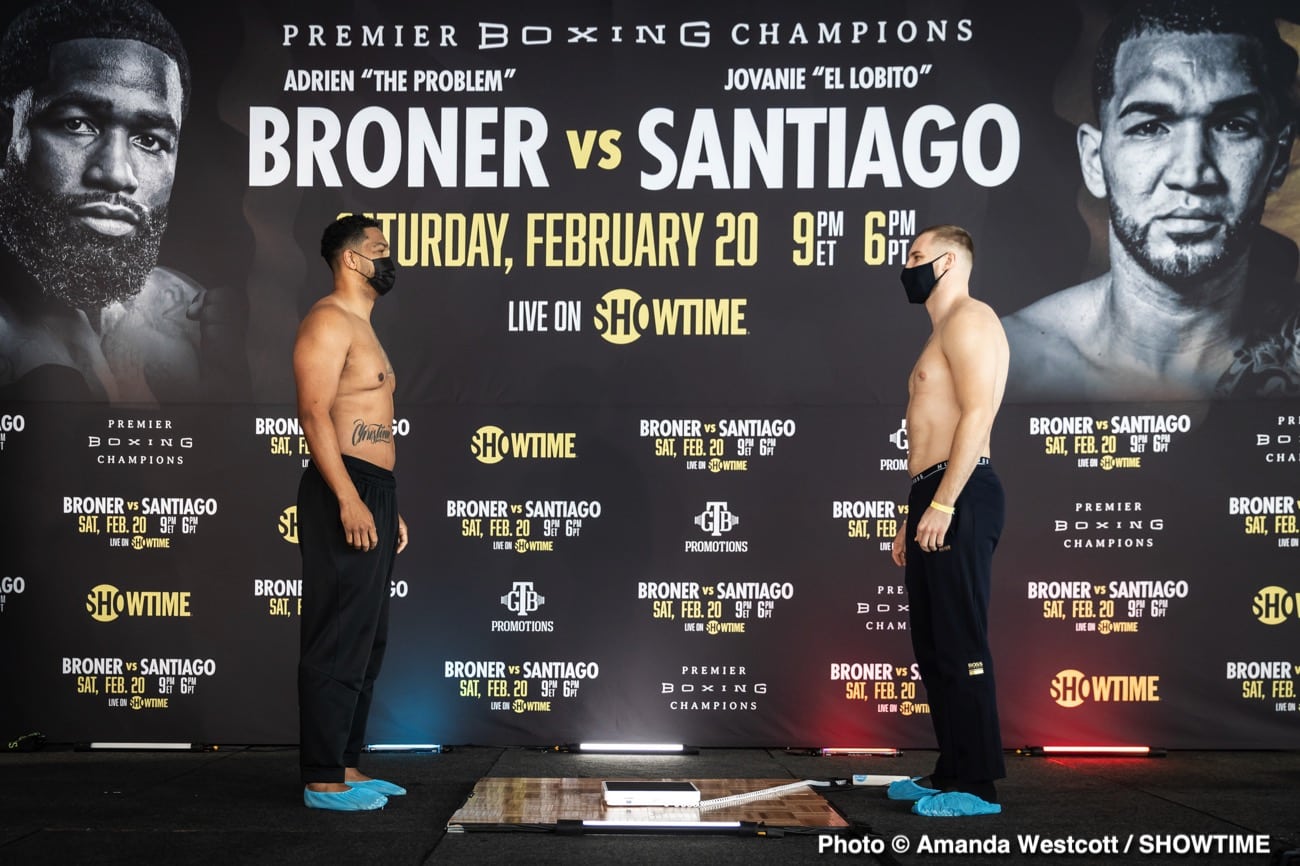 Other weights on the Broner-Santiago card for Saturday:
Dominic Breazeale – 261 ¼ lbs.
Otto Wallin – 240 ½ lbs.
Heavyweight Dominic Breazeale (20-2, 18 KOs) will be emerging from a two-year layoff to take on Swedish fighter Otto Wallin (21-1,1 4 KOs) in a 12-round fight. Breazeale is known for being knocked out by former WBC champion Deontay Wilder in one round in 2019 and by Anthony Joshua in seven rounds in 2016. You have to favor Wallin to win this fight if he puts pressure on Breazeale right from the start.
Robert Easter Jr. – 139 ¾ lbs.
Ryan Martin – 139 ½ lbs.
Robert Easter Jr (22-1-1, 14 KOs) has a nice tune-up fight against Ryan Martin (24-1, 14 KOs) in a 12 round fight. Easter Jr is fighting for the second time since moving up to 140, and he shouldn't have any issues dealing with Martin.