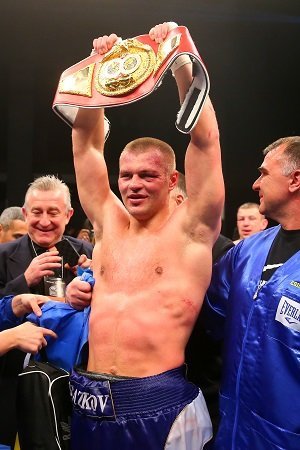 Photo: Rich Graessle/Main Events — Tomasz Adamek (49-3, 29 KO's) ran out of luck tonight in his dream of fighting for another heavyweight world title, as the younger and stronger Vyacheslav Glazkov (17-0-1, 11 KO's) pounded out a 12 round unanimous decision tonight in beating Adamek in front of his own fans at the Sands Casino Resort, in Bethlehem, Pennsylvania, USA. Adamek took a beating in the fight and ended up with a right eye that was nearly swollen closed courtesy of the hard jabs that Glazkov was hitting him with all night.
Glazkov used his jab and power shots to beat up Adamek and build up a big deal. Adamek rallied in the last four rounds, but he was too far behind for him to make up the difference. The judges scored the fight 117-110, 117-111, 116-112.
Adamek did a lot of good things in the fight like using constant movement to keep from getting hit. However, Glazkov did a great job of cutting off the ring and nailing Adamek with big right hand shots to the head. He had Adamek hurt on more than one occasion in rounds 7-9.
Adamek came on in rounds 10 through 12, but he didn't dominate them the same way that Glazkov had controlled the first 9 rounds.
Adamek will need to start over if he wants to still try and get a heavyweight title shot. At 37, he's still young enough to fight his way to another world title shot if he's patient. If Tony Thompson is still getting big fights then Adamek can certainly fight his way to another title shot if he takes the right route.
***
In the co-feature bout, light heavyweight contender Isaac Chilemba (22-2-2, 9 KO's) defeated Denis Grachev (13-3-1, 8 KO's) in beating him by a 10 round unanimous decision. Chilemba countered Grachev all night long and did a good job of jabbing him. Grachev landed an occasional big shot, but he was getting hit a lot by Chilemba's combinations, and that was the difference in the fight. The judges scored it 99-91, 99-91, 100-90.
Chilemba said after the fight that he's looking to get a title shot against the likes of Adonis Stevenson.