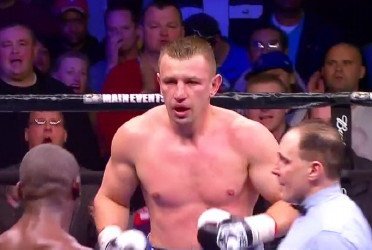 Last November veteran Tomasz "Goral" Adamek (49-2-0, 29 KOs) was scheduled to take on the up-and-coming Ukrainian 2008 Olympic bronze medalist Vyacheslav "Czar" Glazkov (16-0-1, 11 KOs) at Turning Stone Resort and Casino in Verona, NY when Adamek fell ill and had to pull out just days before the fight. Czar went on to face Garrett Wilson at Turning Stone and won via unanimous decision in ten rounds. Now on March 15, 2014 the much anticipated fight between the veteran Adamek and the young challenger, Adamek's former sparring partner, Glazkov will finally take place at Sands Resort and Casino in Bethlehem, PA and will be aired on NBCSN Fight Night starting at 9:00 PM ET. The fight represents a crossroads for both fighters: Adamek, 37, is facing questions about whether or not he is entering the twilight of his career and the undefeated Glazkov, 29, is taking on his first real challenge in the heavyweight division. The fight will be Adamek's second defense of his IBF North American heavyweight title and an eliminator for the #2 position in the IBF heavyweight ratings .
This is not the first time a seasoned veteran has taken on a young hot shot. There have been some classic veteran vs. newbie boxing battles where the veteran has prevailed: Roberto Duran vs. Davey Moore, Sergio Martinez vs. Julio Cesar Chavez, Jr., and Floyd Mayweather, Jr. vs. Saul Alvarez just to name a few. And Tomasz certainly has experience on his side, in over fifty professional career fights he has only lost twice in his career, a tenth round knockout loss to Vitali Klitschko on September 10, 2011 and a unanimous decision loss to Chad Dawson on February 3, 2007.
According to Main Events' CEO Kathy Duva, "Everyone always seems to forget that Tomasz only has two career losses. He is a seasoned veteran and always seems to manage to find a way to win." When Tomasz spoke about his professional experience when compared to Glazkov he said, "I am sure my experience is an advantage because I spent since 1999 in the ring professionally. But just because I have more experience doesn't mean it is so big I don't need nothing. I am training very hard. We have a big camp and I am going to ready 100%."
Because of the cancellation of the November fight, Adamek has not fought since his August 3, 2013 unanimous decision win over Dominick Guinn at Mohegan Sun in Uncasville, CT – a seven and a half month layoff rivaling the seven and a half months between the August 3rd fight and Adamek's split-decision victory over Steve Cunningham on December 22, 2012. So much time out of the ring is uncharacteristic of Adamek; however, his trainer, Roger Bloodworth, does not think the longer breaks are significant: "I don't see a difference in Tomasz because of the time off. I think people make too much of having time off between fights, he is as focused as I have ever seen him."
Adamek gained another advantage by watching Glazkov's fight against his replacement Garrett Wilson. He said, "I watched the last fight, but the last opponent wasn't Tomasz Adamek, he was a different fighter, you can't compare that opponent to me. When Tomasz gets in the ring it's a different fight. You will see on March 15. I am going to show my class." Also as former sparring partners both men know a little more about each other's style than they could learn simply by studying fight film. Tomasz added, "I sparred with Glazkov, but sparring is just sparring. Verification is always in the ring. You can spar with somebody for two years and when you go into the ring it can be a different story. Sparring is sparring, training is training, but the fight is the fight."
"Goral" has a large Polish following both here and overseas and, despite the fact that he considers New Jersey his adopted home, he should still have the hometown advantage just over the river at Sands. Tickets are nearly sold out so expect a packed house to watch this long-awaited showdown.
About March 15th:
The March 15th edition of NBCSN Fight Night at Sands Casino Resort Bethlehem features the twelve-round heavyweight match-up between Tomasz "Goral" Adamek and Vyacheslav "Czar" Glazkov for the IBF North American Heavyweight Title and IBF #2 Position Eliminator.
The Co-Feature is a ten round light heavyweight match-up between Isaac "Golden Boy" Chilemba and Denis "The Pirate/Drago's Son" Grachev.
Doors open at 6:00 PM ET. The Co-Feature and Main Event will be broadcast live on NBCSN Fight Night at 9:00 PM ET/6:00 PM PT.
Tickets start at $55 and are available through TicketMaster.com (key word: Peltz Boxing). The card is presented by Main Events, Peltz Boxing, Ziggy Promotions, and Pushka Promotions in association with BAM Boxing and Sands Casino Resort Bethlehem. The remaining undercard bouts will be announced shortly.
NBC Sports Live Extra:
NBC Sports Group's live streaming product for desktops, mobile devices, and tablets – will live stream Fight Night at 9 PM ET/6 PM PT on March 15th.
Coverage will be streamed via "TV Everywhere," the media industry's effort to make quality content available to MVPD customers both in and out of the home and on multiple platforms.
For desktops, NBC Sports Live Extra can be accessed at NBCSports.com/liveextra. The NBC Sports Live Extra app for mobile devices and tablets is available at the App Store for iPhone, iPad and iPod touch, and on select Android handset and tablet devices within Google Play.
All NBC Sports Network live events live stream to PCs, mobile devices and tablets through NBC Sports Live Extra, and to the digital platforms of participating cable, satellite, and telco services, via "TV Everywhere," which is available on an authenticated basis to subscribers of participating MVPDs.