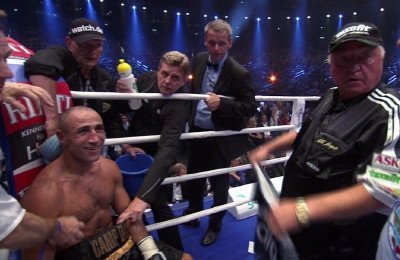 By Adrian Soehner: Newly crowned WBO super middleweight champion Arthur Abraham (35-3, 27 KO's) is in a great position right now to get a big money fight against some of the other top super middleweights and champions from other divisions after beating WBO super middleweight champ Robert Stieglitz (42-3, 23 KO's) by a 12 round unanimous decision earlier on Saturday night at the O2 World Arena in Berlin, Germany. Abraham's power came through for him to help him win a posts decision by the scores 116-112, 116-112 and 115-113.
Abraham was expected to win going in and he showed why people favored him by punishing Stieglitz all throughout the fight with hard combinations. Abraham has always been heavy-handed since his days as the IBF middleweight champion, but now he seems to be even more powerful now that he's matured. That doesn't mean he's invincible. He's far from actually. The win proved little other than showing that Abraham can beat the weakest of the super middleweight champions. But it still won't keep him from getting a good opponent for his next fight later on in the year. However, Abraham is going to have to choice wisely because he may not get a second title defense if he faces someone too good.
The options for Abraham are as follows:
Mikkel Kessler
Lucian Bute
Thomas Oosthuizen
George Groves
Felix Sturm
Carl Froch
Andre Ward
Andre Dirrell
Kessler would likely be a high choice for Abraham as would fights against Sturm and Bute. Getting Kessler in the ring is possible, as he doesn't have any fights scheduled until a next year against IBF super middleweight champion Carl Froch. It's a risky fight for both Kessler and Abraham, because the loser will find himself having to rebuild to keep in the super middleweight race.
Abraham had his back against the wall going into tonight's fight against Stieglitz, but his win will give Abraham a little slack to where if he loses his next fight it won't be the end of the world for him. There are guys that Abraham matches up well with the super middleweight division, and there are others like Carl Froch and Andre Ward that he just match up well at all. Abraham would do well to avoid those guys for as long as he can if he wants to continue to find success in this division.