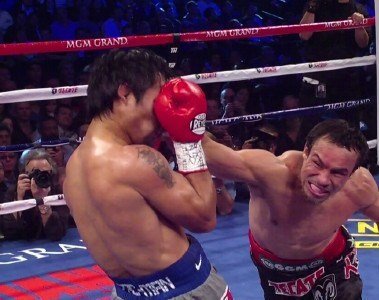 The 4th fight turned out to be a climatic episode of the famed rivalry and a defining moment for Juan Manuel Marquez. This was the third KO loss for Manny Pacquiao in his stellar career and normally it would mean the end of the road for a 34 years old welterweight . He has rebounded from the fiasco, rebuilt his bona fides and the dramatic turn of events has set up the stage for a 5th episode.
I'd like to focus on the knock down and KO punches thrown by Marquez in the 3rd and 6th round of the 4th fight as it was basically (but not exactly) the same shot. It appeared Marquez had adapted the punch specifically for his rival, a tailor made "Pacquiao special". The move was designed individually for Manny Pacquiao taking into consideration his southpaw stance, fighting style, temper and usual reaction to attack. It could be argued that the KO was caused by a lucky strike, a fluke combined with lack of focus on Pacman's part who believed (not without reason) that his opponent was finished. It has to be taken into consideration though that Marquez laboriously executed his game plan under severe stress while he was being outclassed and on the verge of being stopped by the congressman.
The specialty weapon he used was a feint to the body and a shot the chin in the same motion. The punch started as a body shot and it changed midway into a head shot. Call it a bolo-swing punch if you will but it was not a sucker punch. It merged a feint and a power punch into the same motion and it did not come from nowhere as a lightning bolt in a bright sunny day. It was a fine piece of "deception", a trap, and Marquez worked for it. There was a degree of a "once in a life time fortune" and sporting chance smiled to Juan as he landed the KO punch with 1 second left in the round but the shot came as consequence of a sound blueprint.
He laid down the groundwork by throwing solid body shots in rounds 1 and 2. He did not always get away with it, you can't against Pacman and Marquez paid the price by eating pot shots and counters but he created a pattern. This pattern of right hands to the body was his purpose and the basis of his success. It lulled Manny into a state of confident semi-amusement; he flexed his six-pack as he anticipated a body shot coming and waited to throw spectacular counters. The Mexican pugilist seized his opportunity in the 3rd when he feinted to the body and redirected the right hand to chin. He had set up his special punch well and it landed on the button of the surprised Pacquiao.
Manny came back strong and ripped apart the "Dinamita' busting him up badly and putting him in on the verge of his reserves. With one second left in the 6th, Marquez summoned his will and manhood and pulled off his special trick again, this time only squatting as if to throw a body a shot, Pacman treating him as if he was already finished and the sky opened for Marquez and the earth opened for Pacquiao.
All credit goes to JMM for preparing the ambush and executing the plan in a timely and patient manner. I believe he would have been stopped shortly but his smart tactics which consisted of a single downstairs-upstairs punch adapted for his long time rival paid off triumphantly. A single right hand against a southpaw is always a good idea if the timing is right.
Timothy Bradley used the same downstairs-upstairs shot against Pacman in the 4th round of their second bout; the punch landed on the left side of the nose and wobbled Pacquiao who stumbled backwards. An inch lower and it could have turned the tables. Bradley had taken a page out of JMM's book as he tried the move several more times but Pacquiao had unsubscribed from it already. Bradley even appeared to have bulked up like Marquez but added muscle mass is not just irrelevant in boxing; it can easily become a burden and affect endurance.
A 5th Pacquiao – Marquez fight is in order even though the 4th fight was considered redundant by many before it started. The two veterans could be the best immediate option for each other and for their fans regardless of the outcome of Marquez's upcoming fight against Mike Alvarado.
Time: April 15, 2014 at 3:56 pm