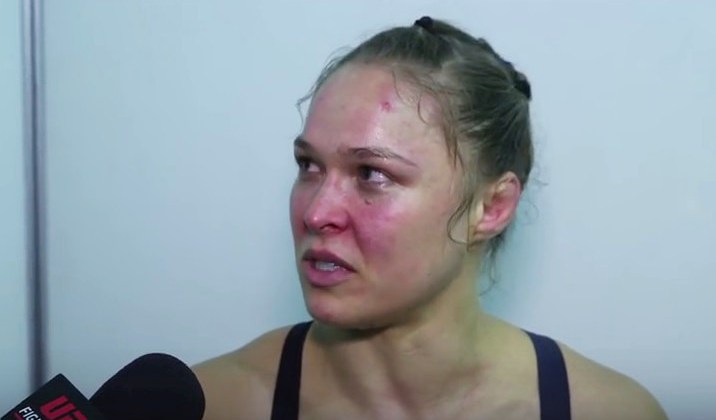 (A very candid Editorial by resident boxing scribe Vivek "Vito" Wallace)
There's been a lot of talk about the perceived negativity aimed towards Ronda Rousey in light of her recent loss. In an effort to provide some level of clarity, I'd like to examine this topic a bit closer. Ronda is a very solid fighter with a great story. But what some need to realize is that there are fans who literally hate to see the media pick and choose who it wants to build up and who it wants to tear down. The word "hate" is probably a bit strong, but under the circumstances, most would agree necessary.
When you look at the most highly touted names in the two respective sports, (Pacquiao, GGG, Rousey), there's a common theme with each of them and the opponents the that stand across from them in the eyes of the fans (Mayweather, Ward, Holm). Although Pacquiao is greatly accomplished, he, Rousey, and GGG have all been given an extensive level of 'love' from the media that often exempted discussion of their 'out-of-ring' transgressions; and/or exempted them from having to consistently measure their talent against the best.
No one 'hates' Rousey, GGG, or Pacquiao. And no one was "waiting" to see them fail. What many of us have a problem with is the simple fact that they have greatly enjoyed great benefits that should only come along with great accomplishments. When you measure Pacquaio to Mayweather, the accomplishments are somewhat comparable, but the skill level is not even close. It's Mayweather, hands down! When you measure Rousey to Holm, you have one who has dominated (3) different weight classes over 11yrs, and another who refused to go up 1 (weight class) to prove her worth. Yet that one who refused to go up is the one who graced magazine covers of a sport the other has dominated? (How's that happen)? When you measure GGG and Ward, some will say "Ward hasn't done anything lately". Well, neither had Holm in the eyes of the world, But when it came down to it, it was the established greatness that overcame the non-established greatness.
We have to start giving respect to all of these warriors. Not just the ones who fight with the styles we like. Rousey, Pacquiao, and GGG are incredibly talented at what they do. But there's levels involved that separate the best from the rest; and the people that they're measured against have simply proven more and established themselves against a better level of talent. Outside of Pacquiao, few seem to note the fact that neither Rousey or GGG has a single signature victory under their belt that the world and the history books can look back on and legitimately say "this was the night he/she truly arrived" against elite talent. And in the case of Rousey, the one opportunity she had to solidify this feat, she lost, and lost mightily!
The media told us she could actually defeat the best pure boxer the sport has seen in decades. Many believed it! Yet her first career loss came to a female boxer who was incredibly talented, yet not nearly as decorated. Again, this is the great divide between hype and humility. We have to respect the ability and skill level of all fighters and as media, promote them equally. Premature media hype is the reason why so many fans wait for these bubble-bursting moments. FOR SOME REASON, THEY ALWAYS COME AGAINST THE ONES WHO ARE HYPED UP, AND IT'S USUALLY BY THE ONES WHO ARE TORN DOWN:
Consider this list: Rousey beaten by Holm, Tyson beaten by Douglas & Holyfield, Donaire beaten by Rigondeaux, Pacquiao beaten by Mayweather, Oscar beaten by Mayweather, Pacquiao beaten by Marquez, and down the line. Please…..Let that sink in! ‪
​(Vivek "Vito" Wallace can be reached at 754.307.7747, wallace@boxing247.com, Twitter (@lefthooklounge1), and Facebook). ​