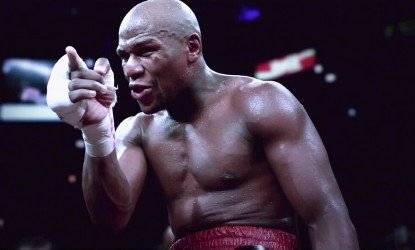 Twenty years ago today at The Texas Station Casino in fabulous Las Vegas, one of the most enormously successful, talked about and controversial boxing careers of recent years began at pro level, as a 19-year-old Floyd Mayweather Junior scored a second-round KO over a guy named Roberto Apodaca. Nicknamed "Pretty Boy," the 130-pounder, trained by his uncle Roger (as his father was currently in jail, soon to be released) earned the first of many pay checks.
Coming off the back of a controversial decision at the Atlanta Olympics, when a blatant robbery saw to it that Mayweather came home with a bronze medal only, Floyd was seen by many as a future champion and star. Nobody could have predicted just how successful Mayweather would eventually become. Fighting regularly and with far more venom than in his later fights when he became far more defensive-minded, Mayweather captured his first world title in 1998 – defeating Genaro Hernandez two years on from his debut.
Hernandez was the first of many great and respected champions Mayweather would defeat as he climbed the weight divisions: Diego Corrales, Jesus Chavez, Jose Luis Castillo (twice, the first fight remaining THE most debatable victory of Floyd's career; many feeling the 12-round decision should have gone to the tough Mexican), Arturo Gatti, Zab Judah, Oscar De La Hoya, Ricky Hatton, Juan Manuel Marquez, Shane Mosley, Saul Alvarez and, finally, in a super-fight that took years to make, Manny Pacquiao, were all bested by the fighter known as Pretty Boy and then "Money."
Weight divisions ruled: five.
Career earnings: more than any other boxer in history
Place in history: TBE (the best defensive fighter ever).
Final (?) ring record: 49-0(26).
These are incredible achievements, and even if Mayweather's critics – and he has many – say he "cherry picked" throughout his career and became a dull, even boring safety first operator, Mayweather's quite unique place in the history books is secure. Simply put, Mayweather never put a foot wrong in the ring or with his finances.
The pro career that began two decades ago today (and may not have finished quite yet) became one that simply every boxing fan has an opinion on. Mayweather was, and still is, simply impossible to ignore.
As for Apodaca of Mexico, he too was making his pro debut twenty years ago (talk about being matched tough!) but he would box just five more fights, winning only one.