Eddie Hearn is making a scary prediction by saying Saturday's rematch between heavyweight contenders Alexander Povetkin and Dillian Whyte will end by a "brutal knockout" at Gibraltar.
We sure did see that last time the two fought with Whyte (27-2, 18 KOs) getting knocked clean out in the fifth round by former WBA heavyweight champion Povetkin (36-2-1, 25 KOs) at the Matchroom Boxing Fight Camp last summer.
What made that knockout so impossibly bad was the suddenness of it, as Whyte was dominating the fight, having knocked Povetkin down twice in the fourth round. Going into the fifth, it looked like the victory was a dead certain for Whyte.
But out of nowhere, Povetkin landed a terrific left uppercut that knocked Whyte out, which ruined his plans for a world title shot.
On Saturday, Whyte gets another shot to win back his WBC mandatory spot, and he must accomplish that task. Not just for him but also his promoter.
Whyte must-win says, Hearn
"This is fun to him, but we can't hide the fact that this is massive for his boxing career, and he must win on Saturday night," said Eddie Hearn to iFL TV about Dillian Whyte.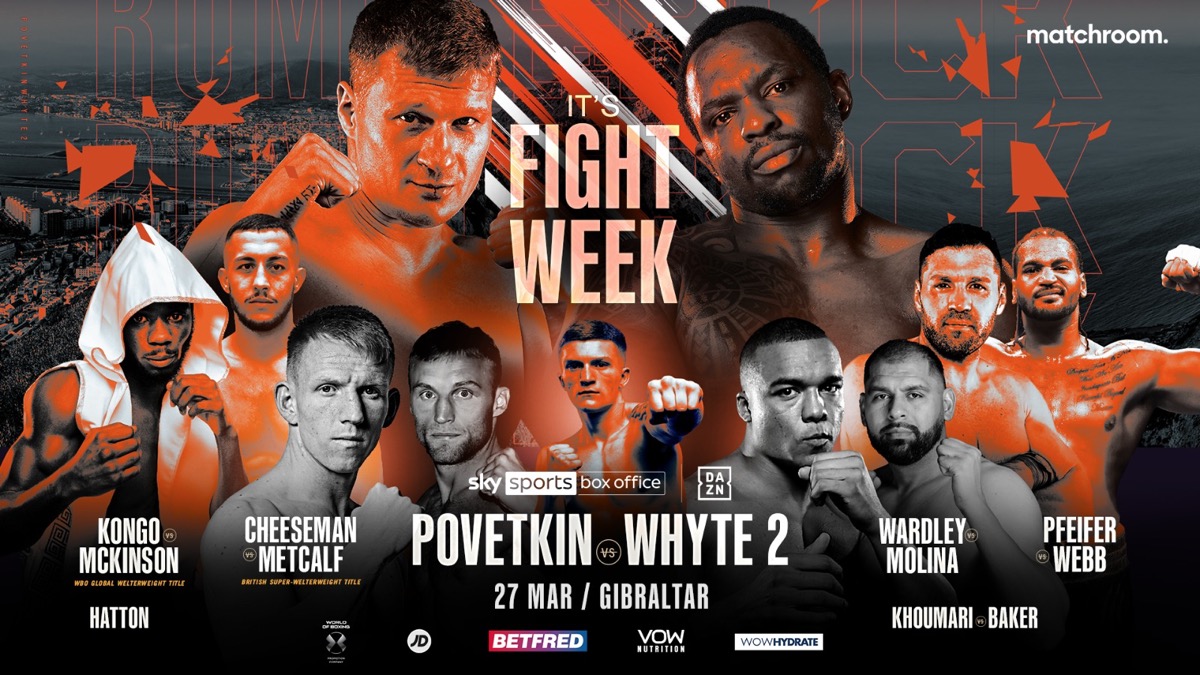 "He was dominating Alexander Povetkin, he looked like he was about to end the fight, and then he walked onto an absolute perfect uppercut and got knocked out.
"You can't worry about the past, thinking, 'I should have done that or I should have done that.' You did it, and that's what happened. Deal with it, come back stronger and win. That's what he's done," Hearn said.
This is a must-win for Dillian, as Hearn says, but it's not the end-game for him should he be knocked out by Povetkin again.
As long as Whyte makes it an entertaining fight like the first fight, he'll continue to be put on Sky Box Office PPV in the UK. Dillian will lose out on his hopes of a world title shot against Anthony Joshua or Tyson Fury. That dream will be all but gone at that point.
Eddie nervous about Dillian's situation
"He's done the first part and sealed with it, and come back stronger," Hearn said. "Now he's got to do the winning part on Saturday. That's what matters.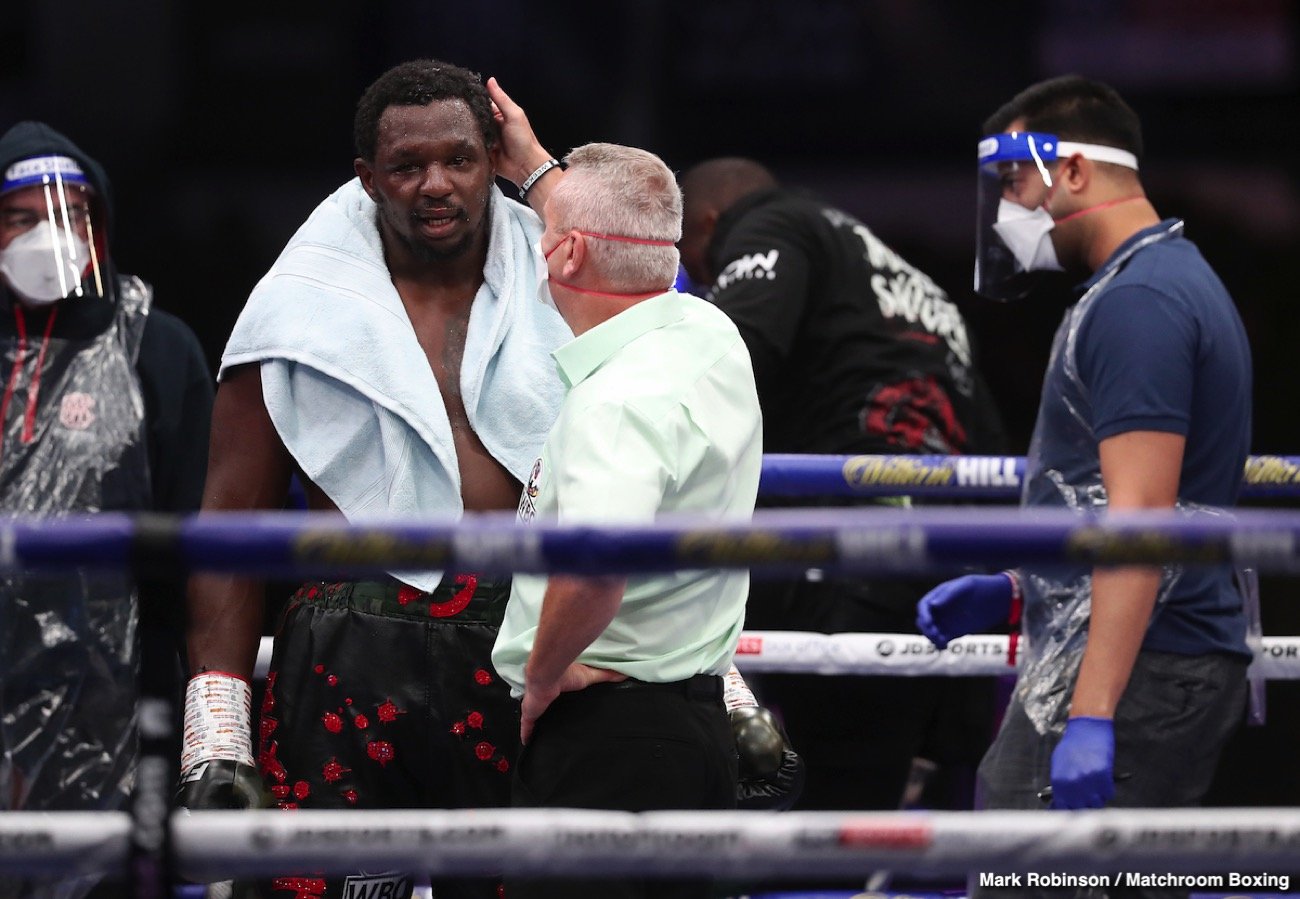 "People respect Dillian Whyte because of all the things that you said. He loves to fight; he loves competition. Tell me a bad Dillian Whyte fight.
"The Mariusz Wach fight where he was around 21 stone, he even made that entertaining. But let's look at the big Dillian Whyte fights that he's been in. Dereck Chisora 1, Joseph Parker, Dereck Chisora 2, Oscar Rivas, Alexander Povetkin 1, Alexander Povetkin 2.
"And that's why he does unbelievable numbers because he gives you value for money, and he loves to fight.
"This feels a little bit different this time. I'm extremely nervous. Secretly, I can't wait because these are the fights you live for," said Hearn about Dillian's situation.
Hearn's glorification of Whyte's competitive wars with Chisora, Parker, Rivas, and Povetkin leaves out the fact that he failed to set himself apart from those fighters talent-wise.
Whyte was fortunate not to lose to Parker, Chisora, and Rivas, and for that reason, it was no surprise that Povetkin beat him. Dillian makes for exciting fights, but only because he's not good enough to make them one-sided.
That's unreasonable to assume that Saturday's rematch with Povetkin will be any less drama-filled than Whyte's aforementioned clashes that Hearn talks about.
Whyte vs. Povetkin 2 will end by a brutal KO
"Honestly, I'll worry about that on Sunday morning," said Hearn when asked how he'll maneuver Whyte into a title shot against the winner of the Anthony Joshua vs. Tyson Fury when they're under contract for two fights in 2021.
"There's so much on this fight. Alexander Povetkin is mandatory for the WBC world title, but there's no mandatory being called.
"We know the WBC is going to allow the two AJ-Fury fights. But with this fight, he would regain his mandatory position," said Hearn about Whyte.
"How long would he have to wait for that fight? Right now, I don't really care. I just want him to win. So we'll deal with that on Sunday, and we'll be pushing him as quick as we can for a world heavyweight title.
"But that would be a lovely problem to have. It's going to be incredibly violent, and someone is going to be brutally knocked out.
"This ain't going to be a points victory or stopped on your feet. This is going to be a brutal knockout on Saturday night, and I hope it goes our way," said Hearn calmly in a matter-of-fact way after his ominous prediction.
There's a good possibility we will see a knockout in this fight. With Povetkin and Whyte's power, one would have to assume that it won't go the full 12.
Whyte's brutal knockout at the hands of Povetkin last August would seem to make him the likely candidate for the brutal knockout that Hearn predicts for this fight. That won't make him happy, but it's the reality of war.