Heavyweight contenders Adam 'Babyface' Kownacki (20-1, 15 KOs) and Robert 'Nordic Nightmare' Helenius (30-3, 19 KOs) will be battling it out in a rematch in the summer in New York. This will be a Premier Boxing Champions promoted fight, and it should be fine while it lasts.
Bringing the Helenius vs. Kownacki contest back to New York makes sense, as the two heavyweights are popular over there. Hopefully, there will be a crowd for the rematch.
Mike Coppinger reports the rematch between the 31-year-old Poland-born Kownacki and the big 6'6″ Swede Helenius is a done deal.
The two huge heavyweights went to war last year in Brooklyn, New York, with Helenius stopping the 6'3″ Kownacki in the fourth round after dropping him twice in the round.
Through the first three rounds, Kownacki battered the 37-year-old Helenius, wearing him out with pressure and his high work rate. Going into the fourth round, it looked like it was Kownacki's fight. However, Helenius caught Kownacki with a powerful left to the head that put him down.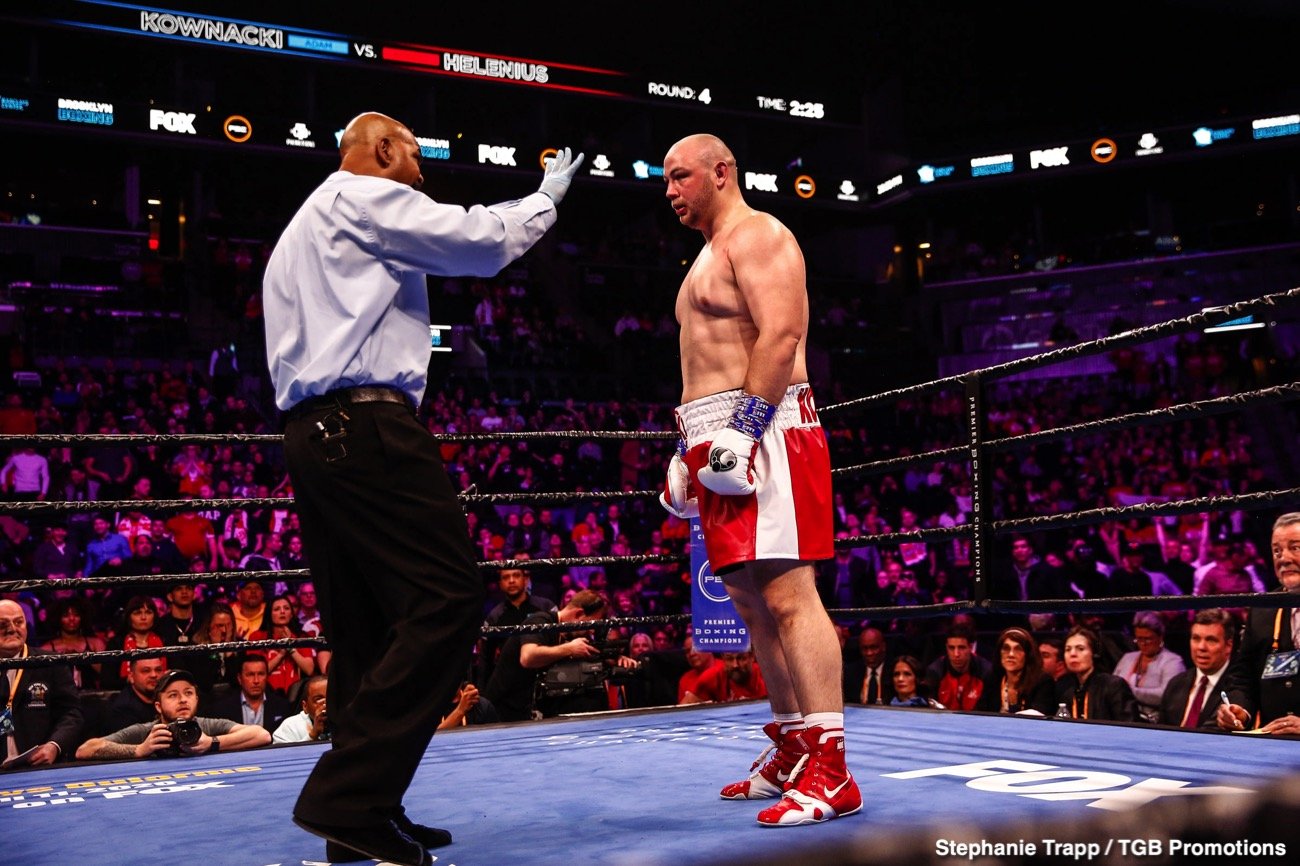 The referee ruled it as a slip, but it was clear that Kownacki was hurt. But moments later, Helenius nailed Kownacki with a straight right to the head that put him down. This time, the referee it as a knockdown.
When Kownacki got back up, and he looked shaky, unable to stand firmly. At that point, Helenius tore into Kownacki, battering him with shots from one side of the ring to the other before the referee David Fields stepped in and halted the match at 1:08 of the fourth.
In a sign of how upside-down boxing can be, the World Boxing Association has the beaten Kownacki ranked #6, while Helenius isn't ranked in the top 15 by them or any of the sanctioning bodies.
You would think that Helenius' knockout would have given him a top-tier ranking, but not in this case.
It's truly bizarre, another example of why boxing needs to shed all four sanctioning bodies and replace them with a ranking system that makes sense.
Kownacki will be looking to avenge his defeat, and he'll likely be trying to overwhelm Helenius with punches like he did last time.
That's the only thing Kownacki can do because he tries to change the way he fights; he'll likely get picked apart by the taller Helenius.
"I can't wait for this Nordic Nightmare to be over," Kownacki said to Mike Coppinger. "He got me last time, but I'm returning to the path of destruction I started and putting the whole heavyweight division on notice. "After I knock out Helenius, I'll be positioned for a shot at the title. It's strap season."
With Kownacki's high ranking with the WBA, he could very well be in position for a title shot against the Anthony Joshua vs. Tyson Fury fight winner.
It'll be interesting to see if Helenius gets a top 10 ranking if he beats Kownacki a second time.