Oscar De La Hoya of Golden Boy Promotions says they haven't had conversations yet about a fight between their popular lightweight contender Ryan 'Kingry' Garcia and Manny Pacquiao.
Despite talk of Pacquiao and the unbeaten King Ryan (21-0, 18 KOs) fighting next, there have been no discussions, according to De La Hoya. He says they don't know who to contact from Pacquiao's team to begin negotiations.
De La Hoya says is interested in putting a match together between Ryan, 22, and Pacquiao (62-7-2, 39 KOs), but they haven't yet. He sees it as "Instagram" gossip without real substance.
Oscar is interested in putting interim WBC lightweight champion Ryan in big fights against the best, including Pacquiao and Gervonta 'Tank' Davis. As far as Ryan's next fight, De La Hoya says he's waiting for the World Boxing Council to say who they want him to face.
Javier Fortuna is a possibility for Ryan's next fight, but the WBC will have input on whether they view that as an acceptable match for Ryan.
Pacquiao might be out of the price range for Ryan Garcia and Golden Boy Promotions, unfortunately, The 42-year-old Filipino star reportedly wants $40 million for a contest against WBO welterweight champion Terence Crawford.
If Pacquiao is looking for that kind of money to fight, it's improbable that Golden Boy will be able to set up a fight between him and Ryan.
Zero Pacquiao – Garcia negotiations
"No, we haven't talked to anybody yet," said De La Hoya to Fighthub on a potential Ryan Garcia vs. Manny Pacquiao fight.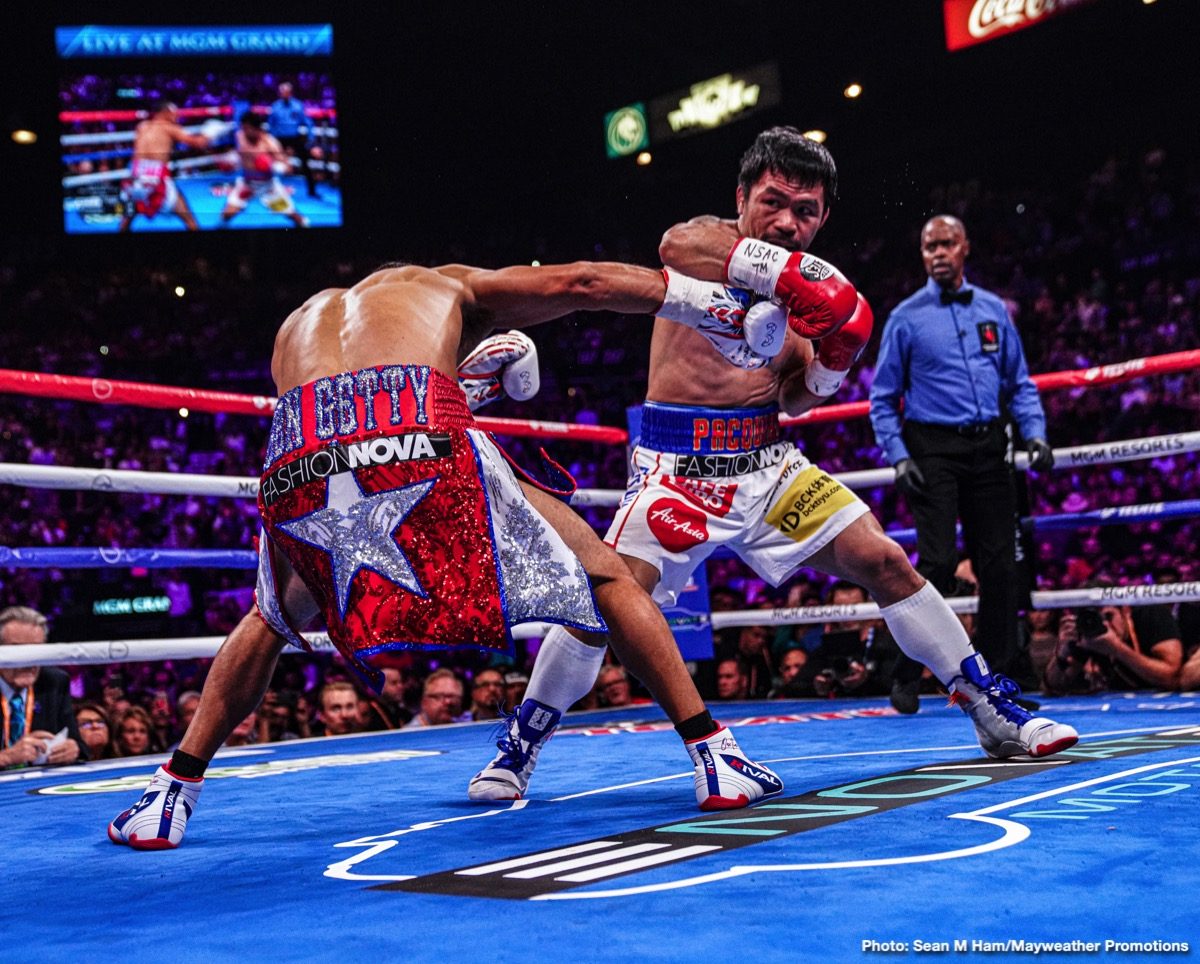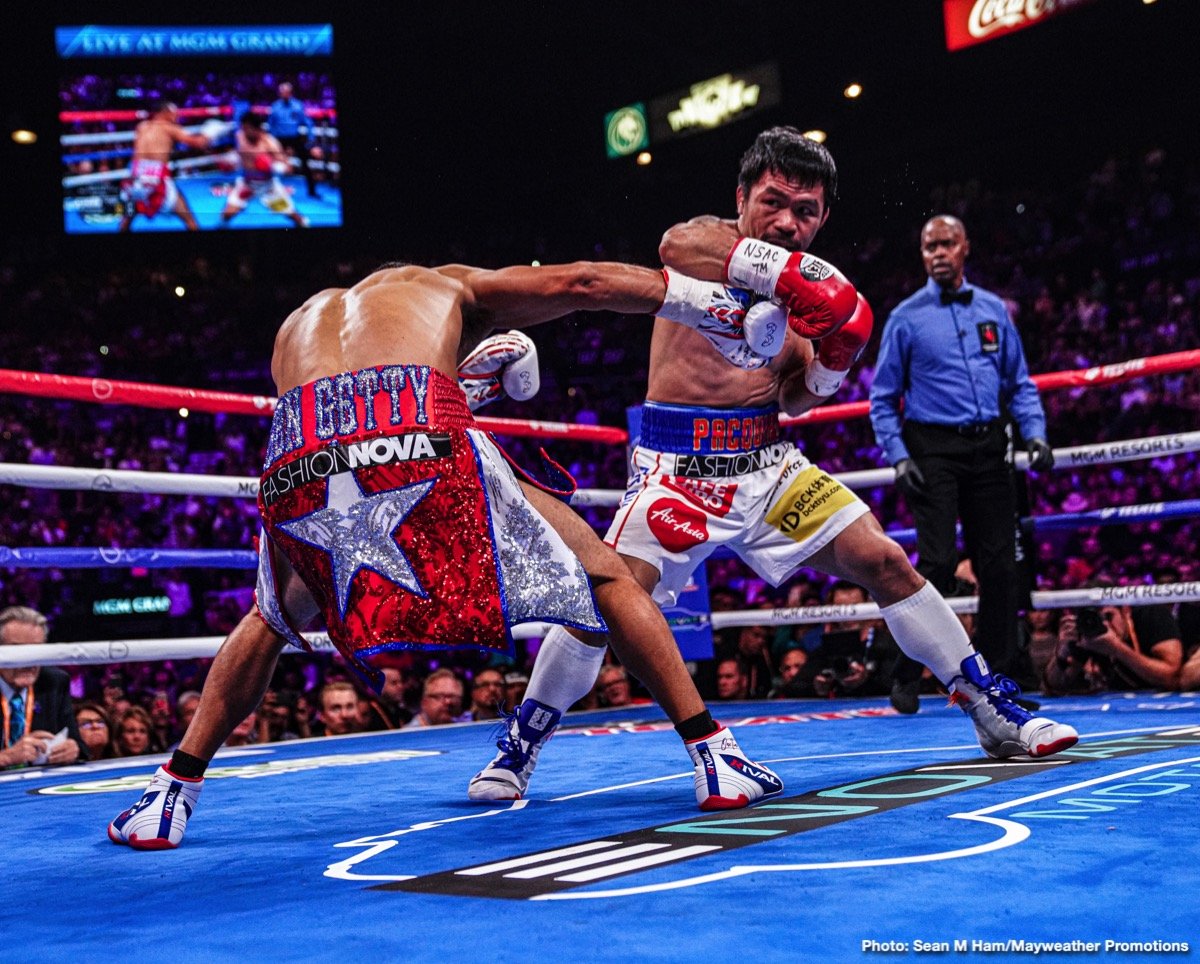 "We're trying to pin down one of Manny's people, who calls the shots and makes the decisions., and we haven't had any success.
"It's all  Instagram, that's all it is. Zero," Oscar said when asked if there's been any contact from Golden Boy to team Pacquiao.
"Whatever biggest fights he [Ryan] wants. He wants Tank, he wants Pacquiao.
"We're waiting for the WBC to make a ruling on who he can fight next with Devin Haney [WBC lightweight champion].
"We'll see what transpires in the next few days. We have some big plans for Ryan Garcia. He's the next superstar in boxing.
"It could be [Javier Fortuna next for Ryan], but we have to wait for the WBC to see what they rule in the next coming days and weeks, and then go from there.
"I actually love it because it could be the passing of the torch," De La Hoya said about a fight between Pacquiao and King Ryan.
It could be the "passing of the torch" for a fight between Pacquiao and Garcia, but it also could be a disaster for the popular social media icon.
Throwing Ryan in with Pacquiao now could prove to be a mistake for Golden Boy, especially if he's badly hurt by the former eight-division world champion.
Roach impressed with Ryan Garcia
"The [Ryan]Garcia fight, I really like that fight," said trainer Freddie Roach to Fighthub. "I think he's a very good fighter, he's got a good left hook, and he can punch a little bit.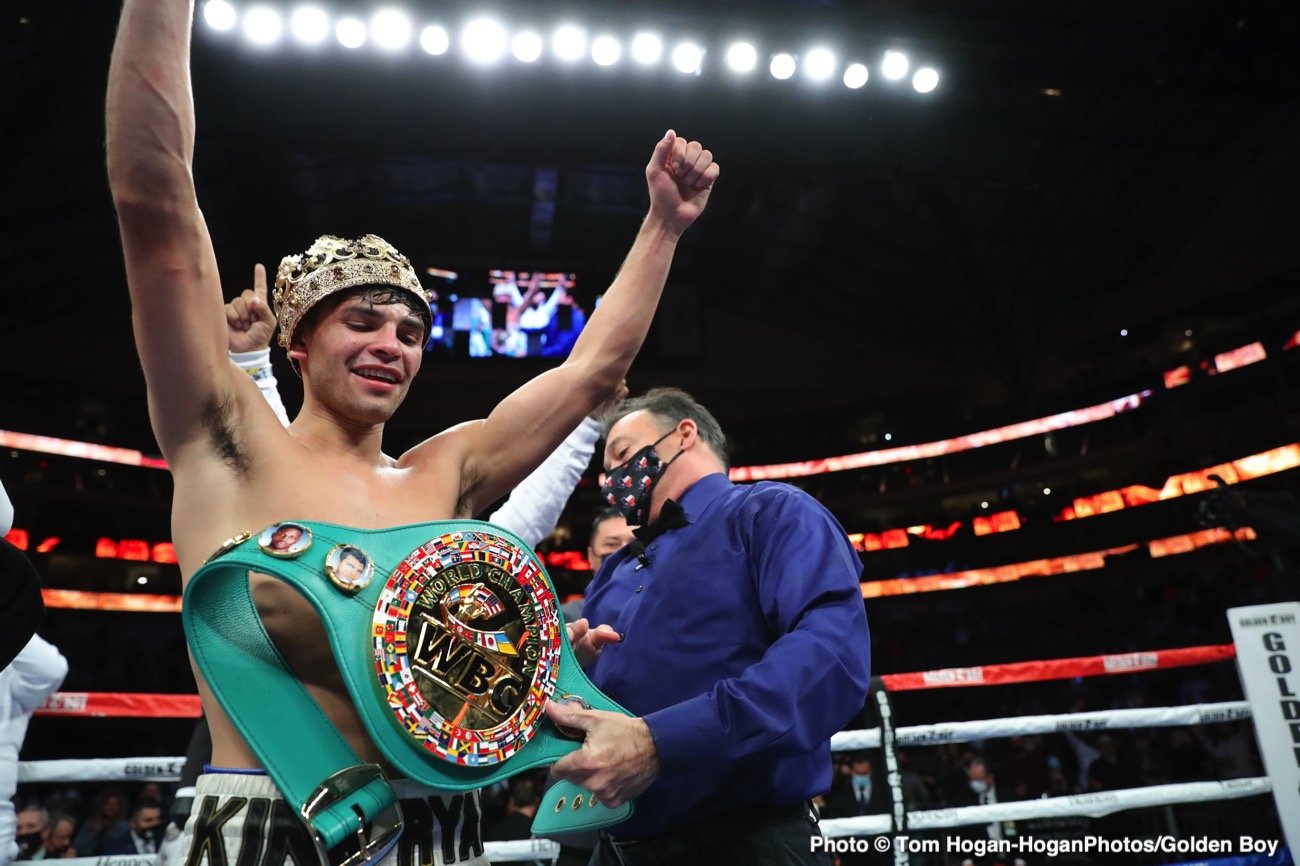 "You got to be careful with him, and that's the main key for Manny. He's got to be careful with him a little bit and be smart.
"To beat this guy you have to do not just ordinary things. I think it's a very good fight, and I would like to see it.
"But nobody seems to know where and when. Saudi Arabia, over there, over here. I'd like it to be in front of a lot of people.
"I'd like to see boxing where it was, and I pray for that every day. Yeah, I think so but what is Manny now? 42 or 42?" said Roach when asked if it's a little early for Ryan Garcia to be taking on a fighter like Pacquiao.
"It might be a good time to catch him. The thing is, Manny hasn't been active either, and he's trying to save his country right now and he'll be running for president pretty soon," Roach said.
Ryan's left hook could be a problem for Pacquiao if he's able to catch him with it.
It's almost impossible for anyone to get through a fight with Ryan without getting nailed by his powerful left hook, and Manny won't be an exception.
We've seen Pacquiao get knocked cold before by Juan Manuel Marquez in 2012, and his power wasn't on the level to where Ryan is now. If Marquez was able to KO Pacquiao, Ryan is capable of doing the same thing.
Ryan would be a tune-up for Pacquiao says Roach
"It could be [like Pacquiao vs. De La Hoya], but he [Ryan] comes to my gym a lot and he spars, him and his little brother," Roach continued. He's a good fighter.
"We definitely have to be in the best shape to beat him, and that's something we will do. He has a terrific let hook, and he puts people on their a** with it.
"He swings a little wild with it, but if you think he's out of range, he takes that distance up really quickly and he does with his left hook and his power, you've got to be careful.
"It's not an easy fight for anybody, even Manny. Where is Manny right now? Is he so into politics in his country?
"Can he still fight like he used to? I'll say this, the tapes he sent to me, yes. He works his a** every day. He wanted to send it to me to let me know.
"I'd rather go with Ryan first," said Roach when asked if he wants Pacquiao to face Errol Spence or Ryan Garcia first.
"There's a certain guy when you get older and a little slower. Manny can't show signs of that going into the fight with Errol and Crawford.
"He needs a tune-up fight like this [against Ryan Garcia]. I think it would be a great fight for him to get ready for," said Roach.
Wow, Roach calling Ryan a "tune-up" level opponent for Pacquiao is telling it like it is. You can't blame Roach for wanting Pacquiao to take this fight with Ryan first rather than going straight into a match against Terence Crawford or Errol Spence.
Pacquiao has been out of the ring for a year and a half since his last fight against Keith Thurman in July 2019, and he's likely to be rusty.
But you can argue that Ryan Garcia might not work well for Pacquiao to prepare himself for Crawford or Spence. If you're going to be fighting those types of guys, ideally you would want to take on guys from the 147-lb division.
Pacquiao fighting Ryan would only help him prepare to fight lightweights, which is a division that he's not going to return to. Roach says he would like to see Pacquiao fight in the lower weight classes to save him from taking punishment, but he's probably never going to return to that weight class.
It's not that Manny can't make 135 any longer. The options for big paydays are clearly better for Pacquiao at 147, so he's going to stay there.
140 possible for Pacquiao-Ryan
"Manny walks around at 138. I'd like to see Manny take punches at a lighter weight class," Roach said about him wanting to drop down to lightweight at 135 to compete against the top guys in that division.
"We only fight at 147 for the money. I can talk him into 140 no problem. I bet he's less than 140 right now.
"Definitely, it's a possibility," Roach said of Manny fighting Ryan Garcia at 140. "But he still talks to me about the virus and the people and taking care of people in his country.
"I asked if I can come to see him and he said nobody because it's worse there than it is here.
"When we live in social societies like we do in LA and in the Philippines, it's the same thing. It's not the best thing for what we're going through right now," said Roach.
That would make it easier if Pacquiao were willing to come down to 140 to face Ryan, but it probably won't matter. Ryan will take the fight any way he can get it.