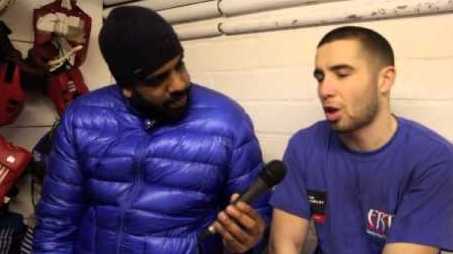 "Boxing is like any industry, it can sometimes be who you know. And sometimes it's just more of a game of chance. So when opportunities for big fights come along you've got to take them."
These were the words of an elated Ryan Farrag, 13-1 (2KO's), shortly after he learned he is set to face former world title challenger Stephane Jamoye, 28-6 (16KO's), for the vacant European bantamweight belt, which the Belgian has held on two occasions.
It was a mature response from the English bantamweight champion, who knows better than most that a smooth route to the top is rarely afforded in the hardest sport there is. That behind the limelight of the few rests the trials of the many, so when a door opens you have to kick it down.
"It's a privilege to fight for such a prestigious title, after just watching Kevin (Satchell) win one."
"I'm just glad the opportunity came about now, I don't mind if it's later than I'd have liked, when I beat Jamoye I'll have beaten a real credible opponent and doors that were once closed will open for me." said Farrag.
The fight represents a real step up in class for Farrag, who has struggled to secure the fights his talents deserve on a regular basis, amassing just 14 contests in a 5-year career.
In contrast his opponent has contested more than 30, in which 5 of his 6 defeats came at the hands of future or reigning world champions in Tomoki Kameda, Jamie McDonnell, Leo Santa Cruz, Shinsuke Yamanaka and most recently Scott Quigg.
Despite a period at super bantamweight and some signs of serious decline of late – admittedly against the world class Quigg – the 25-year-old Belgian will start the fight as the favourite in the eyes of many, but not the ones that matter to Ryan Farrag.
"That's what it'll seem like to a lot of people, they'll see me as the underdog. I don't mind that, I know I belong at this level and these are the fights my team expect me to win." Farrag continued.
It's a long held opinion in the Farrag camp that, the better the opponent the better Ryan Farrag you will see. This opinion is backed by the two stoppages on his slate coming in his biggest fights to date – a 4th round demolition of former world title challenger Jason Booth and a 7th round stoppage of Andy Lane to claim the English title, just 7 months ago.
Since claiming the English title with an impressive stoppage of Lane, Farrag has strained at the leash to move up in class and make a statement that will thrust him into a vibrant bantamweight scene. In Stephane Jamoye, he and his team feel they have found just the man for the job.
"I think our styles will blend well together, he comes to fight and will want to prove that he is still world class. But, the way my style has changed recently I think it's a style that will suit me."
"I will sit down with Mick and Paul (Stevenson) and think of a game plan, but I will be looking to make him miss and make him pay." Said Farrag.
These are the fights that can make or break a fighter's career and the fights every fighter wants to be involved in, not least of all Ryan Farrag who has waited patiently on the sidelines for his chance to shine.
"I've had to wait for my opportunity for titles and have had to chase people who I know I can beat, so it will be nice for people to start looking up at me and chasing me for the fights I feel I can win." Concluded Farrag.