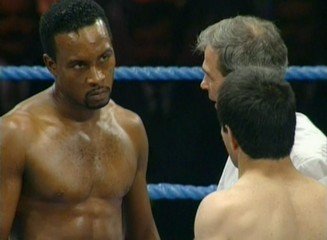 Back in the early to mid 1990s when rival middleweights/super-middleweights Nigel Benn and Chris Eubank fought each other, the entire British nation stopped what it was doing to watch. These two fighters, both genuine superstars in the UK (as well as making a huge impact on US audiences also) shared front and back-page headlines many, many times. Even people who didn't like boxing watched when these two rumbled.
The two bitter enemies fought twice, both encounters being exciting, give and take affairs. In fight-one, at 160 pounds in 1990, an unbeaten Eubank made his name as he upset Benn to take the WBO crown. For this fight, Benn, the star, received a payday of £400,000. Benn was to see his earning power dip dramatically after the defeat, however.
Speaking with iFL TV after watching his son Conor pick up his latest win as a pro, "The Dark Destroyer" revealed the nasty pay cut he got after losing his belt to Eubank.
"For the first Eubank fight, I got £400 grand. After I lost to him, for the second fight it went down to £35 grand. That's quite a drop," Benn said.
It is indeed, especially when we consider how the Benn-Eubank return was such a big fight (before the days of pay-per-view had hit UK shores). Selling out the big Old Trafford football stadium in Manchester in October of 1993, the Repeat or Revenge fight generated big money. Benn, who looked to have won and got his revenge that night, instead had to make do with a draw in the rematch that contested the WBO and WBC titles at 168 pounds.
Many felt Benn was robbed. It turns out, with his lowly payday, he was robbed – twice! Benn is a happy and content former world champion these days though, his reputation intact, his popularity enormous. A great fighter who took on and beat the best – Gerald McClellan, Iran Barkley, Doug DeWitt and others – Benn lit up the sport in a thrilling way twenty or so years ago.
These days, Benn is fully behind his son and his chances of adding another world title to the family name.