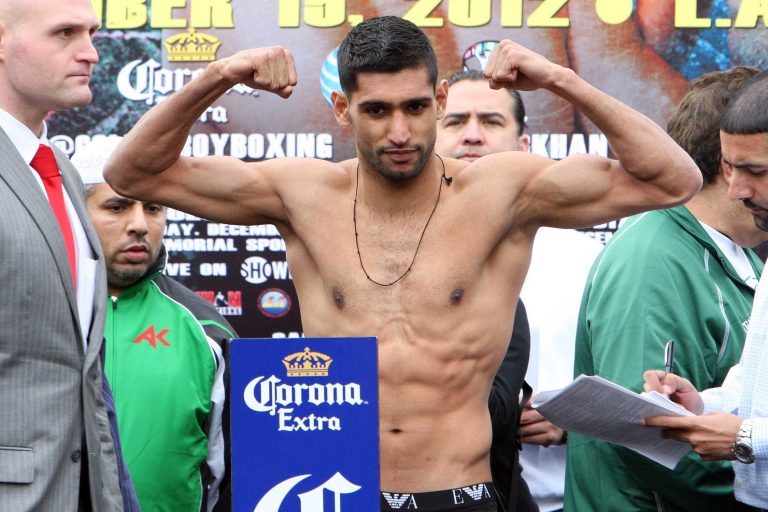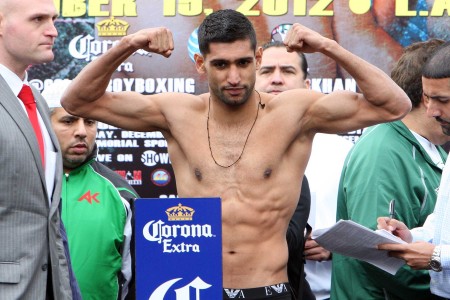 By Michael Collins, photo Tom Casino/Showitme – Amir Khan (26-3, 18 KO's) says he wouldn't mind fighting Kell Brook if he can somehow, someway beat IBF welterweight champion Devon Alexander in their fight in March. Khan says he might fight Brook under the condition that he holds the IBF 147 pound title, but he doesn't seem all that eager either. Part of the problem that Khan has is he wants to avenge his losses to Danny Garcia and Lamont Peterson, and if he chooses to put those fights off to go and take on Brook he won't be able to quiet his critics in that manner. The only way he can do that is if he beats the guys that beat him.
Khan said to thesun.co.uk "If he [Brook] can get past that [Alexander], then there is a chance we could get it on in the future."
The future likely means when and if Khan can take care of business at 140, and it also depends on whether Brook can beat Alexander and then hold onto the title long enough until Khan can move in weight in the future to face him. Those are all big ifs because Brook isn't a world beater as we saw in his life and death struggle to beat Carson Jones.
Khan has a fight tomorrow night against Carlos Molina in Los Angeles, and he really needs this fight if he wants to be taken seriously as a contender.