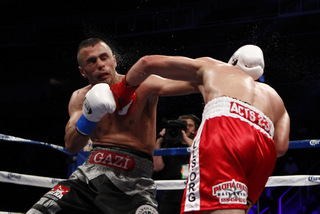 by Paul Strauss: Robert "The Ghost" Guerrero 30-1-1 (KO 18) gave his family and fans a huge win tonight at the HP Pavilion in San Jose, CA when he moved up two weight divisions to take on the tough undefeated Selchuk "Mini Tyson" Aydin 23-1-0 (KO 17). Many thought Guerrero was making a mistake, especially considering he was coming back from shoulder surgery and a long lay-off. They questioned why take on such a tough opponent at the higher weight?
They need not have worried. Guerrero proved the heavier weight and rugged unbeaten opposition were too not too much for him. He is used to adversity, and has that strong minded confidence in his abilities that is necessary to be a champion. Off course Aydin was supremely confident too, coming into tonight's Showtime main event as a number one contender. In fact, he promised to "break Guerrero's jaw"..
Aydin tried hard, and proved to be a threat right up to and including the twelfth and final round. His style was basic, but difficult to crack, mainly because there was no predictable pattern. From a defensive posture, he was catching Guerrero's combinations on his gloves, which allowed Guerrero to stay busier. It was a mistake on Aydin's part, as the sheer punch volume meant some were getting through and that meant winning rounds.
But, it was that same unpredictable style of Aydin's that allowed him to get through with several hard shots himself. He rarely jabbed, so the southpaw Guerrero couldn't successfully counter with his right hook. Aydin wanted to counter, but would sometimes surprise Guerrero with a lead right, and even double up on it. Guerrero didn't have the usual opportunity to get in between his opponent's shots.
A mistake that Guerrero continued to make throughout the fight was to give up his height and reach by bending down and in. Aydin was presented with the back of Guerrero's head and neck, to which he directed clubbing rights. Referee Dan Stell had no choice but to allow it, because it was Guerrero's doing. Later in the fight, Guerrero also got caught with some excellent right uppercuts. They shook him up. Aydin definitely won those rounds.
What Guerrero needed was a Floyd, Jr. elbow and a George Foreman shove. Early in the fight, he was physical with Aydin. He was in the right frame of mind and had the energy to do so. He even slapped away Aydin's attempt to "touch gloves". He wanted to fight, but his failure to do it at the right distance kept Aydin in the fight.
However, Aydin's moments weren't numerous enough, and by the time the championship rounds arrived, he was badly in need of at least a knockdown or two to even things up. A knockout would have been better, but Guerrero got a bit of a second wind, and once again was the busier of the two. He fired off three and four punch combinations, starting off with a jab or double jab, a straight left to the head or body, followed by a right hook.
At times, both men were strayed low with their shots, and both reached around each other's backs to landed blows to the kidneys. Referee Stell gave both an occasional verbal warning for the illegal blows, but neither fighter was penalized. They were allowed to fight.
In the post-fight interviews with Steve Farhood, both fighters admitted mistakes. First, Guerrero said he didn't box enough, but explained he was a fighter. That's his nature and he couldn't resist engaging his tough, aggressive opponent on the inside. Through an interpreter, Aydin acknowledged he couldn't do what he wanted. He agreed Guerrero won the fight. He explained he was seeing double from about the fourth round on. Then there seemed to be something lost in the translation, because he tried to explain he isn't the same fighter he once was, and if he had fought Guerrero three years earlier, he would have rolled over him? Well, we're in the present, which means Guerrero is now the interim WBC welterweight title holder. The judges scored the fight 116-112 (twice) and 117-111 for Guerrero.
Of course Guerrero couldn't resist calling out Floyd Mayweather, Jr. There's no doublt such a bout would by far be his biggest payday. But, it also would be the second loss on his record. As fun and exciting as Robert is to watch, he would be no match for Money. The fight might be interesting for a little while, but Guerrero doesn't have the speed needed to give Money much trouble. It would be another belt for Money. But, until then, it's enjoyable to see a nice guy and his beautiful family enjoy some needed success.
In the co-feature, Shawn "Showtime" Porter 20-0-0 KO 14) was too much for veteran Alfonso Gomez 23-6-2 (KO 12) . Alfonso made the fight competitive for a while, but Porter's speed proved to be the difference. Initiallly, Gomez had enough energy to move his head sufficiently to avoid many of Porter's shots, but as the fight rolled on he tired and was on his heels.
When that happened, Porter landed more consistently, and got Gomez' nose bleeding and the area both eyes started to swell. On those occasions when Alfonso would land a shot, Porter just rolled with them or shook them off. Unfortunately for Porter, he sustained cuts over both eyes. The first cut over his right eye happened in the very first round as the result of an accidental head butt. The second, and much more severe cut over his left eye, happened in the ninth round. It too was probably due to a head butt, but Referee Edward Collantes didn't signify that to be the case. .
That posed a dilemma for Porter. If the referee and judges felt the second, much more serious cut, was due to a punch, then a stoppage would be a TKO win for Gomez, even though Porter was comfortably ahead on points. The ringside physician checked the eye twice and let the action continue. From the tenth round on,, there was a real question whether Gomez would last. He was really getting tagged, and his wild, off balance counters were those of an exhausted fighter. He was still trying though, but the few punches he landed were nothing more than arm punches. Porter wasn't bothered by them at all. Porter remains undefeated, capturing the vacant WBO NABO welterweight title with a UD win over Gomez. Scoring was 98-92, 97-93, 96-94. He, like Guerrero, showed a lot of class in his post-fight interview, and fans can only hope the best for both of these talented and victorious young man.