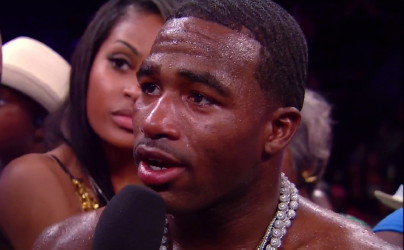 By Emilio Camacho, Esq. At its core, boxing is about fairness—or at least it's supposed to be. For decades, we have seen other sports, for example, basketball (NBA) and football (NFL), adopt rules to advance, at least in theory, the fairness of competition. Yet, when it comes to world-class boxing—one of the most, if not the most, physically-taxing of sports for athletes—fairness seems to be disregarded more often than it should be. This disregard happens in three ways: by individual athlete, the system, or both combined.
At the individual level, a boxer—and this includes the boxer's team—is responsible for meeting all the requirements to participate in a match. This includes staying away from banned substances (however this is not an article about Berto, Peterson, Tarver, Chavez, etc.) and, of course making weight. This leads me to Broner.
Boxers like Broner, who are supposed to be the future of the sport, should keep in mind that boxing is their full-time job. This job, more than others, requires commitment to a higher level of fairness and equality because the degree of permanent injury and death in boxing is high. This is why we have weight-classes and, surprisingly (pun intended) weight limits. In short, boxers like Broner have an obligation to advance fair competition and not purchase an exemption. Weight is important as can be seen in the Corrales-Castillo II fight, and Corrales' refusal to fight a third time.
On Saturday, Vicente Escobedo came down from 135 to 130 lbs to fight whom some consider will be the next Mayweather, Broner. Yet, Broner imitated more than Maywheather's shoulder roll defense when he purchased his way into an unfair match. For those who are unaware, a few years ago, back from retirement, Maywheater faced Marquez at a catch weight; however, Maywheater did not make the weight and did not attempt to lose the excess. Instead, he paid Marquez some money and the fight continued and successfully, purchased an exemption. That night, the size advantage was clear and a stronger faster Maywheater cruised to an easy victory.
In a similar way, Broner failed to make weight against Escobedo. In addition, he showed no intention to at least attempt to lose the weight. I do not contend that Escobedo or Marquez could have won their fights. What I am arguing is that fairness and equality in boxing are important, but they are more important when the fight is already unequal. Let me elaborate. Marquez was coming up weight substantially, was the smaller guy, and does not possess devastating puncher. Escobedo was coming down in weight, has no punching power, and has never really been able to beat an A-level fighter. This means that these fights were already unequal and both Maywheater and Broner had the upper-hand . To add a weight advantage, is like the Miami heat showing up to play against the Bobcats with an extra player (granted the analogy may be a bit extreme because Marquez is actually a solid opponent). The point is that it should not happen professionally and when you consider the risk of injury or death. Period.
This type of unfairness is tolerated by the system when it allows the fighters to work out a financial arrangement to avoid the rules, and is utilized by boxers with no intention of at least trying to make the weight. It must stop. This is most important in the age of meaningless titles where stripping Broner and Maywheater means absolutely nothing.
For boxers, please stop making foolish excuses such as "I am growing boy and grew out of the division, etc." Chavez Jr. is a good example of a growing boy, yet, part of his duty is to assess that growth and move up accordingly in order to make the weight. This is what boxing requires and this is what you get paid to do.
In conclusion, boxing has enough problems such as PEDs, senseless judging, and extreme ducking (Maywheater and Pac, this one is for BOTH of you) to be dealing with fighters not making weight. The latter is unacceptable. Perhaps the time has come for true change: a boxing commissioner such as David Stern or Roger Goodell that can put things in order (just a thought, any comments welcomed).