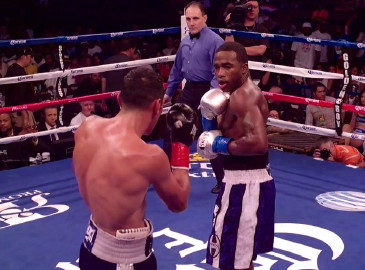 By Paul Strauss: Adrien Broner tries hard to be obnoxious and succeeds. First, he manages to get Vicente Escobedo to agree to make sacrifices and move down in weight, so the two of them can meet him at the junior lightweight limit. Then Broner makes a mockery of trying to make weight, joking about his failure to do so. His actions show a total disregard for the integrity of the sport, clearly demonstrating he has absolutely no respect for the sport or its fans. He proved he is a selfish, immature individual who has no idea what class truly means.
His punishment was only financial, and who knows how the final money numbers were reached, or who pays what. Vincente Escobedo will definitely come away with more money than he initially expected, but the ending of the fight has to be a tremendous disappointment for him, one that will stay with him long after the money is gone.
Broner is left thinking he can do as he pleases. His poor behavior will only magnify itself. The proper thing would have been to levy a suspension on this knuckle-head. He needs to be treated like the childish numskull his behavior warrants. He should be forced to sit idle, so he can think seriously about what he did and how unacceptable it is to the sport of boxing. Give the brat a "time out"!
The fight itself was totally one-sided. Everyone knows Broner is the closest thing around to being a clone of Floyd Mayweather, Jr., with the exception of the lead rights. When Floyd was Broner's age, he probably had quicker feet, but otherwise the resemblance is great. Apparently Floyd, Jr. thinks so too, because he must have bought this "Problem Child" and his team a few t-shirts suggesting he be freed from jail. Thankfully the system says "no" to that.
Prior to the start of the fight HBO announcers Jim Lampley and Max Kellerman seemed duly upset, as they talked about Broner's failure to make weight and how it made the young twit look bad. They pointed out it also gave the dunderhead a decidedly unfair advantage. Consequently, they believed this dimwit dug himself a hole, and was going to have to turn in a spectacular performance just to end up "even" in the eyes of the fans.
Then the two of them, along with Roy Jones, Jr. went on and on, tiresomely gushing about this little twerp's abilities. The fact is Escobedo was never in the fight. He landed a few jabs and got through with a few pretty good body shots, but there was never really any conviction behind anything he attempted. By the fourth round he was done. He could be overheard commenting in his corner that Broner was very slick. Gee, ya think? What the hell did he think he was going to be faced with?
In the opposite corner, Broner was saying he was just going to "Walk him down." In other words, "The Problem Child" didn't feel there was any threat left. And, walk him down he did, but other than a bloody nose, Escobedo wasn't exactly beat up. There weren't any bad cuts. There wasn't any dangerous swelling that could affect his vision. Yet, Vincente was obviously ready to go home and count his windfall. To do so, he was looking for someone to remove him from the unpleasantness. Since Referee Gary Rosado didn't appear anxious to call a halt to things, trainer Joel Diaz saved him the trouble by climbing up to the ring apron and waving a white flag. To think Victor Ortiz is being criticized for quitting with a badly broken jaw and severed artery, it makes no sense?
The facade was over in the fifth, and goes down as a TKO win for Broner. At the conclusion, all of a sudden everyone was once again friends. HBO's Kellerman was slathering up "The Problem Child" with compliments, and Escobedo was teary-eyed over the disappointing outcome. As previously mentioned, that's a feeling that will be sticking with him for a long time.
Broner's too much of a nimrod to be embarrassed about his lack of professionalism, so he will just roll on to the next stationary target. The encouraging thing is he has weaknesses that can be exploited, at least according to Roy Jones, Jr. Roy mentioned that fact, declining to specify exactly what those weaknesses are, but you can get a pretty good idea if you watch film of his fight against James Toney. Fans can only hope there's a fighter out there who was listening to Roy tonight, someone who will take Roy's words to heart and formulate his own plan of attack. Maybe he can get matched up with this little doofus Problem Child get him to comb his hair from a prone position. Fans can only hope.
***
Undercard results:
Keith Thurman TKO 6 Orlando Lora
Omar Figureroa UD 10 Dominic Salcido
Danny Calhoun TKO 1 Quincey Palmer
Ra'eese Aleem UD 4 DeVonte Allen
Brandon Bennett UD 8 John Nater
Christopher Pearson TKO 2 Angel Hernandez